Covid-19 Message
We are open and ready to support you!
As we continue to monitor and meet established safety guidelines in response to the novel coronavirus (COVID-19) outbreak, our offices are still open and operating in a virtual format. You can reach us by phone at (909) 537-5493 or via email at raffma@csusb.edu. We will respond as quickly as possible. Please keep a close watch for new announcements. Many of them, as well as several resources, can be found on CSUSB's dedicated COVID-19/Coronavirus Information web page.
Thank you and stay safe.
Winter/Spring 2020

Golden West? Jan Sawka's California Dream
The exhibition presents Polish artist - Jan Sawka's paintings and works on paper with the theme of California/America as a land of problematic promise.
Some of the content for this exhibition is intended for mature audiences only. Viewer discretion is advised.
---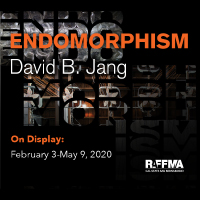 Endomorphism by David B. Jang
David Jang's exhibition, Endomorphism, presents a dynamic, captivating, and highly engaging combination of installation and two-dimensional works.
---

Journey to the Beyond
Ancient Egyptians in the Pursuit of Eternity
The Ancient Egyptians' attitude toward life and death has been fascinating us for millennia. Their pursuit of the eternal existence and provisioning for the journey to the BEYOND is the story of this exhibition, which presents, in a new context, objects from RAFFMA's permanent collection and on loan from Dr. Benson Harer.