Important Announcement
Dear RAFFMA Members and Visitors, For the health and safety of the museums staff, volunteers, visitors, and the entire community, and to support public health officials in their efforts to slow the spread of COVID-19, themuseum will be closed effective Monday, March 16.All the scheduled school and other group tours will be canceled, and we wont be accepting any new tour requests for April. We will keep you posted regarding the spring quarter situation, hours, and tour scheduling. Thank you for your interest and loyalty! Stay safe. We appreciate your understanding.
Winter/Spring 2020

Golden West? Jan Sawka's California Dream
The exhibition presents Polish artist - Jan Sawka's paintings and works on paper with the theme of California/America as a land of problematic promise.
Some of the content for this exhibition is intended for mature audiences only. Viewer discretion is advised.
---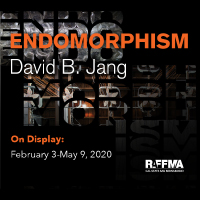 Endomorphism by David B. Jang
David Jang's exhibition, Endomorphism, presents a dynamic, captivating, and highly engaging combination of installation and two-dimensional works.
---

Journey to the Beyond
Ancient Egyptians in the Pursuit of Eternity
The Ancient Egyptians' attitude toward life and death has been fascinating us for millennia. Their pursuit of the eternal existence and provisioning for the journey to the BEYOND is the story of this exhibition, which presents, in a new context, objects from RAFFMA's permanent collection and on loan from Dr. Benson Harer.