Welcome to the Master of Science in Finance Program
The MS Finance program is offered through a partnership between the Jack H. Brown College of Business and Public Administration and the College of Extended and Global Education.
More about the MS Finance program and how it will benefit your career, the program curriculum, and faculty can be found on the Master of Science in Finance program main page.
 Click here for the MSF Academics and Careers Page
By clicking the blue buttons to the right you can find out more about the course schedule, program policies, making payments and financial aid, as well as information for International Students. We invite you to explore the MS in Finance web pages and contact us with your questions. Our Student Advisor is here to answer questions about and guide you through the application process. You can make and appointment or simply email our Student Advisor for a personalized experience. Choose your preferred method by choosing a blue button to the right.
Attend an Application Workshop
Need help with your Cal State Apply application? Have questions about the program?
Come to a virtual application workshop where we'll walk through CSU Apply and answer program questions along the way. Join the program staff to get tips on the application process. Ask your specific questions in an informative group format. The application deadline for FALL 2022 is July 20.
Virtual Application Tips Workshops:
June 15 and July 8
8:00 a.m.; 12:00 noon; and 5:30 p.m. PDT
Simply click the button below at the time of the session of your choice. No registration necessary.
Grad Programs Virtual Application Workshop
The Accounting & Finance Department holds MS in Accountancy information sessions throughout Fall and Spring semesters. Watch for Fall 2022 dates coming soon.,
Fall 2022 MSA Online info sessions flyer COMING SOON
Meet Maria M., a member of the inaugural class of the MS Finance degree program!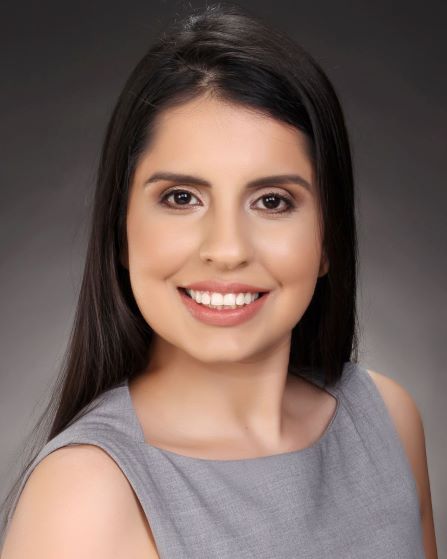 "The admission and registration process for the MSF program at CSUSB was extremely easy thanks to the help of CSUSB Finance and Accounting's faculty and staff and College of Extended and Global Education. As a student in CSUSB's MSF program, I have gained skills and confidence that help me discuss complex topics with my clients. For example, I am more confident sharing my outlook on the stock market and economy. After completing my first Fall Semester in 2020, I gained more in-depth analytical skills in economics, financial reporting, and investment analysis. These skills help me when clients ask me to analyze a particular stock, ETF, or mutual fund they want me to invest in their portfolios. Once I complete my degree and we are no longer in a pandemic, I plan to continue to build my book of business and do FINRA arbitration. After I complete my degree, I plan to take the CFA® exam."
Contact us!