Three Moments
According to Dr. Aida Walqui, director at WestEd's Teacher Professional Development Program and Quality Teaching for English Learners (QTEL), a well scaffolded lesson can be conceptualized in three moments. Within each moment, activities address the varying purposes in a lesson moment.

Using this framework, the In|Dignity curriculum unit is designed to:
Prepare students for their experience (Moment 1)
Assists students as they interact with the narratives (Moment 2), and
Extend their understanding by applying newly gained knowledge and skills (Moment 3)
Tasks within the framework help students foster optimal learning during each lesson moment.

For students to benefit from this curriculum, educators are encouraged to spend a minimum of three class periods (and ideally five)where they are engaged with In|Dignity. You should select at least one activity from each moment as a part of your lesson planning.
​
​Walqui, A and L van Lier. 2010. Scaffolding the Success of Adolescent English Learners. San Francisco: West Ed.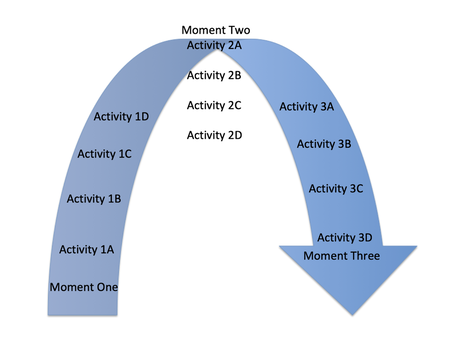 C3 Inquiry Arc
The In|Dignity curriculum structure follows the "Inquiry Arc" suggested by the C3 Framework for Social Studies State Standards, developed by the National Council for the Social Studies. The primary purpose of the C3 Framework is to provide guidance on concepts, skills, and tools that will help prepare students for college, career, and civic life. The "inquiry arc" is a set of interlocking and mutually reinforcing ideas focused on 1) developing questions and planning inquiries; 2) applying disciplinary concepts and tools; 3) evaluating sources and using evidence; and 4) commuicating conclusions and making an informed decision.

​The C3 aligns with the California History/Social-Science Analysis Skill Standards. The California History/Social-Science Framework also incorporates the C3 language and instructional approaches.
---
MOMENT ONE - Preparing students for In|Dignity
MOMENT TWO - Interacting with In|Dignity