Activity 3C: Choice Board
Choice Boards provide students with the power to choose "how" to learn a particular subject or concept. This freedom encourages them to be more responsible, accountable and independent in their learning. It also allows them to work on the activities at their own pace. The boards are useful for teachers as it enables them to identify and use student interests and preferences to stimulate active learning and student engagement.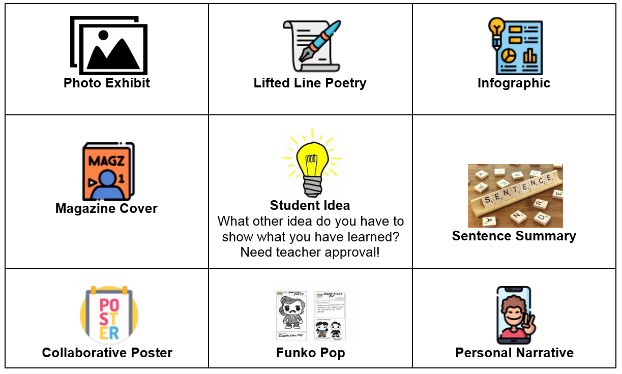 CHOICE BOARD DESCRIPTORS
Photo Exhibit: Use Google Slide, Office 365 PPT, Sway, Adobe Spark, or another photo gallery tool to create a photo collage of images from your communities to illustrate a relevant concept
Lifted Line Poem: Students take short passages from multiple narratives and arrange these lines into a poem. Lines can then be rearranged to shift the mood, tone, or hierarchy of emotions.
Infographic: Can be created using the following links Canva, Piktochart, Adobe Spark
Magazine Cover: Can be created using Adobe Spark, Big Huge Labs, or a Google Draw template
Sentence Summary: Students write one sentence that summarizes one or more narrative. 
Collaborative Poster: Students decide on an image that represents an idea of a theme text, add a quote from the text that is important to understanding the theme, and add an original statement that highlights the main idea. Each student uses a different color marker to sign the poster, and add 2 or 3 # hashtags to promote inclusivity.
Funko Pop: Using inspiration from Funko Pop, students complete a graphic organizer where they reflect and identify a theme, community member, create a visual representation and biography summary, connect the narrative to other themes, and identify a personal action plan for inclusiveness.
Personal Narrative: Students will construct a personal narrative summary of their experience connecting to one of the In|Dignity themes.​

Facing History, "Lifted Line Poem" available online.
 
See Also:
ACTIVITY 3A - Change in Continuity Over Time (CCOT)
ACTIVITY 3B - Interview a Friend