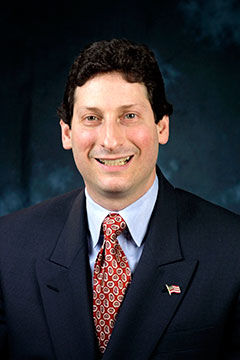 Brian Levin, Esq.
Founder, Center for the Study of Hate and Extremism
Professor Emeritus Criminal Justice
California State University, San Bernardino
Criminologist and civil rights attorney Brian Levin is the founder of the Center for the Study of Hate and Extremism and Professor Emeritus at California State University, San Bernardino, where he specialized in the analysis of hate crime, terrorism, and legal issues. Prof. Levin began his academic career as a professor at Stockton College in New Jersey in 1996.
Previously, Professor Levin served as Associate Director-Legal Affairs of the Southern Poverty Law Center's Klanwatch/Militia Task Force in Montgomery, Al.; Legal Director of the Center for the Study of Ethnic and Racial Violence in Newport Beach, CA. and as a corporate litigator for the law firm of Irell & Manella. He was also a New York City Police Officer in the Harlem and Washington Heights sections of Manhattan during the 1980s.
Mr. Levin is a graduate of Stanford Law School, where he was awarded the Block Civil Liberties Award for his work on hate crime. He is a member of the Bar of the Supreme Court of the United States and the state of California. He received his bachelor's degree with multiple honors from the University of Pennsylvania, where he was awarded a grant to study hate crime.
He is the author or co-author of books, scholarly articles, training manuals, and studies on extremism and hate crime. He was also the author of influential Supreme Court briefs in the Supreme Court case of Wisconsin v. Mitchell in 1992-3, where he analyzed criminological data establishing hate crime's severity. His book, The Limits of Dissent, is about the Constitution and domestic terrorism. He is presently writing another book about hate crime and extremism. His research has been cited by The California Court of Appeals and in numerous scholarly journals and major law reviews.
Prof. Levin has testified before Congress, the US Commission on Civil Rights, and various state legislatures on hate and terrorism. He has presented instruction and/or advised the Federal Bureau of Investigation, U.S. Department of Justice, Treasury Dept., U.S. Customs, American Bar Association, American Prosecutors Research Institute, National Academy of Sciences-National Research Council, National Bar Association, National College of District Attorneys, National District Attorneys Association, the Federal Law Enforcement Training Center, International Association of Chiefs of Police and numerous police departments, colleges, universities and human rights organizations.
Mr. Levin is a court-certified expert on extremism in the United States and England. He has appeared on every network and cable television evening news broadcast and various network magazine shows on the subjects of civil rights, criminal law, and extremism. He has also appeared in every major American newspaper, news magazine, and wire service.