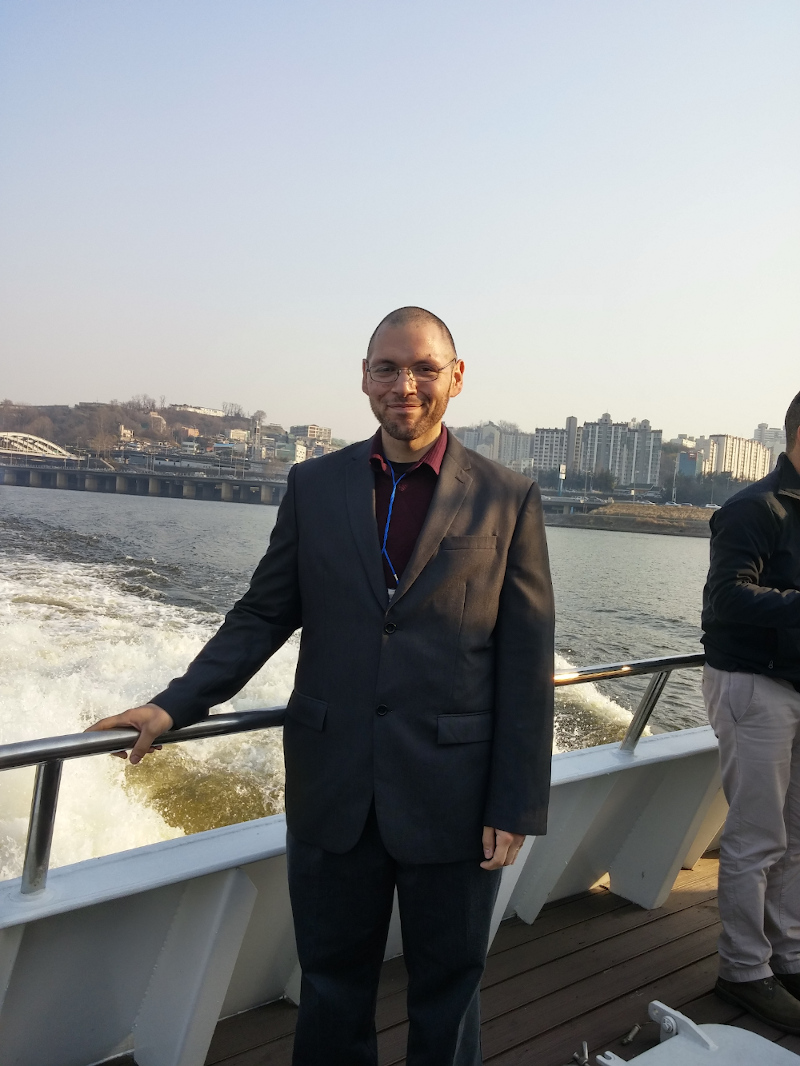 Ben Becerra
MBA Entrepreneurship
Seoul, South Korea. Winter 2016 
This study abroad trip actually took place a majority of the time at University of Seoul, which is South Korea's premier learning institution (think Harvard-quality). It was pretty cool to attend lectures here and be taken to government areas where regular citizens cannot access. I was impressed that the City Government of Seoul was interested in our feedback regarding their city.
We were treated exceptionally well by our hosts, and taken to some of the best restaurants. Oh the food! It was SO good… I knew Seoul would be crowded, but it really felt very safe and was easy to navigate around. The cultural performance that we were treated to was also really interesting!
Some of my favorite memories of the trip included meeting new friends from other majors that I might not have ever met. We all came in with diverse experiences and backgrounds, and it was great to chat along the way and learn about each other. It's great to explore a new place with other people. You also get to see a completely different side to your professors… ;)   You just have to go to see what I'm talking about!
There were many new places that we were exposed to at our trip, which shows a combination of traditional culture and new technological advancements of Seoul. This can be seen in their efficient transportation systems, the way people can leave e-feedback with the government, etc. The amazing city views, falling cherry blossoms, high-tech shopping areas and eateries are all definite bonuses to come visit too! If you ever consider doing business internationally, I feel that it's important to get a sense of what the people and environment is like, which is something you can't really do without visiting. This visit really puts more things into perspective, and I do recommend you study abroad if you are able to!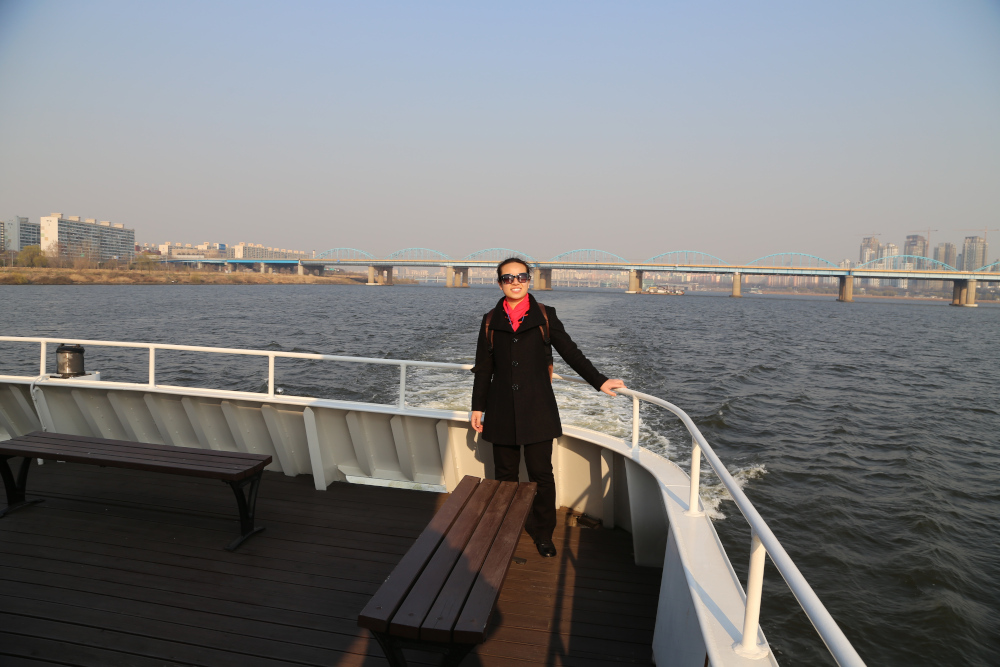 Jing Geng, MBA Student
South Korea Study Abroad - March 26 - April 2, 2016
My name is Jing Geng and I am an MBA student at CSUSB. I studied abroad in South Korea during spring 2016. My favorite memories of the trip were the advanced information systems in the transportation control center and the cultural tour, including museums and palaces. The 8 briefings reported by Seoul Metropolitan Government gave me much knowledge of how governments operate, the discussions after briefings trained my ability to identify problems, and the paper after the tour improved my ability of using theories to solve problems. This experience has broadened my horizons as I was able to learn about a different culture. I recommend studying abroad!
What are your favorite memories of the trip?
The advanced information system in transportation control center.
The cultural tour, including museums and palaces.
How has studying abroad enhanced your academic pursuits?
8 briefings reported by Seoul Metropolitan Government gave me much knowledge of how government operates, the discussions after briefings trained my ability to identify problems, and the paper after tour improved my ability of using theories to solve problems.
How has this experience affected you on a personal level?
Broaden my horizon and experience different culture.
Do you recommend studying abroad? Yes!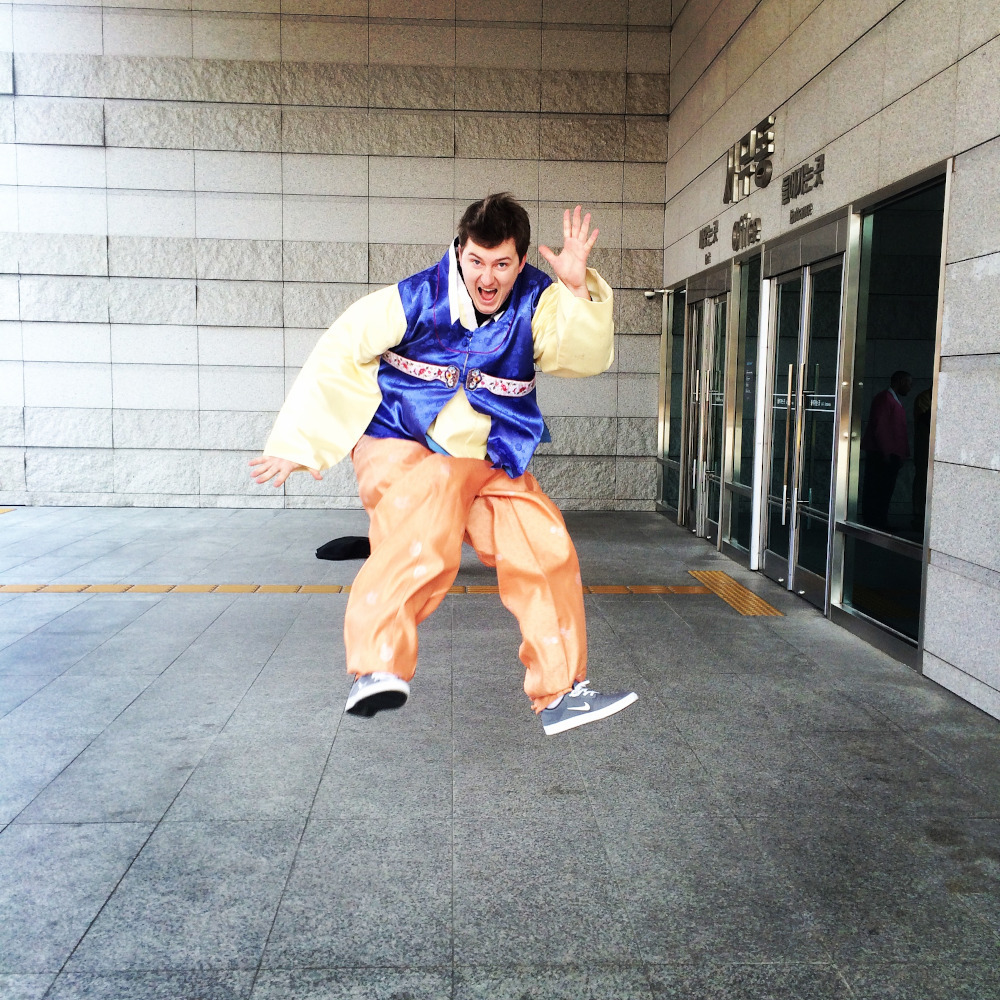 Three words, an-nyeong-ha-se-yo [hi/hello], kam-sa-ham-ni-da [thank you], and mi-an-ham-ni-da [sorry]. In just those three words, I was able to quickly, and safely, travel throughout Seoul, South Korea. My name is Tyler Morris-Seekins and I was fortunate enough to be able to attend the Seoul Metropolitan Government: Seoul Case Study Program for just over 8 days in March 2016. While finishing my Masters in Public Administration degree, this course (ADMN 690) was offered and I leaped upon the opportunity to study abroad for a bit while gaining international experiences in culture, society, and politics in South Korea. The trip was, in every aspect I can think of, perfectly planned and executed. Koreans are known for their punctuality so when we arrived, the hotel rooms were ready, the dinner tables were set, and our programs were handed to us.
By far, my favorite memory from this trip to Seoul, South Korea was the lectures. Now yes, I know, you may think why did this guy have so much fun in the lectures? Well, that's a good question. During the eight lectures that we had, I was able to experience many different types of experiences. I was able to first gain experience in listening, asking, and answering questions in one language and having them translated immediately to another language. Next, I was able to see the level of detail and sophistication that Koreans put into their PowerPoint presentations. The presentation skills and English language that they had also became apparent to me as I could see how much the United States' policies and practices affect foreign nations. Lastly, I was able to see the incredible amount of Japanese culture and society that was blended with the Koreans. All of this throughout just simple lectures.
This experience also enhanced my academic pursuits as well. The opportunity to present a presentation to foreign officials and write policy recommendations to a foreign government was also afforded to me. In doing so, I was further able to develop my policy analyses and presentation skills that will always be beneficial to my future career endeavors. It also challenged my academic skills regarding research as the majority of the information available for the development of my policy analyses paper was available in, of course, Korean. I had to translate and find many sources that were either easily translated or in English to allow for me to write my paper.
On a personal level, this opportunity to study abroad gave me a higher level of self-confidence. To be able to travel throughout a foreign nation on my own, it further developed my self-confidence as I am more inclined to try new things and travel to new places. What some may call the "travel bug," that's what I have now and I cannot wait to go to another new country.
If there's one thing you should do throughout your degree's program (i.e., bachelor, master, doctorate), go study abroad! I highly recommend it no matter what county or what you're learning about! This study abroad opportunity was by far one that I would recommend to all!
Kam-sa-ham-ni-da,
Tyler Morris-Seekins, MPA