ffdgfM.A. in English Composition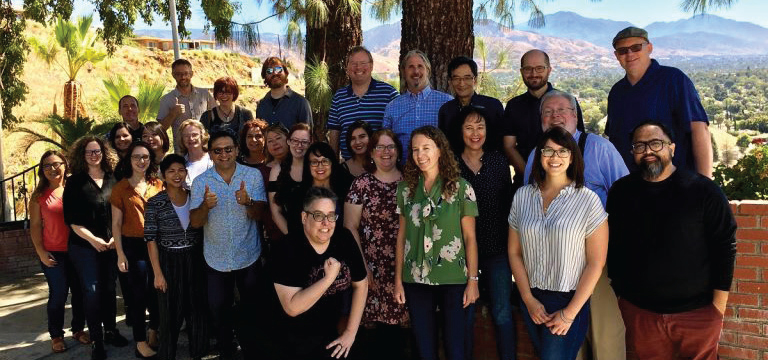 Welcome
The M.A. in English and Writing Studies enables students to become socially committed, rhetorically flexible writers who make significant contributions in their chosen fields and communities. Our graduates are well prepared to pursue secondary or college teaching, advanced graduate study, and other careers emphasizing writing, research, and analytical thinking. The program offers a broad interdisciplinary foundation in English studies and five concentrations to develop your professional skills and pursue your unique career path:
Applied Linguistics and TESL
Composition and Rhetoric
Literature
Pedagogy
Public and Professional Writing
Our multiple concentrations create an energizing environment of interdisciplinary study for our students, who are encouraged to take courses and conduct research across disciplinary lines. Many students take the opportunity to do a dual concentration in two of these fields. Students consistently comment on how much they value the smaller classes and the sense of community that our program affords. We support students' professional development by holding workshops and roundtables in how to apply to academic conferences, to community colleges, and to PhD programs. In addition, we offer a paid, well-mentored Teaching Associate program that allows students to teach their own composition or literature course at the undergraduate level.
If a student attends full time with a single concentration, the 30-unit program can be completed in two years. A second concentration adds one semester. In addition to three seminars in their chosen concentration(s), all students take four core classes in cultures of academic research, literary theory, composition and discourse theory, and linguistics. All students must also complete an internship (teaching or professional) and take an elective from another concentration. For their culminating experience, students take a course that supports the completion of their thesis project or studying for the comprehensive exam in their field.
We take a holistic approach to our admissions process for the M.A. in English & Writing Studies. Your undergraduate GPA or standardized test scores do not define you and will not exclude you from consideration for our program. In fact, we do not use GRE scores in our admissions process. Instead, we consider a broad range of candidate qualities, including your personal attributes, past experiences, and future goals, and how those fit with our program and its values and objectives.
Prospective Students can click the link above to find out more information about Admissions, Application Advice, Concentrations, Financing the MA, Professional Opportunities in the program, and more.
Careers
The many accomplishments of our alumni speak to our program's success in preparing students for a variety of careers, both academic and nonacademic. Recent graduates are now:
Teaching writing and literature at secondary schools, community colleges, and universities around the U.S., and teaching English abroad;
Writing and editing for a wide range of industries, from tech to finance;
Pursuing Ph.D.s at universities such as Penn State, Michigan State, the University of Illinois Urbana-Champaign, UC Riverside, UC Irvine and UC Davis. We enjoy a nearly 100% placement and fellowship rate for Ph.D.-bound students.
If you have questions, you can contact the program's Administrative Support Coordinator, Dorothea (Dottie) Cartwright at dcartwri@csusb.edu or the coordinator for your concentration.
Alumni Testimonials