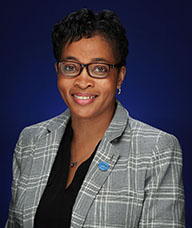 Sandra Davis has accepted the appointment of Payroll Services Manager, within the Human Resources Department, effective Monday, April 29, 2019. 
Sandra brings to CSUSB nearly 16 years of comprehensive experience in administering CSU payroll in coordination with the State Controller's Office.  Sandra directly collaborated with the California Faculty Association (CFA) and CSU Staff union representatives to facilitate and communicate payroll changes at her prior campus, Cal Poly Pomona (CPP), where she was instrumental in the success of CPP's 2018-19 payroll semester conversion. 
 
Please join us in welcoming Sandra to Cal State San Bernardino!
Summer 4/10 Schedule
The CSUSB summer 2019 - 4/10 work schedule will commence the week of June 17, 2019, and will continue through the week of August 26, 2019. As such, the first Friday observed under the 4/10 work schedule will be June 21, 2019, and the last Friday observed under the 4/10 schedule will be August 30, 2019. All employees will be placed on the 4/10 schedule unless they are currently on an alternate work schedule or work at a reduced time base. Those who are currently on an alternate work schedule and wish to change their schedule due to the 4/10 will need to submit a new Notice of Work Schedule Change Form no later than June 10th. CSUSB departments that do not observe the summer 4/10 work schedule will receive communication from their manager regarding any adjustments to their work schedule for summer 2019.
Importance of Payroll Records
Payroll would like to remind you of the importance of keeping your paycheck stubs and/or Direct Deposit advices for your personal financial records. The State Controller's Office is our campus paying agent and issues our only 'official' pay records that are available. Payroll does not receive copies of paycheck stubs or Direct Deposit advices.
Our campus is a member of the Work Number employment and income verification program. This is an excellent tool that employees can use to request their personal information. The Work Number provides non-confidential employment and income information to verifiers (banks, lenders, rental companies, etc.) and alleviates this workload from human resources offices. Through the Work Number program an employee can provide a verifier with employment verification or employment/income verification. The Work Number program assures that only approved verifiers can utilize the program. The employment and income information that is provided through the Work Number program is obtained from the State Controller's Office employment history database and updated biweekly.
CSUSB state employees that participate in the Work Number program can request a free employment data report once a year. The employment data report is a copy of the information the Work Number provides to verifiers. Employees can obtain the Employee Data Request Form at The Work Number Web Site and mail or fax the request to the mailing address or fax number on the form. The Work Number program will mail the employee(s) a copy of her/his verification information within fifteen days of receipt of the request. There is no cost to the campus or employees to participate in the Work Number program.
CSUSB Payroll Department.