Why do Graduate Assistants (2325/2355) and Teaching Associates (2353/2354) appear on the Absence Management System and require "No Leave Taken" to be entered?
Graduate Assistants and Teaching Associates are classified under Bargaining Unit R11 (UAW) and are entitled to leaves such as:
Bereavement (Funeral Leave)
Catastrophic Leave Donations
Family Medical Leave
Governor's Holiday
Personal Holiday
Jury Duty
Etc.: Refer to the annual CSU HR/Leaves Technical Letter - Leave Program Information
This classification is required to be in the Absence Management System
'No Leave Taken' is required to be submitted into Absence Management, if the employee does not have any eligible absence takes.
Why do Casual Workers (Job Code 1800) appear on the Absence Management Self Service System?
Casual Workers are required to be in the Absence Management System because this classification is entitled to pay for Holidays (pro-rated) and jury duty. This classification is not entitled to vacation or sick leave at this time.
What determines CSUSB "State" employees' Absence Management Self Service eligibility and enrollment?
All eligible employees' absence eligibility and enrollment into the Absence Management Pay Groups are determined by the following criteria entered on employees' Job Data records upon being hired at CSUSB by our campus Human Resources offices and/or hiring departments (or during employment status changes):
Union Codes: (R02, R03, R11, E99, R06, R05, etc.)
Employee Type: (Salaried/Hourly)
Employee Class: (Regular)
Fair Labor Standards Act (FLSA) Status: (Exempt/Non-Exempt)
The Absence Management Self Service PeopleSoft module is also integrated with the Time and Labor, Benefits Administration, Labor Cost Distribution and Temporary Faculty modules.
An employee was on Jury Duty for more than one day, where does he/she send the Jury Duty Slips?
With the implementation of Absence Management Self Service, departments no longer being required to submit timesheets to the Payroll Department, please note Jury Duty documentation must still be provided to the General Accounting department to verify any payments due to the university. 
It is the employees' responsibility to ensure documentation is received by General Accounting.
Employees required to report/serve for Jury Duty, more than 1 day, during working hours must submit the following documentation:
Employee name
Home address
Jury Duty Dates
Jury Duty verification slip issued from the court attended
This documentation should be provided to General Accounting via intra-campus mail, in person to Melania Herndon in Chaparral Hall Room 106, or via email to mherndon@csusb.edu.
For more information, please visit the General Accounting website.
I cannot find my employee's schedule in the 'Predefined Schedule' list, what form do I submit to change the schedule?
To assign an employee to a Personal Schedule that is not in the Predefined work Schedule list in Absence Management, please complete the following form and submit to the Payroll Department in Sierra Hall, Room 103.
How do I submit an adjustment for a closed period and/or a late absence event (older than 90 days from the current open period)?
To process an adjustment for a closed period or a late submission (absence event that is more than 90 days past due from the current open period), please complete the following form and submit it to the Payroll Department in Sierra Hall, Room 103.
How do I calculate Hourly Holiday Pay?
Per the Chancellor's Office HR/Leaves 2002-01 Technical Letter: An hourly employee that is paid an hourly or daily equivalent of a monthly salary rate is entitled to holiday pay for each holiday in accordance with the following table which reflects proportional holiday pay based on the relationship of total hours worked in the holiday pay period to total hours in that pay period:
| Hours on Pay Status During Pay Period ** | Holiday Pay in Hours for Each Holiday |
| --- | --- |
| 0 – 10.9 | 0 |
| 11 – 30.9 | 1 |
| 31 – 50.9 | 2 |
| 51 – 70.9 | 3 |
| 71 – 90.9 | 4 |
| 91 – 110.9 | 5 |
| 111 – 130.9 | 6 |
| 131 – 150.9 | 7 |
| 151 or over | 8 |
**Exclusive of Holiday Hours not actually worked
Intermittent employees paid an hourly equivalent of a monthly salary rate receive time off with pay for a Personal Holiday, based on the number of hours worked in the pay period in which the personal holiday is taken as noted in the table above. When computing Personal Holiday pay eligibility, if an employee actually worked on other holidays in the same pay period, such hours worked are considered as hours on pay status. Personal Holiday credit not used within the calendar year will be forfeited.
If the status of an employee changes during the pay period, e.g., from fulltime to hourly, all time worked during the pay period is taken into consideration in computing holiday pay.
When an hourly employee moves from one appointing authority to another within the same pay period, e.g., from Campus A to Campus B, each appointing authority will consider only those hours worked and the holidays that occurred during employment in that institution in determining the amount of holiday pay due. The computation of holiday pay provides that no more than eight hours are paid to an employee for any one holiday.
An hourly employee does not receive holiday pay if the effective date of the appointment follows the holiday, or if the employee separated during the pay period, unless the employee worked either on or after the holiday, or the holiday falls within the pay period covered by a lump-sum payment for vacation or extra hours.
Can timesheets and other documentation be signed electronically?
Only time entered into the Absence Management Self Service system, that is approved by Managers/Approvers on-line, may be accepted as electronic signatures.
Time sheets and/or other source documents, that are still required to be submitted to Payroll for processing, will continue to require both the employees' and Supervisors' original signatures.
Per the State Administrative Manual, Section 8539 – Attendance Records: "When individual time records are maintained by employees, they will be signed by both the employee and the employee's Supervisor".
When do I need to submit the Timesheet (STD 634) for an employee?
Departments will continue to forward the Timesheet (Absence and Additional Time Worked Report - STD 634) to payroll for payment of the following categories:
Hourly employees' time worked/to be paid
Overtime/ Blended Overtime
Shift Differential
Excess Hours
How do I delete an approved absence entry?
Step 1:
Navigation: Main Menu > Manager Self Service > Time Management > Report Time > Manager Absence Entry
Check the box on the left, next to the Employee for whom you would like to delete the Absence Entry.



Step 2
Enter the correct "From" and "Through" dates
Identify the absence event that needs to be deleted under 'Existing Absence Events'
Select the Trash Can on the far right of the row, next to the name.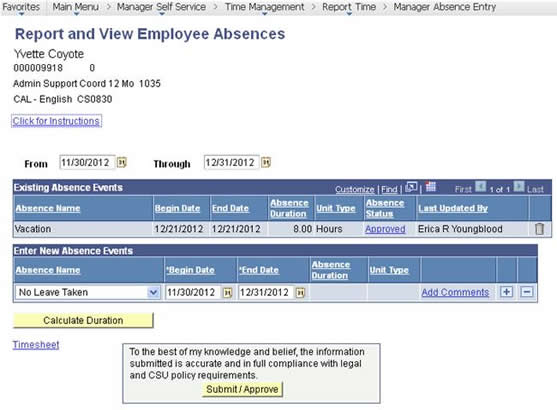 Step 3
Select "Yes" to Delete the Absence Event



Step 4
The Existing Absence Event should no longer appear
The Timekeeper can re-enter the correct Absence Event for the employee (if applicable).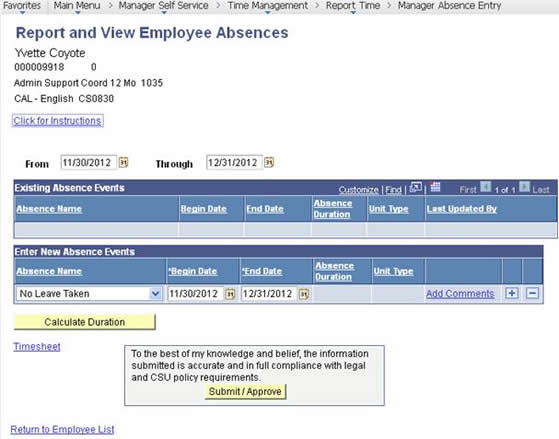 Will I continue to receive Annual Leave Statements from Payroll?
With the implementation of Absence Management Self Service, annual leave statements will no longer be generated by the State Controller's Office (SCO). All leave eligible "State" employees should be able to view their leave balances on-line, effective November 30, 2012.
The leave balances on my paystub are incorrect. When will the balances be removed from my paystub?
Balances on the bottom of the paystubs will no longer be accurate as of the November 2012 pay period, as we have moved to the Absence Management system and Payroll no longer enters in absence takes.
Leave balances should no longer appear at the bottom of paystubs, effective January 1, 2013.
Please refer to the Absence Management Self Service 'Employee Balance Inquiry' for current balances as of the latest finalized pay period.