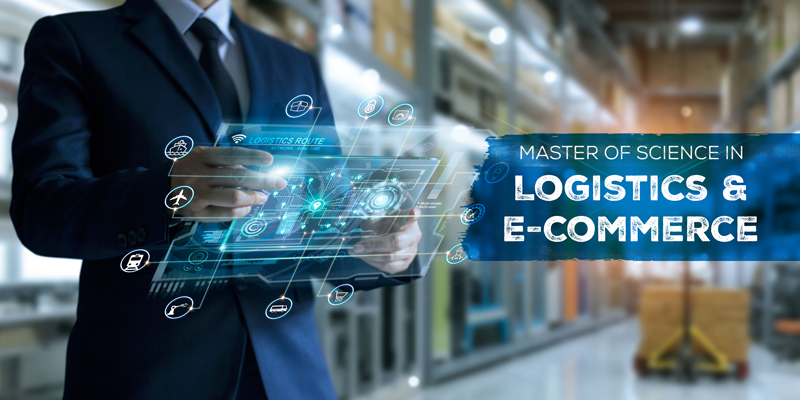 Welcome to the Master of Science in Logistics and E-Commerce program!
The Master of Science in Logistics and E-commerce (MSLE) provides post-baccalaureate students pursuing a career in logistics and e-commerce with a high-quality graduate education. The aim is to educate post-baccalaureate students to be experts in the specialty fields of logistics and e-commerce within the major field of supply chain management.
MSLE is open to all qualified students regardless of undergraduate major. It is delivered through CEGE in an online accelerated format that consists of 10 courses (30 semester units). Cohorts will start in each Fall and Spring semester. A culminating experience project component will be offered as an element of the program to enhance the student experience.
Connect with us to find out more.
Contact us for news, dates for upcoming information sessions, and updated course schedules. Click here to schedule an appointment with a Program Advisor
Need help with your Cal State Apply application? Have questions about the program?
Come to a virtual application workshop where we'll walk through CSU Apply and answer program questions along the way. Join the program staff to get tips on the application process. Ask your specific questions in an informative group format. The application deadline for Fall 2023 is June 19, 2023.
Virtual Application Tips Workshops:
Future workshops to be determined. Check back often, or contact the Program Advisor by clicking the blue bar above.
Simply click the button below at the time of the session of your choice. No registration necessary.
CSU Apply Application Workshop
Logistics and E-Commerce are the backbones
of the local economy in the Inland Empire!
Logistics and e-commerce are the backbones of the local economy in the Inland Empire. The university is surrounded by e-commerce and logistics organizations that are searching for qualified talented graduate students who can help in creating value. According to the latest Inland Empire Quarterly Report published by the Inland Empire Economic Partnership, "the logistics industry added 53,000 new jobs in the region between 2011 and 2016, accounting for 23 percent of all jobs created in that period. For many Inland workers and families, the growth of this sector has been immensely beneficial." (https://www.sbsun.com/2017/02/23/logistics-fueling-inland-empires-economic-growth/).
Salary and Growth Projections

| Job Title | Median Salary 2020 | Rate Per Hour | Projected Growth 2019-2029 | Projected Annual Job Openings 2019-2029 |
| --- | --- | --- | --- | --- |
| Logistics Manager | $94,390 | $45.54 | 4% to 14% | 10,000 |
| Procurement Manager | $125,940 | $60.55 | 3% to 8% | 5,600 |
| Supply Chain Manager | $96,390 | $46.34 | 4% to 14% | 10,000 |
| Supply Chain/Logistics Analyst | $76,270 | $36.67 | 3% to 9% | 16,800 |
| Distribution Manager | $96,390 | $46.34 | 4% to 14% | 10,000 |
| Warehouse Specialist | $98,860 | $47.53 | 8% to 16% | 9,900 |
| Online Merchant | $77,420 | $37.22 | 6% to 11% | 128,000 |
| Logistician | $76,270 | $36.67 | 4% to 9% | 16,800 |
| Logistics Engineer/Coordinator | $76,270 | $36.67 | 4% to 9% | 16,800 |
| Transportation Planners | $87,260 | $41.95 | 1% to 15% | 3,600 |
| Facilities Manager | $98,890 | $47.54 | 7% to 9% | 26,300 |