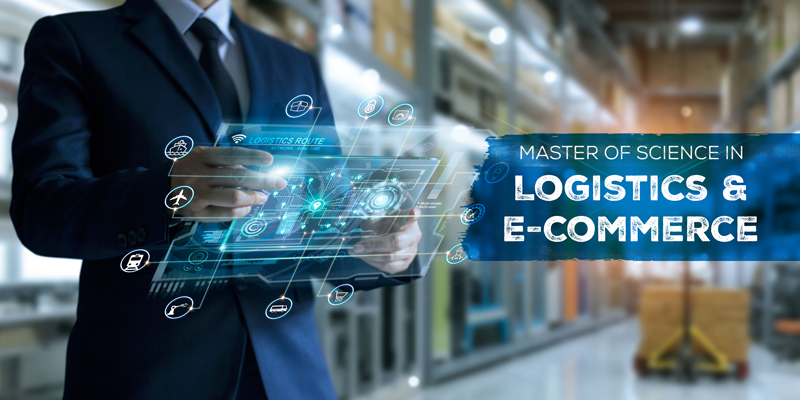 Spring 2024 Application Now Open!
Overview
The Master of Science in Logistics and E-commerce (MSLE) provides students pursuing a career in logistics and e-commerce with a high-quality graduate education. The aim is to educate graduate students to be experts in the specialty fields of logistics and e-commerce within the major field of supply chain management.
MSLE is open to all qualified students regardless of undergraduate major. It is delivered through CEGE in an online accelerated format that consists of 10 courses (30 semester units). Cohorts will start in each Fall and Spring semester. A culminating experience project component will be offered as an element of the program to enhance the student experience.
Advisors are available by appointment or you can attend office hours on Wednesdays from 4:00 - 5:00 pm.
 
Click Here to Attend Office Hours
Career Outlook and Opportunities
Outlook
Logistics and e-commerce are the backbones of the local economy in the Inland Empire. The university is surrounded by e-commerce and logistics organizations that are searching for qualified talented graduate students who can help in creating value. According to the latest Inland Empire Quarterly Report published by the Inland Empire Economic Partnership, "the logistics industry added 53,000 new jobs in the region between 2011 and 2016, accounting for 23 percent of all jobs created in that period. For many Inland workers and families, the growth of this sector has been immensely beneficial." (https://www.sbsun.com/2017/02/23/logistics-fueling-inland-empires-economic-growth/).
Opportunities
Salary and Growth Projections

| Job Title | Median Salary 2022 | Rate Per Hour | Projected Growth 2021-2031 | Projected Annual Job Openings 2021-2031 |
| --- | --- | --- | --- | --- |
| Logistics Manager | $94,390 | $45.54 | 4% to 14% | 10,000 |
| Procurement Manager | $131,350 | $63.15 | 4% to 7% | 6,300 |
| Supply Chain Manager | $98,560 | $47.39 | 8% to 10% | 14,200 |
| Supply Chain/Logistics Analyst | $77,520 | $37.27 | 11% or higher | 24,800 |
| Distribution Manager | $98,560 | $47.39 | 8% to 10% | 14,200 |
| Warehouse Specialist | $98,560 | $47.39 | 8% to 10% | 14,200 |
| Online Merchant | $75,990 | $36.53 | 4% to 7% | 28,620 |
| Logistician | $77,520 | $37.27 | 11% or higher | 24,800 |
| Logistics Engineer/Coordinator | $77,520 | $37.27 | 11% or higher | 24,800 |
| Transportation Planners | $88,900 | $42.74 | 2% to 3% | 3,700 |
| Facilities Manager | $99,030 | $47.61 | 4% to 7% | 9,900 |