The HUB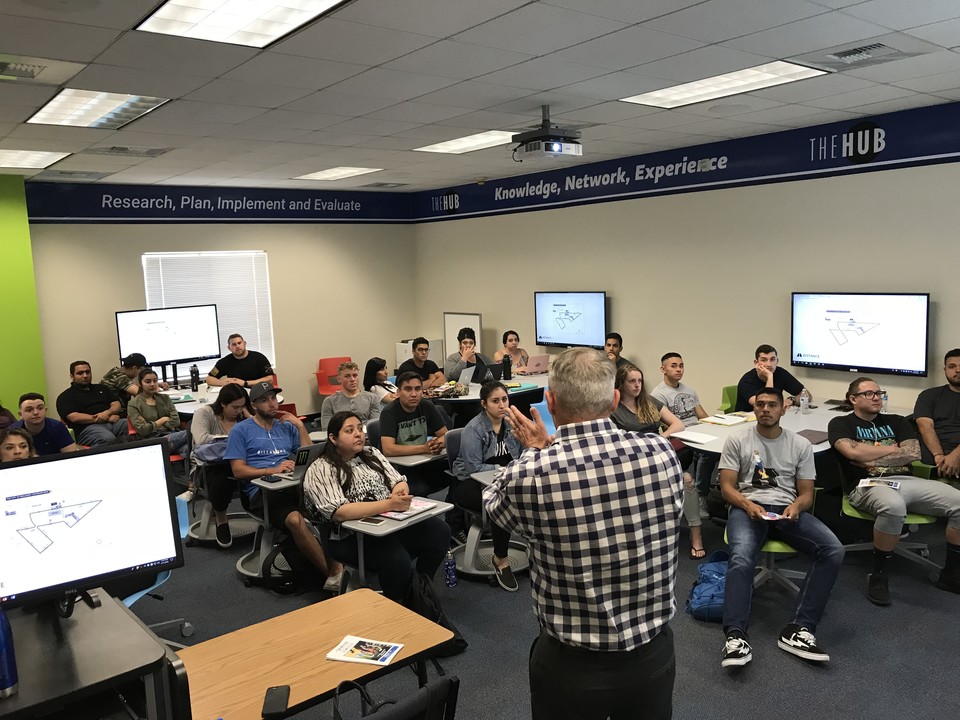 Scott Welsh, Media Director, Redlands Bicycle Classic
California State University, San Bernardino's Department of Marketing located at The Jack H. Brown College of Business and Public Administration has launched its own lab entitled The HUB placed on the second floor, in room JB-255.
The HUB stands for Helping Understand Business and it was supported and funded by The Jack H. Brown College of Business and Public Administration as well as a VETI Grant. The classroom was produced for a collaborative learning environment and was developed by the faculty of the Department of Marketing alongside the Marketing Advisory Board.
It has its own branding and design which was all created on campus by Bliss Gray. Gray was a Graphic Design student assistant at the on-campus multimedia training facility, Coyote Advertising*. The graphic designer,
"combines art and technology to project ideas through visual and textual content." (www.coyoteadvertising.com)
The classroom is completely redesigned with new furniture, new technology and a bright setting to ensure the students are comfortable and ready to learn in The HUB. This lab is set up to support group study and projects during class time. The students have already given their positive feedback upon its first quarter.
A survey was conducted in the winter 2018 quarter during the lab's first year of use and it has received positive feedback from students who have attended their class in the lab. They mostly agreed the technology in JB-255 has prepared them for the real-world business environment. The students who took this survey also strongly agreed the classroom increased their motivation to interact with their group and that the classroom facilitates a flexible interaction between classmates as well as instructors.
Finally, the marketing students are able to gain greater understanding of marketing concepts taught in JB-255 and they will gain greater experience in oral and written communication. 
*Coyote Advertising is an "on-campus multimedia training facility with a mission to prepare CSUSB students for the 21st century media leadership position." The facility was run by Jacob Poore who is also a part of the Marketing Advisory Board before it was taken over by Alfredo Cruz in 2018.