Feria Educativa / Puente 9th-Grade Student Leadership Conference XVI
Wednesday, March 18, 2020
8:00 AM - 3:00 PM
Location: California State University, San Bernardino
Santos Manuel Student Union - Events Center
¡Sí Se Puente!
The objective of the CSUSB Feria Educativa is to promote a broad-based awareness of the crisis in Latino Education and to enhance the intellectual, cultural and personal development of our community's students, parents, educators, administrators and leaders.  The Feria Educativa is a community-engagement activity where we inform and inspire, including...
Enthuse a college-going and career-readiness culture for all students to be prepared for a full range of post-secondary options;
Engage parents and families, with special efforts to reach Latinos, as a critical component in believing that their children are "college material" and offer opportunities to understand their role in the college process, as well as other post-secondary career opportunities;
Distribute/exhibit/present educational and career information and post-secondary opportunities, and other materials pertinent to community well-being (e.g. health, immigration, & civic engagement), and be available to support families; and
Build collective commitment and a partnership model that includes active involvement from all sectors of the regional community.
PUENTE Program Background: The Puente Project is a national award winning program that for 38 years has improved the college-going rate of tens of thousands of California's educationally disadvantaged students. Its mission is to increase the number of educationally disadvantaged students who enroll in four-year colleges and universities, earn college degrees and return to the community as mentors and leaders to future generations. Puente currently has programs in community colleges, high schools, and middle schools in California and Texas.

Leadership Conference Objective: The program design encourages students to develop leadership skills and to share their valued experiences and opinions.
Co-Masters of Ceremonies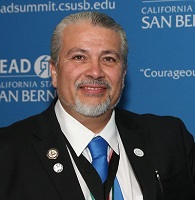 Dr. Enrique G. Murillo, Jr., Professor of Education,
Director of LEAD Education Projects CSUSB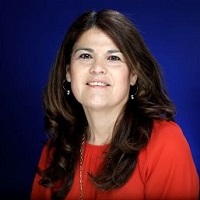 Dr. Olivia Rosas, Associate Vice President,
Student Success and Educational Equity CSUSB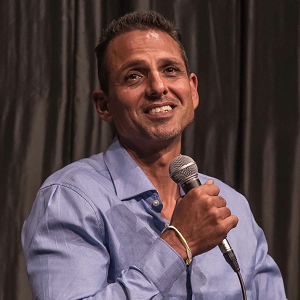 Peter Bratt
Peter Bratt is an award-winning screenwriter and independent filmmaker whose latest production is "Dolores," a feature documentary about the life of social justice activist, Dolores Huerta - a film he co-produced with Grammy Award-winning musician Carlos Santana. The film premiered at the 2017 Sundance Film Festival and has garnered a number of awards including Best Documentary Feature at both the San Francisco and Seattle International Film Festivals, and a prestigious 2018 Peabody Award. Bratt is currently in production on a documentary exploring guns and the 2nd amendment.

Bratt's first feature film, "Follow Me Home," premiered in competition at the 1996 Sundance Film Festival and won the Best Feature Film Audience Award that same year at the San Francisco International Film Festival.

In 2009, he and his brother Benjamin produced, "La Mission," a feature film shot on location in their hometown of San Francisco. "La Mission," which Peter wrote and directed, premiered at the 2009 Sundance Film Festival and was the opening night film at the 2009 San Francisco International Film Festival, the 2009 New York International Latino Film Festival, and the 2009 Outfest Film Festival in Los Angeles.
For his work on "La Mission," Peter received the prestigious Norman Lear Writer's award and was one of 10 American independent filmmakers selected by Sundance and the President's Committee on Arts and Humanities to launch Sundance Film Forward – a program that uses film and conversation to excite and introduce a new generation to the power of story.

Peter is also a San Francisco Film Commissioner and a long-time consultant for the Friendship House Association of American Indians, a non-profit serving the Bay Area's Native population.
Padrino / Madrina de Honor
Robert J. Nava, JD, CFRE, Vice President, Division of University Advancement, CSUSB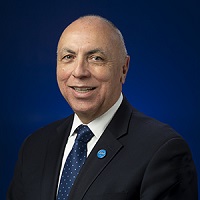 After a national search, last year Cal State San Bernardino named Robert J. Nava as its new vice president for the Division of University Advancement & Executive Director for the Philanthropic Foundation.
VP Nava, a long-time member of our regional community, has spent 35 years in higher education advancement leadership roles, including 18 years in the inland region prior to now. He most recently served as vice president for university advancement at San Francisco State University, and before that at the University of Texas, El Paso. He also enjoyed a long and distinguished tenure at UC Riverside.
Nava holds a bachelor's degree in criminal justice from UTEP, a law degree from Western State University College of Law and was a member of the Harvard Graduate School of Education's Institute for Management and Leadership in Education. He is a member of the Association of Fundraising Professionals and is a Certified Fundraising Executive (CFRE), a credential attained by demonstrating success in fundraising and supporting professional standards in philanthropy.
Vice President Nava has also served many years on the PUENTE Project's Advisory Board.
Hon. Eloise Gómez Reyes, Assembly Member 47th District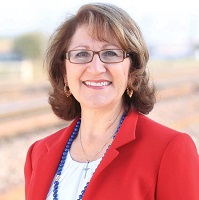 Eloise Gómez Reyes was elected to the California State Assembly in November 2016 to represent California's 47th Assembly District, which includes the communities of Colton, Fontana, Grand Terrace, Rialto, San Bernardino, and the unincorporated communities of Bloomington and Muscoy.  
Eloise, a proud daughter of immigrants, has been a champion for her community throughout her career. She graduated from Colton High School and received her A.A. from San Bernardino Valley College. After completing her undergraduate degree at the University of Southern California, Eloise went on to earn her law degree from Loyola Law School.
Eloise's commitment to civic engagement is a culmination built over years of experience. As a 12-year-old she struggled alongside her family, working every summer in the fields picking onions and grapes. She worked hard to earn money to pay for her school clothes, but this early experience provided the strong work ethic that defines her today.
She learned early in her life that her passion was to help others and she knew that as an attorney, she could help those who needed protection and assistance. Her determination, perseverance, and conviction to succeed has enabled her to be a voice for the voiceless and an asset for those requiring legal representation but are unable to afford it. Eloise became the first Latina to open her own law office in the Inland Empire.
The Hon. Eloise Gómez Reyes also served as our Madrina de Honor for the LEAD Summit & Week in 2017.
LEAD - PUENTE Student Leadership Conference Program
Program At A Glance
Wednesday, March 18, 2020
Detail
Start
End
Description
8:00 am
8:45 am
Registration & Continental Breakfast
Cultural Performance DANZA MEXIKA: Calli Tecpatl
9:00 am
9:45 am
Foro Comunitario / Welcome & Keynote Addresses - Events Center ABC
10:00 am
11:45 am
Parent Workshop - SMSU 217
10:00 am
10:45 am
Session I: Talleres, Campus Tours, Activity Centers
11:00 am
11:45 am
Session II: Talleres, Campus Tours, Activity Centers
11:45 am
12:45 pm 
Comida / Lunch 
1:00 pm
1:30 pm
Despedida / Farewell Address - Events Center ABC
1:30 pm
2:30 pm
Departure
Workshops
Workshop Locations in SMSU

| Description / Talleres | Location | Capacity |
| --- | --- | --- |
| Financial Aid and Scholarships | SMSU Events Center ABC | 800 |
| Get Finance Savvy: All About the Benjamins | SMSU 215 | 50 |
| CSUSB Student Panel | SMSU 216 | 50 |
| Parent Workshop | SMSU 217 | 50 |
| How to Succeed in High School | SMSU 218 | 50 |
| The Four Systems of Higher Education | SMSU Theatre | 180 |
| Undocumented Students Can Go to College | Skybox 207 | 30 |
| Open Topics | Skybox 208 | 30 |
| Time Management / Goal Setting | Skybox 210 | 30 |
| Open Topics | Skybox 211 | 30 |
| Demonstrating Leadership to Serve Your Community | SMSU 224 | 50 |
| Campus Tour | Meet in Event Center Lobby | 360 |
| Open Topics | SMSU Bay | 60 |
Workshops Descriptions
Financial Aid and Scholarships - Presented by Dr. Olivia Rosas, Associate Vice President, Student Success and Educational Equity, SMSU Events Center at 10:00 a.m. and 11:00 a.m. Have you ever wondered "How will I ever be able to pay for college"?!  This workshop will provide you with information on available financial aid and scholarships so that you can make college happen for you.  You will get the answers you need to help you start planning your future in college.

Get Finance Savvy: All About the Benjamins, "Ballin on a Budget"– Presented by Leticia Herrera, Nora Ortega and Ruby Velasquez, Advisors, Educational Talent Search, SMSU 215 at 10 a.m. and 11 a.m.  Students will learn different ways to save and Budget their money through activities on Needs vs. Wants, budgeting scenarios, and future career salaries.

CSUSB Student Panel – Presented by the Office of Pre-College Programs, SMSU 216 at 10 a.m. and 11 a.m. 
Students currently enrolled at CSUSB will share their stories and educational journeys. During this interactive conversation, CSUSB students will also share lessons learned and advise on the "do's and don'ts" of college life. 
Four Systems of Higher Education and Freshman Admissions Requirements – Presented by Olivia Guerrero, Assistant Director, GEAR UP, SMSU Theatre at 10 a.m. and 11 a.m.
College Readiness 101- The A-G Requirements and the 4 Systems of Higher Education Unsure about the college options you have? Know there is something out there for everyone! This workshop will focus on the 4 California College Systems. Attendees will learn about the A- G requirements then, the facilitators will delve into the CSU, UC, Private and Community College systems.  Attendees will learn the best avenue for their educational journey based on the requirements for that particular higher education system. As a bonus information will be shared about California's Hispanic Serving Institutions don't miss out on this presentation!
Undocumented Students Can Go to College – Presented by Maria Maldonado, Lead Coordinator, Undocumented Student Success Center, Skybox 207/208 at 10:00 a.m.
This workshop session will provide information to students who self-identify as undocumented and/or Dreamers. The presenter will discuss the CA Dream Act, scholarship opportunities, on-campus as well as community resources, and emergency grants. Lastly, the presentation will introduce the Undocumented Student Success Center at CSUSB while sharing the services provided.
Campus Tours – Presented by the Office of Pre-College Programs, SMSU Lobby at 10:00 a.m. and 11:00 a.m.
During this session, students and parents will have the opportunity to tour the CSUSB campus while receiving general facts about majors, athletics, and coyote life!
Success in High School: Being a Leader in Achieving Your Success – Presented by Katherine O'Neil and Gerardo Lorenzo, Program Coordinators, Upward Bound, SMSU 218 at 10 a.m. and 11 a.m.
In this session, students will gain information and resources to achieve success in high school. Students will explore the question of "What does it mean to be a successful student?" through growth mindset and SMART Goals. This session will cover student success and the importance of self-advocacy in an interactive setting, while assembling a toolbox for high school success.  
Time Management and Goal Setting: #GOALS – Presented by Kurt Manio, Director, First Star Academy, SMSU Skybox 210 at 10 a.m. and 11 a.m.
Studies indicate that when we set a goal, the success rate of achieving that goal is only 8%. This is due to the fact that we often set goals that are not specific, are not measurable, and have no accountability. By participating in #GOALS, students will learn about SMART goals (S-Specific, M-Measurable, A-Attainable, R-Relevant, T-Time Bound), and how such goals can be helpful, but can also hold us back. Students will then learn about using the Scaling Method for goal setting, which is rooted in Solution Focused Therapy; a short-term crisis intervention model that utilizes an individual's strengths in order to overcome adversity. By using this method, students will increase their goal attainment success rate by 40-60%.
Demonstrating Leadership to Serve Your Community: Leadership Through Public Service – Presented by Carmen Cuevas, Assembly Member Jose Medina AD61, District Director, SMSU 224 at 10 a.m. and 11:00 a.m. 
Do you realize that there are professional jobs that pay you to be a leader and serve the community? This workshop will help you explore the concept of "giving back" and how service to community can become a career in public service.
 
Parent Workshops
College Making it Happen: Leading a Path to College Success - Presented by Dalia Hernandez, Director, Upward Bound, SMSU 217 10:00 a.m.
This interactive workshop session is designed to empower parents to take the lead in keeping informed about the college opportunities available to their children. The session will provide information on how parents can support and help their children access, enroll in and complete a college education. Parents will leave the workshop session with a general understanding of the college going process, including the college admissions and financial aid processes.
Haciendo Realidad una Educación Universitaria: Liderando una Trayectoria al Éxito Universitario
Este taller está diseñado para empoderar a los padres para liderar y tomar la iniciativa para mantenerse informados sobre las oportunidades universitarias disponibles para sus hijos. El taller proveerá información sobre como los padres pueden apoyar y ayudar a sus hijos a tener acceso, matricularse en y terminar una educación universitaria. Padres dejaran el taller con un entendimiento general del proceso de ir a la universidad, incluyendo los procesos sobre admisión universitaria y ayuda financiera.
Family to Family: Keys to Student Success – Presented by Patent Officers/Leaders of the Binational Parent Leadership Institute, SMSU 217 at 11:00 a.m.
Parental involvement and advocacy play a critical role in their child's academic Success.  Across cultures, parents make personal and financial sacrificesto provide opportunities and Access to a quality education for their children.  Listen to parents describe how they helped their children succeed in school despite the barriers of Language, culture, education and more.
Familia a Familia: Claves para el éxito estudiantil – Presentado por los Oficiales/Líderes de Padres del Instituto Binacional de Liderazgos de Padres.
La universidad no es un sueño sino un plan! En esta sesión, se discutirán los beneficios de ir a la universidad, los datos sobre asistencia a la universidad y la terminación de los Latinos. Además, las barreras comunes a Latinos que asisten a la universidad; y mitos, incluyendo las diferencias culturales, serár discutidos. Así como en la forma en que los padres pueden apoyar a sus hijos a ir a la universidad, y come desarrollar una cultura universitaria en su hogar.  
         
 
Campus Tours
Campus tours available every hour on the hour.  Meet tour guides at SMSU either of these two locations:  The Santos Manuel Student Union Lobby and the Meeting Center.   Please look out for our friendly guides holding campus tour signs.

Directions to CSUSB - From Interstate 215 at University Parkway: Exit the freeway and travel one mile north/northeast to the end of University Parkway, which becomes the main entrance to CSUSB (at Northpark Blvd). Ahead and to your left will be the Parking Services Information Booth.
Campus Map - Bus Drop Off - Parking Location 
Sponsors
CSUSB University Advancement
Office of Tribal Relations
College of Education
LEAD (Latino Education & Advocacy Days)
Student Success & Educational Equity, Division of Student Affairs
PUENTE Project
BPLI - Binational Parent Leadership Institute
San Bernardino County Superintendent of Schools
Mexican Consulate in San Bernardino, CA
SMSU - Santos Manuel Student Union
ALFSS - Association of Latino Facuty, Staff and Students
JLE - Journal of Latinos in Education
NLEN - National Latino Education Network
Office of Strategic Communications
SCCHSI - Southern California Consortium of Hispanic Serving Institutions
Corella Family