ALFSS Winter Social Convivencia
Association of Latino Faculty, Staff, and Students
Friday, March 20, 2020 (4:30 - 8:00 pm) - as part of LEAD 2020
 
Location: California State University, San Bernardino
Santos Manuel Student Union - Events Center (B-C)
 
Event Agenda
4:30 - 5:30 pm Check-in & food
5:30 pm Welcome Remarks 
5:45 pm Dance Instructions
6:15 - 8 pm Social Dance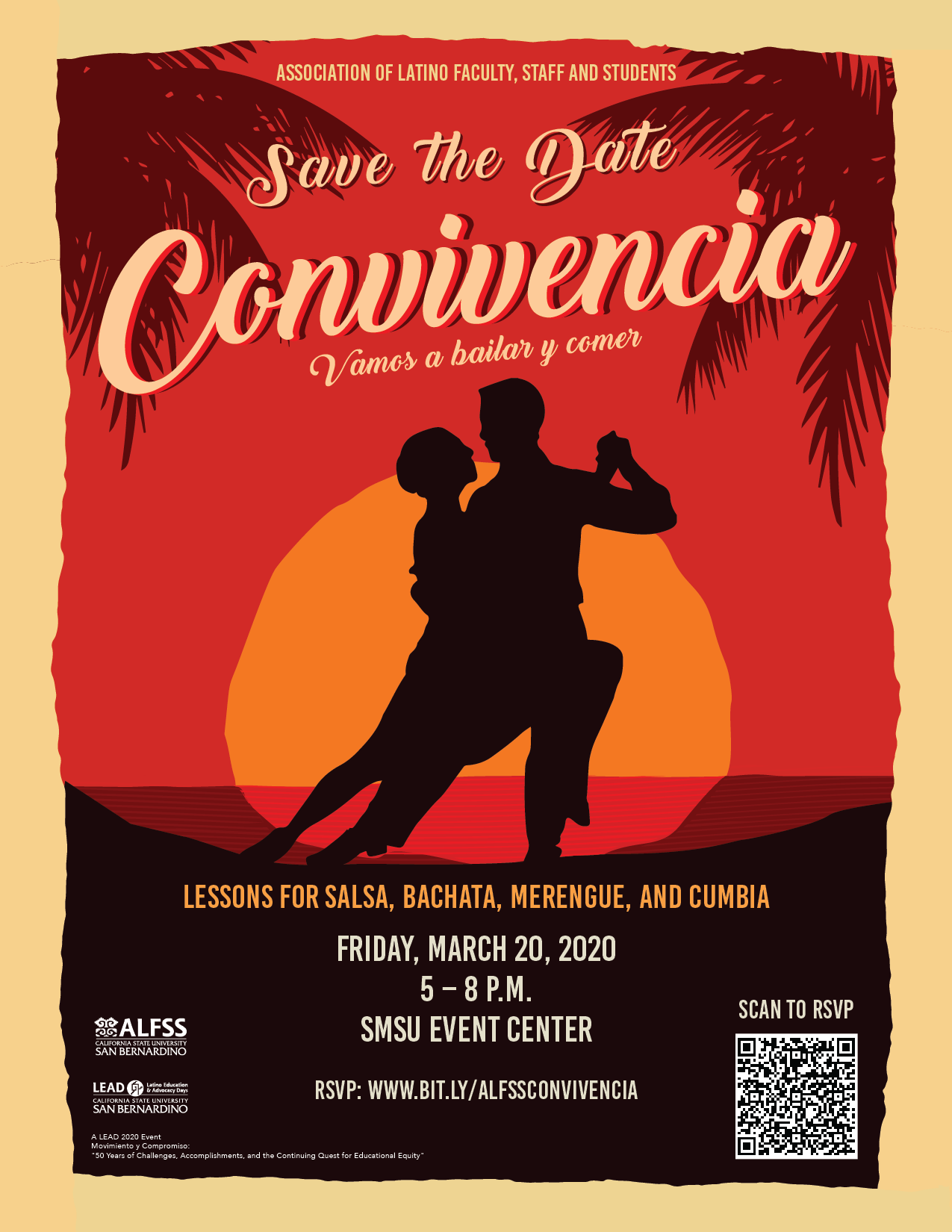 The Association of Latino Faculty, Staff and Students & Latino Education & Advocacy Days (LEAD)
Cordially Invite you to . . . 
Convivencia - part of LEAD 2020
Vamos a bailar y comer
Friday, March 20, 2020
5 - 8 pm
SMSU Event Center
Campus of California State University, San Bernardino
Join ALFSS for our winter quarter social and kick-off to spring break! 
It will be a night of food, dancing, music and more. Lessons for Salsa, Bachata, Merengue and Cumbia.
Food and beverages - complimentary
A key goal is to increase awareness of the ALFSS organization and the LEAD Summit.
Off-Campus Guests Welcome!
Complimentary Parking for those that register.
RSVP at www.bit.ly/ALFSSCONVIVENCIA
Purpose of Event (goals)
Inviting campus faculty and staff to socialize with ALFSS members raising awareness of the organization, our scholarship efforts and to increase membership. Keeping the momentum of our Fall Bienvenida, guests of faculty and staff as well as off campus guests are invited to attend. Complimentary parking is included for off-campus guests as a LEAD 2020 events.
Food and beverages - complementary
A key goal is to increase awareness of the ALFSS organization and the LEAD Summit. 

About ALFSS
The Association of Latino Faculty, Staff and Students is a non-profit organization affiliated with California State University, San Bernardino. ALFSS is committed to serving a diverse community. ALFSS affirms the multiculturalism of CSUSB and invitesstudents of all ethnicities to apply. We seek to eliminate discrimination based on gender, class, economic status, ethnicity, sexual orientation, age, physical ability and cultural and religious backgrounds.
What is the purpose of ALFSS?
Encourage the involvement of students, staff, faculty and administrators of the university community on issues pertinent to Latinos. Promote the participation of youth in higher education through scholarship funds. Further the personal and professional advancement of Latino faculty, staff and students at CSUSB. Disseminate information about CSUSB to the community in general, and the Latino community in particular. Promote public interest in understanding the rich and varied Latino culture.
Since 1985, ALFSS has awarded more than $100,000 in scholarships to new and continuing CSUSB undergraduate and graduate students, including graduating high school seniors and community college transfer students.