Employee Spotlight: Jaquai Patterson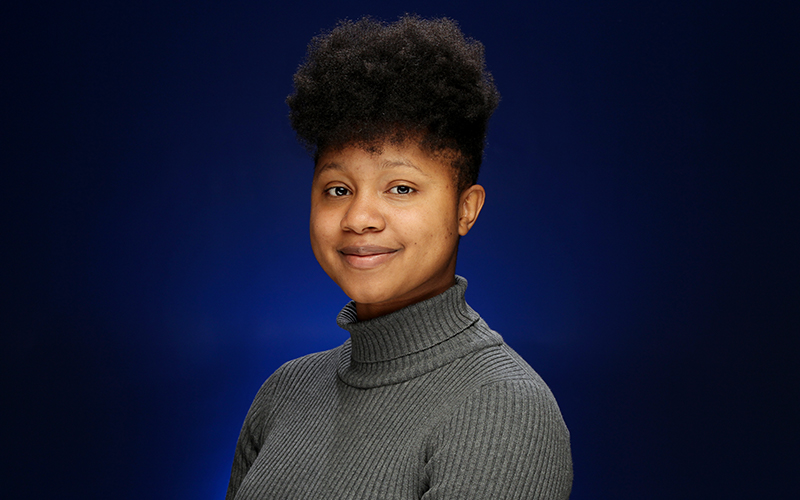 Jaquai Patterson is a videographer in the ITS Division under Academic Technologies and Innovation (ATI) here at Cal State University, San Bernardino and has worked in this role since November of 2019. As a videographer, Jaquai manages the recording for the CSUSB community such as events on campus and recordings of online faculty lectures for hybrid/fully online learning. ATI manages the recording of different versions of classes, tutorials for services for students such as TeleMedicine and helps schedule everyone they supervise for events. When asked what aspects of her job she was the most proud of she responded: 
"Being able to give back to the community that has given so much to me. I love the atmosphere at CSUSB. Working here, I get an opportunity to help promote the arts which I love." 
Jaquai is an alumnus of CSUSB, having graduated with a degree in Fine Arts in Videography with a minor in Theatre Arts with a concentration in the Technical Theatre. Outside of the office, Jaquai enjoys rock climbing, fashion and aerialist activities. Her favorite movies are Hatchi: A Dog's Tale and Her. She wants to travel to Europe to visit family in Belgium sometime in the future. Jaquai describes CSUSB as "a home away from home and an opportunity you never knew you needed." She stresses the importance of their division, stating: 
"During this time there are a lot of faculty that want to give 100% and record high quality videos so that their education quality is the same as if they were in classrooms, especially during COVID times. We also create resources for the professors like providing microphones and cameras for them to bring home, if they need help obtaining one of their own to record classes." 
When asked how ATI has adjusted to working during COVID-19 era and how they've overcome any challenging transitions, Jaquai said: 
"I am just as active, just in different ways. There are less campus events of course, but a lot  more class recordings. We provide more resources to faculty that we never had a reason to give before. A lot of opportunities are going to be available for professors and faculty such as AR and VR now that we've had to adjust and bring those to our campus. There's a silver lining and a lesson to be learned in everything." 
With her strong work ethic and dedication to helping the CSUSB community, Jaquai goes above and beyond making a difference within the field of technology in the ITS Division.