ITS Town Hall January 2020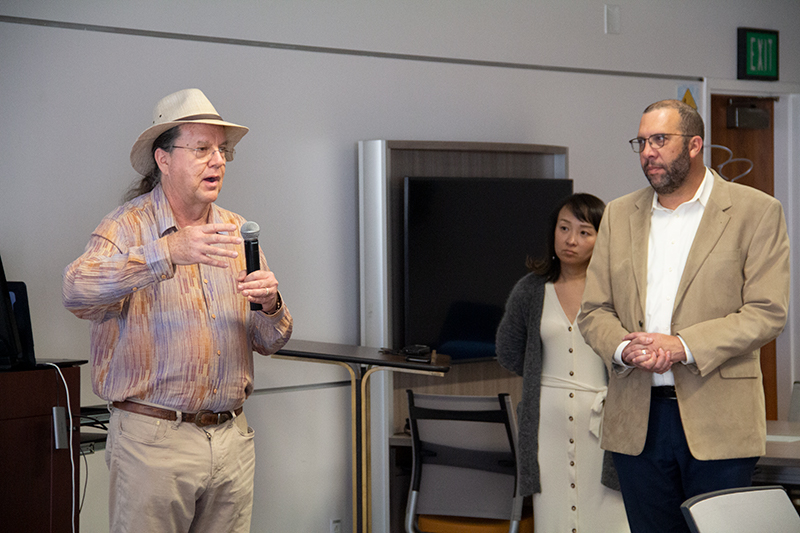 Information Technology Services (ITS) hosted another "Town Hall Meeting" in their once a month sessions for students, staff and faculty. The meeting held on January 30 had the topic of "virtual reality for teaching." 
Staff from Academic Technologies & Innovation (ATI), a division of ITS, showcased their progress on incorporating virtual reality into classrooms. 
YuTong Liu, Duncan Smith and James Trotter of ATI described the augmented reality and virtual reality projects that ATI has been working on.
One such project is the Xcode app, an application students can download and scan items to create 3D images. 
ATI has also developed a virtual reality lab. In the lab, students learn how to produce fully interactive virtual reality environments. 
The most recent example of the interactive virtual reality environment has been designed for nursing students. The program allows the students to interact with artificial intelligence to determine patient discharge, and is still in testing.
For students interested in developing virtual reality projects, the Virtual Reality Club meets in UH-043. Stop by to inquire about their upcoming meetings.
Mr. Trotter presented 360-degree video, a type of immersive technology that allows the user to record a location and playback the video through the virtual reality headsets. 
Featured faculty Kurt Collins, Mihaela Popescu and Scott Vance also spoke about their opinions and experiences incorporating virtual and augmented reality in the classroom.
ITS Town Hall meetings will continue to inform the campus of new and exciting technological projects.