Coyote Chronicle Wins Award with Help from ATI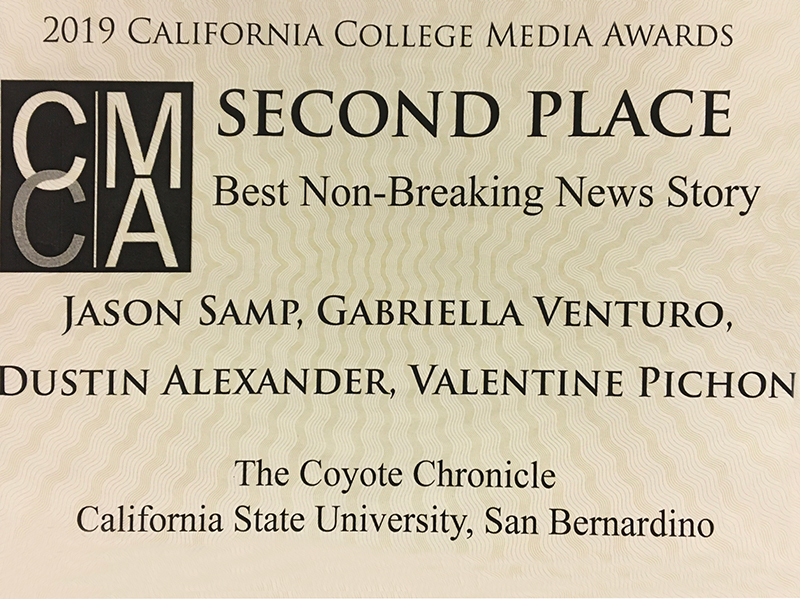 Congratulations to the Coyote Chronicle under the guidance of Communication Studies Professor, Dr. Mariam Beltemidze and with help from ATI Department Assistant Director James Trotter and collaborating Professor, Dr. Mihaela Popescu. 

The Chronicle article "Cadiz Controversy: Multimedia" won second place recently for a non-breaking news story in the 2019 competition contest of the California College Media Association.

The article's project took shape with the addition of 360° video + drone footage. As part of ATI's ongoing commitment to empowering faculty in achieving their instructional goals, Mr. Trotter and Dr. Popescu worked on the piece with Dr. Beltemidze to achieve the video and shots of the proposed Cadiz Water Project in the Mojave Desert and the land around the project that has environmentalists concerned.
CSUSB students Jason Samp, Gabriella Ventruo, Dustin Alexander and Valentine Pachon wrote the Coyote Chronicle award-winning article.
Review "Cadiz Controversy: Multimedia" from the following link:
https://coyotechronicle.net/cadiz-controversy-multimedia/