Tech Fest Save the Dates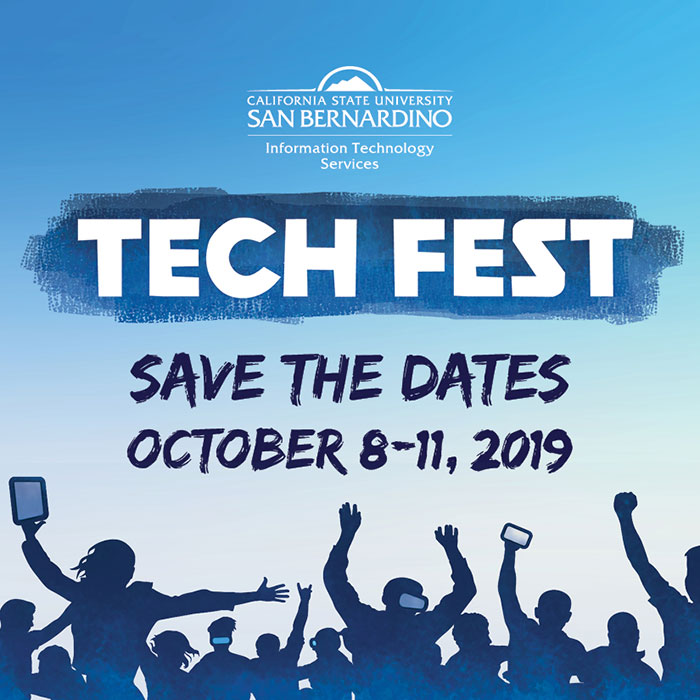 Faculty, Students and Staff: Mark your calendars for Tech Fest Week! This four-day event presented by the ITS Department is taking place October 8 – 11, 2019. There is a Palm Desert Campus Day, too.  
Student Day is October 8 beginning at 9 a.m. in PL-1109. Students are invited to come see all that ITS offers. They can get training on student software, bring their laptops and download free software, see the new INK SmartStations and more! There is a download and pizza party from 11 a.m. to 2 p.m. in PL-025. In addition, students can visit The Cave and stop by stations to get their ITS passport stamped for a prize.
On October 9 from 10 a.m. to 2 p.m. during Staff Day, attendees can gain a deeper understanding of CSUSB students' needs, learn how to edit images, enhance their technical skills and discover what Digital Transformation really means.
On the Palm Desert Campus, October 10 is PDC Day! The Technology Support Team will be on hand to help with questions and concerns. Meet the PDC ITS Team, see what is new on campus and have a bite to eat. Join the Tech Fest fun in the HS Lobby from 10 a.m. to 2 p.m.
Faculty Day happens on October 11 in PL-1104 from 10 a.m. to 2 p.m. ATI will have presentations on Light Board, QLT certified online course example and GoReact Demo. Faculty can also watch ATI technology demonstrations on virtual reality, augmented reality, 3D scanning, 360 immersive video and active learning.
Join the ITS Department for the annual Tech Fest Week on both CSUSB Campuses October 8, 9, 10 and 11.