Pulitzer Prize-winning journalist Ian Johnson to speak at next Modern China Lecture
January 25, 2021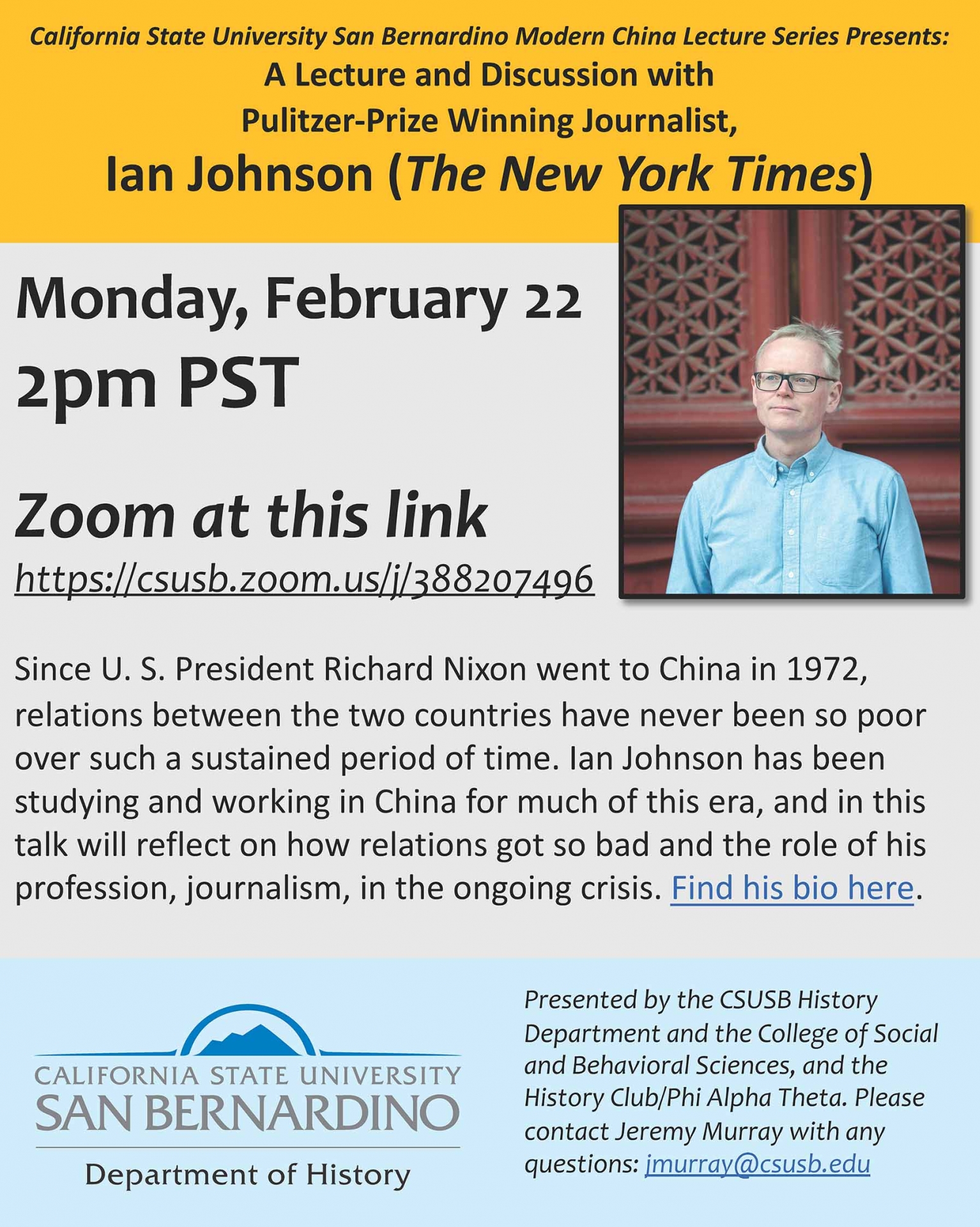 Ian Johnson, who was awarded the 2001 Pulitzer Prize for International Reporting, will speak on the state of U.S.-China relations at the next Modern China Lecture on Monday, Feb. 22, on Zoom.
The program, which will begin at 2 p.m., can be accessed on Zoom from a PC, Mac, Linux, iOS or Android at https://csusb.zoom.us/j/388207496.
Since U.S. President Richard Nixon went to China in 1972, relations between the two countries have never been so poor over such a sustained period. Johnson has been studying and working in China for much of this era, and in this talk will reflect on how relations got so bad and the role of his profession, journalism, in the ongoing crisis. 
"Ian Johnson is one of the most insightful observers of China in recent years," said Jeremy Murray, organizer of the lecture series and CSUSB associate professor of history. "Hearing from him, and having the chance to ask him questions about the state of U.S.-China relations is a really wonderful opportunity. Attendees of this free and open event will be welcomed to join the conversation."
Johnson was awarded the 2001 Pulitzer Prize in International Reporting for his work for The Wall Street Journal about victims of the Chinese government's often brutal suppression of the Falun Gong movement and the implications of that campaign for the future. He is the recipient of two awards from the Overseas Press Club, and an award from the Society of Professional Journalists. In 2017 he won Stanford University's Shorenstein Journalism Award for his body of work covering Asia. In 2019 he won the American Academy of Religion's "best in-depth newswriting" award. 
In 2006-07 he spent a year as a Nieman fellow at Harvard University, and later received research and writing grants from the Open Society Foundation, the Pulitzer Center on Crisis Reporting, and the Alicia Patterson Foundation. In 2020 he was an inaugural grantee of the Robert B. Silvers Foundation for work-in-progress.
Most recently, he was awarded a 2020-2021 National Endowment for the Humanities Public Scholars fellowship for a new book he is writing on China's unofficial history.
Johnson first went to China as a student in Beijing from 1984 to 1985, and then in Taipei from 1986 to 1988. He later worked as a newspaper correspondent in China, from 1994 to 1996 with Baltimore's The Sun, and from 1997 to 2001 with The Wall Street Journal, where he covered macro-economics, China's World Trade Organization accession and social issues. 
He has also worked in Germany twice. From 1988 to 1992 he attended graduate school in West Berlin and worked as a freelancer, covering the fall of the Berlin Wall and German unification for Baltimore's The Sun, The St. Petersburg Times, The Toronto Star, and other newspapers. In 2001 he moved back to Berlin, working until 2009 as The Wall Street Journal's Germany bureau chief and senior writer. He headed coverage of European macro-economics, and wrote about social issues such as Islamist terrorism. 
In 2009, Johnson returned to China, and lived there until 2020 as a writer for The New York Times, The New York Review of Books, and other publications. He taught undergraduates at The Beijing Center for Chinese Studies, and has served as an advisor to academic journals and think tanks, such as the Journal of Asian Studies, the Berlin-based think tank Merics, and New York University's Center for Religion and Media. 
After being expelled from China in 2020 as part of escalating tensions between Washington and Beijing, Johnson now writes books and is pursuing a Ph.D. at the University of Leipzig on Chinese religious associations.
Johnson has published three books and contributed chapters to three others. His newest book, "The Souls of China: The Return of Religion After Mao," describes China's religious revival and its implications for politics and society.
His other books are on civil society and grassroots protest in China ("Wild Grass," 2004) and Islamism and the Cold War in Europe ("A Mosque in Munich," 2010). He has also contributed chapters to: "My First Trip to China" (2011), "Chinese Characters" (2012), and the "Oxford Illustrated History of Modern China" (2016).
Johnson was born in Montreal, Canada, and holds dual U.S. and Canadian citizenship.
The Modern China Lecture Series was initiated to promote awareness of important issues related to China for those on the CSUSB campus and in the community. In the series of more than 50 lectures, workshops, film screenings and roundtable forums since January 2014, China scholars from UC San Diego, UC Riverside, the Claremont Colleges, UCLA, USC, UC Irvine and other institutions have visited the CSUSB campus to share their expertise and opinions.
Speakers in the series have included specialists in history, economics, political science, philosophy, finance, security studies, literature, anthropology and other fields.
The series cosponsors this year are the CSUSB Department of History, the History Club/Phi Alpha Theta, and the College of Social and Behavioral Sciences.
For more information on the Modern China Lecture Series, contact Jeremy Murray, associate professor of history, at jmurray@csusb.edu.