Race and Policing Series: Policing of Indigenous Communities
September 14, 2020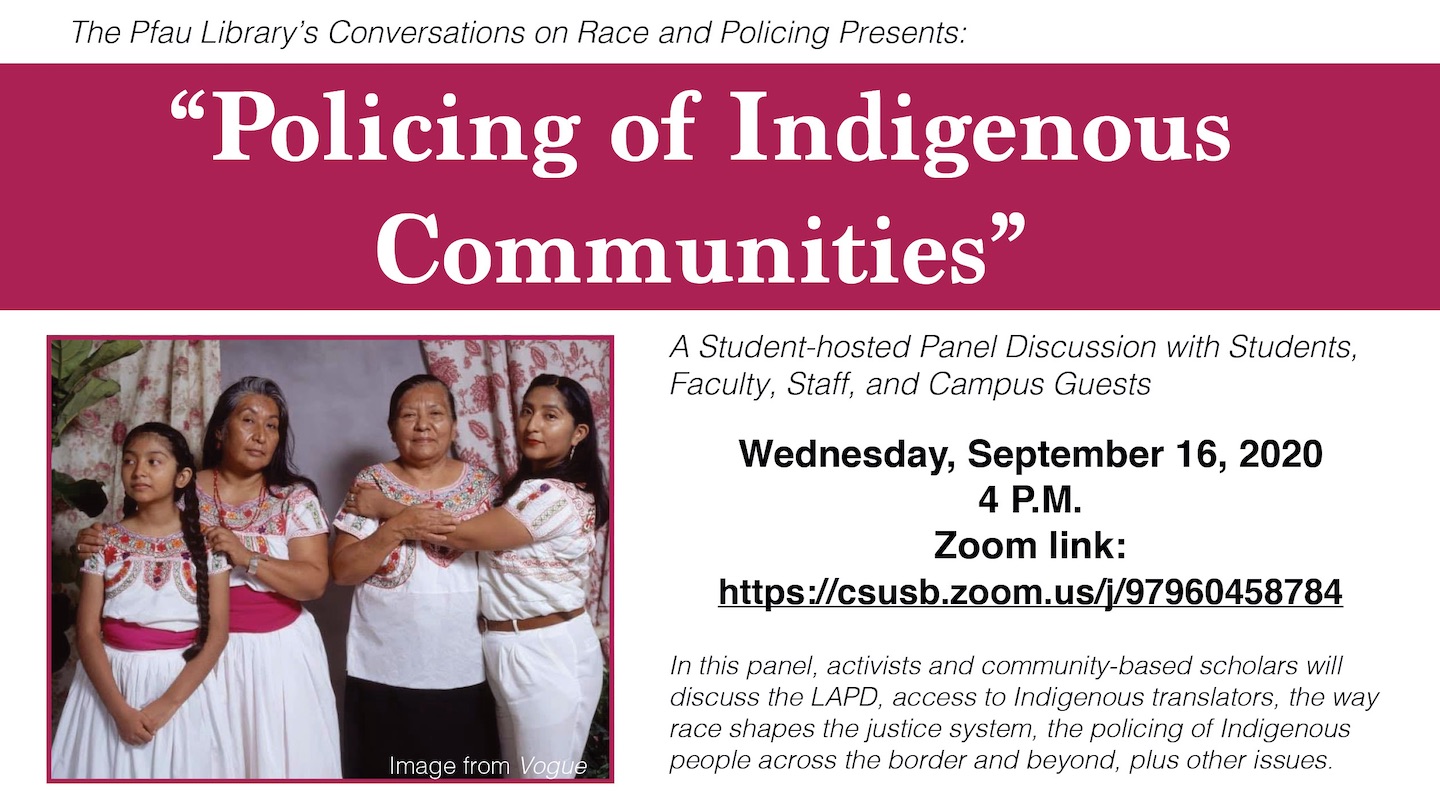 ,
You're invited to join us this Wednesday, September 16, at 4 p.m. for a panel discussion featuring activists and community-based scholars who will discuss the LAPD, access to Indigenous translators, the way race shapes the justice system, the policing of Indigenous people across the border and beyond, plus other related issues. 
Panelists 
Odilia Romero (Zapotec) is the first woman to be the bi-national coordinator of FIOB (Frente Indígena de Organizaciones Binacionales), an immigrant and human rights organization of Mexican indigenous groups. She is co-founder and executive director of Comunidades Indigenas en Liderazgo (CIELO).  She is also an independent interpreter of Zapotec, Spanish, and English for indigenous communities in Los Angeles and throughout California.  Her work has been featured in the Los Angeles Times, the New York Times, and Democracy Now!
Stan Rodriguez is a tribal member and councilmember for the Santa Ysabel Band of Iipay Nation in San Diego County. He represents the Kumeyaay people from both sides of the US-Mexico border. He earned his Doctorate in Educational Leadership from UC San Diego and CSU San Marcos. Stan's work with Kumeyaay Community College, expertise in Native knowledge and relationships with numerous institutions helps bring native voices and healing to the center of this conversation on policing.
Dr. Daisy Ocampo is from the Caz'Ahmo Nation (Caxcan in Spanish).  She is a professor in the History Department at CSU San Bernardino.  Professor Ocampo's academic research centers Indigenous voices in public history institutions such as museums, preservation of sacred sites, and community-based archives.  
Series organizers:
Dr. Mary Texeira (Sociology), Robie Madrigal (Pfau Library), Dr. Jeremy Murray (History), Marlo Brooks, and Yvette Relles-Powell.  
Click here to view previous panels in the Conversations on Race and Policing series.  
For questions or more information, contact Robie Madrigal (rmadriga@csusb.edu) or Jeremy Murray (jmurray@csusb.edu).