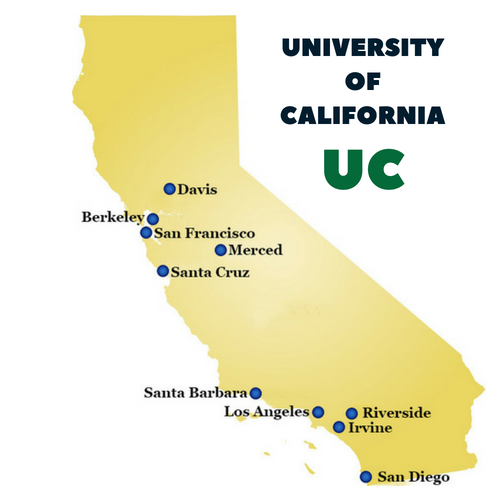 University of California Schools
University of California schools, also known as UCs, are public 4-year institutions that are located across the state of California.
Each school has their own variety of degrees and specialties offered. Each UC also has different acceptance rates. For more information on UC admissions, click on the following ten UC campuses below: 
Nine of these campuses offer both undergraduate and graduate education. *UC San Francisco is a graduate and professional school only.
UC's and Cost 
UCs are public institutions and financial aid, including scholarships is available for students to help manage costs. Visit our FAFSA or  California DREAM Act pages for further information.
Moreover, you can apply to all UC campuses using the same application, My UC Application. An application fee of $70 is required for each campus you apply to. There is a fee waiver that can cover the application fee for up to 4 campuses, if eligible.
To learn more about tuition and cost of attendance, click on the following link:
How do UC schools differ from CSUs?
Although UC schools generally have higher prestige, both Cal States and UC's are good choices and offer a quality education while still having their own drawbacks. To learn more about the aspects of attending a UC campus, click on 10 Important Things to Know About the University of California for further information.
Requirements for enrollment - UCs
High School GPA
The UC or CSU GPA used when determining admission only includes grades for classes in Grades 10 and 11. Remember, GPA calculation is different from A-G requirements. For further information, visit UC Admissions Requirements site.
Every UC has their own specific way to calculate the grade point average (GPA) it requires for admission. However, California applicants must earn at least a 3.0 GPA and nonresidents must earn a minimum 3.4 GPA in all A-G or college-preparatory courses to meet this requirement. 
Entrance Test Scores
UC will be "test-optional" for Fall 2021 and Fall 2022. Freshman applicants are not required to submit SAT/ACT test scores. To learn more about the updated requirements to enroll in a UC school, visit the following:
Writing College Essays & PIQs - Prepare the perfect first impression
The Personal Insight Questions (PIQs) are a vital part of your UC Application for admission and scholarships. The Universities use your responses to learn more about you as an individual-your talents, experiences, achievements, background, intellectual vitality and point of view. Your PIQs, when read along with your academic record, help the Universities gain insight into your overall level of achievement.
Think of it as your opportunity to introduce yourself to the admissions officers and faculty who will be evaluating your application. What would you like them to know about you that may not be evident from a review of the rest of your application?

After they have read your PIQs, they will ask themselves, "What have we learned about this individual?" If they have learned very little about you, then your efforts have not been successful.
Writing Tips for College Essays & PIQs
How to prepare:
Read the essay prompts carefully and follow the instructions.
Note that the topics are different for freshmen and transfer students.
Your PIQs should reflect your own ideas, and should be written by you alone.
How to write:
You will have 8 questions to choose from. You must respond to any 4 of the 8 questions.
Each response is limited to a maximum of 350 words.
Which questions you choose to answer is entirely up to you. But you should select questions that are most relevant to your experience and that best reflect your individual circumstances.
All questions are given equal consideration in the application review process, which means there is no advantage or disadvantage to choosing certain questions over others.
Stick to one topic per response.
Support your ideas with specific examples.
Present your information and ideas in a focused, in-depth, thoughtful, and meaningful manner.
Use "I" statements.
Present a clear picture of who you are and why you deserve to be accepted at the university.
How to finalize:
Give yourself plenty of time to thoughtfully prepare for your essay, as well as time to refine and improve after writing it.
Have a teacher, counselor, friend, or family member give you feedback after you have written the narrative to see if you have given adequate insight into your essay.
Have an English teacher proofread your essay.
Follow the rules for format, length, and content.
Write PIQs in a Word document, then "cut and paste" into the online application.
After pasting the four responses into the application, click on the "Count" button to check the word count.
What to avoid:
Submitting hastily prepared responses. It will be very obvious when people read them.
Usage of inappropriate humor, quotations, clichés, or poems.
Repeating topics or information you have already disclosed on the admission application.
Experimenting with varied forms and formats. Reader must be able to easily read your narrative.
Listing your accomplishments and honors; a list tells the university what you have done, not who you are.
If you apply to UC, DO NOT address your response to a specific campus. You need to "talk" to all of the UC campuses in your essay.
Avoid creative writing. You are ANSWERING QUESTIONS. Creative writing might be appropriate for the Common App or essays for other colleges, but not for the UCs. Don't "set the scene." Answer the question.