CRIM Bridges to Stem Cell Research Scholars Internship Program
The newly funded 2022-2026 California Institute for Regenerative Medicine (CIRM) Bridges to Stem Cell Research Internship Program (CIRM Bridges) is a state government funded program aimed to broaden the participation in stem cell research by individuals representing the diversity of California's population.
The previously funded (2010-2022) internship program has allowed the CSUSB Biology Department to develop a quality stem cell education and training program that has resulted in 120+ students getting training in stem cell labs in Southern California. It has resulted in at least more than 75 students gaining employment as research technicians, attending Ph.D. programs or gaining acceptance in medical, dental and pharmacy schools. The program goals are: 1) to provide comprehensive stem cell training and research opportunities for qualified students through internship placement at City of Hope Beckman Research Institute, Stanford University, UCR, UCI, USC, Loma Linda University, Western Health Sciences University and USC/Children's Hospital Los Angeles stem cell laboratories; and 2) to give our large, ethnically diverse student population a basic understanding of stem cell research through our curriculum offerings.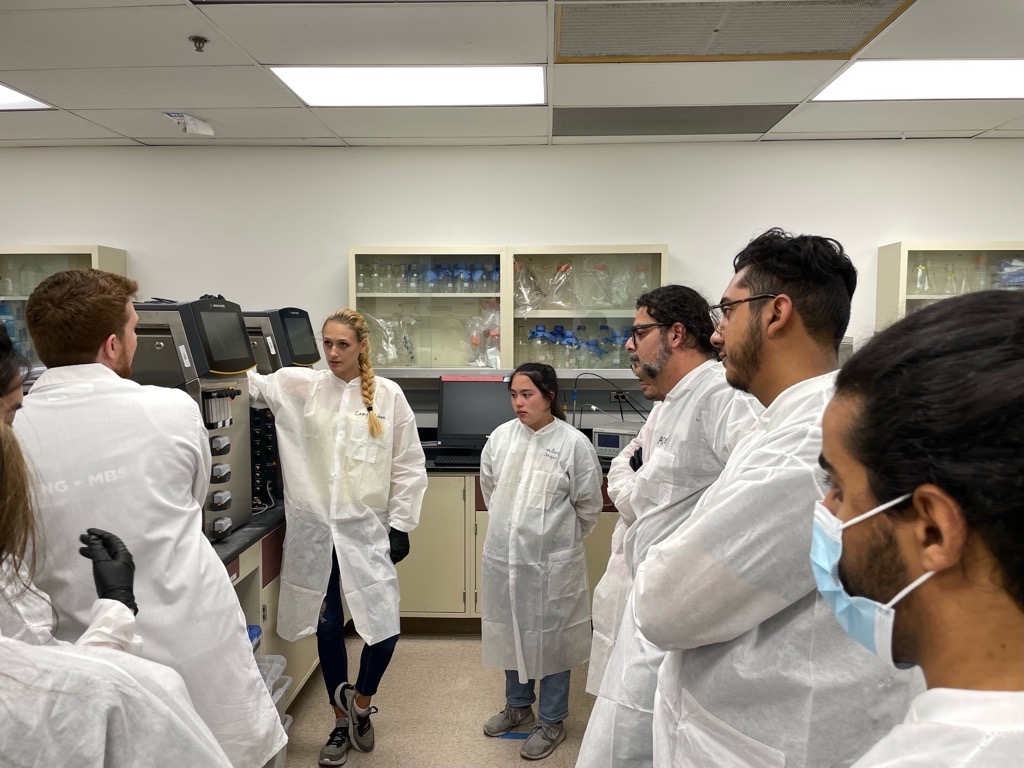 The CIRM Bridges program also has a student engagement component that includes student engagement with patient groups, participation in healthcare activities and organizing educational seminars to interested members of the community. Students will volunteer services at local hospitals, patient advocacy groups, or volunteer on campus to organize healthcare related events.
The internship program will be integrated into the students' undergraduate BS or graduate (MS) programs. Six undergraduate and 4 graduate students per year will be selected to participate in the stem cell research internships during the 5-year duration of this grant. Interns will be selected by the Advisory Board. The internship duration will be 12 months for both undergraduate and graduate students.
Prospective students must take three upper division courses (BIOL 3100, BIOL 3120 and BIOL 5130 (Animal Tissue Culture Techniques) so that they gain thorough understanding of the principles of molecular and cellular biology, have familiarity with molecular manipulation techniques, and extensive experience with basic cell culture techniques. Candidates must earn at least a 'B' in all three courses and have a 3.0 GPA. All interns will also participate in a 1-week Stem Cell Techniques Training course at the UCR CIRM Shared Research Laboratory prior to starting their internships. All interns will also take Biol 5170 (Introduction to Regulatory Affairs in Life Sciences) during their internship. The interns will be assigned both a research mentor from the institution in which they will be doing their stem cell research and a CSU faculty mentor to guide them during their internships. Upon completion of their internships, interns will present their work at the Biology Colloquium that takes place every end of a quarter, participate in the annual Inland Empire Stem Cell Consortium Conference and present a poster at the annual CIRM Bridges Conference that takes place every July.
Important downloads and links