About the Passport
The MBA Passport Program will serve as a guide to the academic year. Included are important university dates and signature activities hosted by the MBA Program Office, Student Success Center, Jack H. Brown College, and the University. At the end of the academic year, MBA students who earn seven stamps from activities/events that represent the MBA Program Learning Goals will be awarded an MBA Leadership Award. Students who complete 13 events in the academic year will receive the MBA Exceptional Leadership Award. Download your Passport to begin!
MBA Passport Coordinator:
Kirstyn Hansen, email: mba@csusb.edu or Kirstyn.Hansen@csusb.edu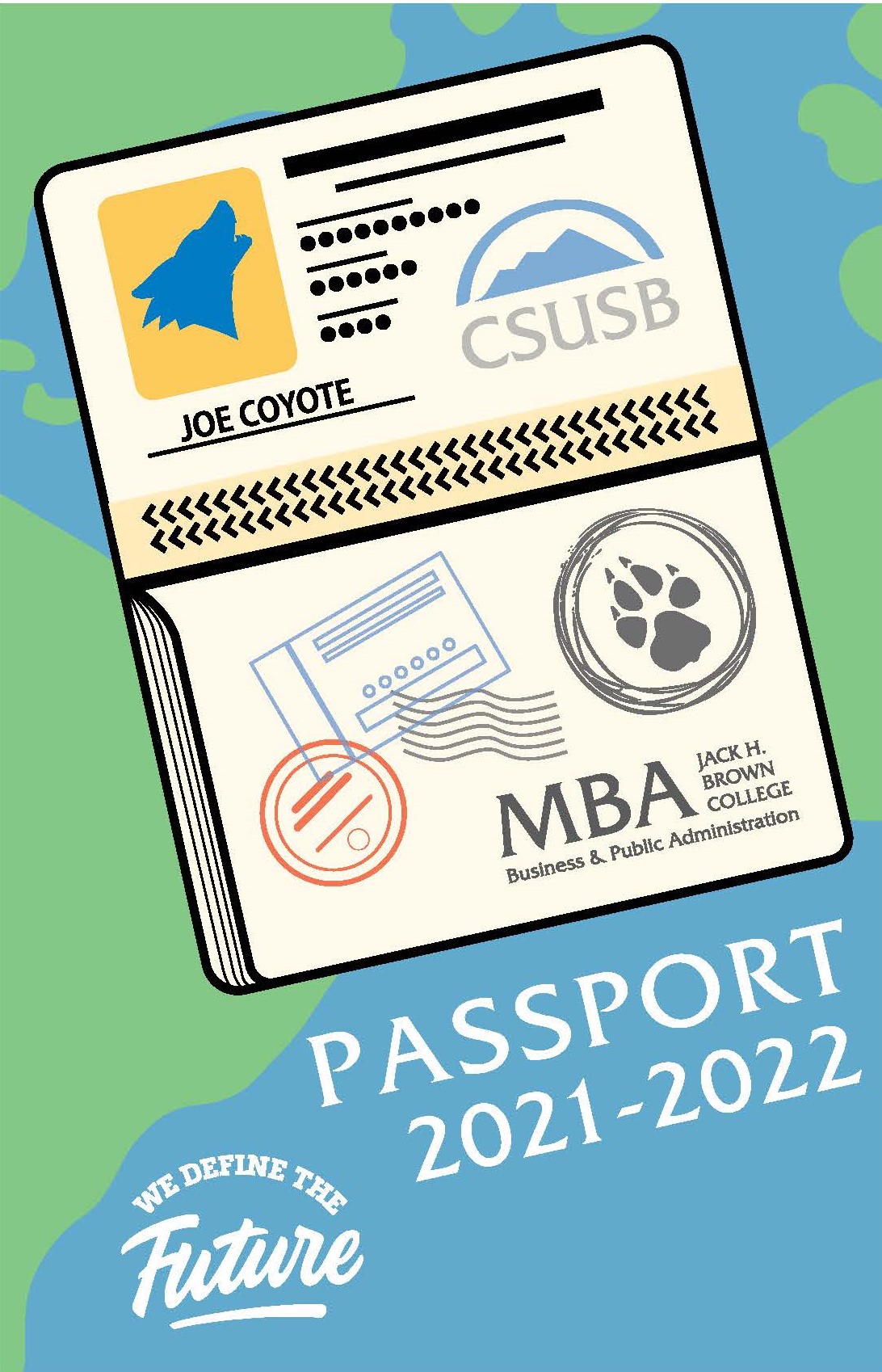 Passport PDF
If you would like to attend an event not listed and receive a stamp, you must receive approval before the event takes place. This can be done by emailing Kirstyn Hansen (kirstyn.hansen@csusb.edu) the following:
Event Details
One (1) paragraph stating how the event aligns with one or more of the MBA Learning Goals

Specific Knowledge & Skills: Each student should obtain the required specialized knowledge and skills for the creation of value through integrated operations and distribution of goods, services, and information.
Communication: Each student can effectively communicate, either written or orally.
Ethical Reasoning & Global Context: Each student can identify and evaluate ethical issues within a global context and articulate a realistic recommendation to inform decision making.
Problem Solving & Information Technology: Each student can work through the problem-solving process using information technology to identify a problem, evaluate solutions, and devise an innovative strategy to achieve the desired goal.

To receive your stamp, you will need to provide proof that you attended the event (picture at the event, program, ticket stub, etc.). 
Online MBA Passport Program
We have adapted the on-campus passport program to accommodate our fully online MBA program students. Email the Passport Coordinator for details.
Download the 2023-2024 Online MBA Passport
Passport Submission
All passport event proof must be submitted before the deadline in order to be considered for the Leadership Award. Download the On Campus MBA Passport.
Deadlines
Academic year 2023-2024
All event tracking must be submitted by May 11, 2024
How to Submit Event Tracking
Every approved Passport event you attend will require you to submit proof of attendance. In order to receive a stamp, you must fill out each entry field in the survey below. Once your event attendance has been approved, you will be notified via email.
You will need to submit:
Full Name and Student ID
Event Name
Event Details
Event Description
Learning Goals met
Proof of Attendance Attachment:

A photo/scan of each stamp you have received
Any photo proof you have for each event
Any emails that I have sent you verifying your events.