7th Annual Meeting of the Minds
 Several faculty and students attended the 7th Annual CSUSB Meeting of the Minds—Student Research Symposium on May 17, 2018.  While several kinesiology faculty members served as moderators of presentation sessions, it is more notable that CSUSB Kinesiology was represented by many student volunteers and speakers.  Student presenters included Rafael Alamilla, Miranda Reid, Darren Favela, Chris Hernandez, Johnathan Ramirez, Elizabeth Corella, McKenzie Gamble, Kathleen Sanchez, Margarita Serrano, Roland Morales, Jennifer LeDuff, Stephanie Cruz, Stephen Doherty, Rachelle Rapanut, Nick Ruelas, and Chiwon Kang.  Particular highlights include the following:
· Miranda Reid was selected as the Winner for Best Poster Presentation out of the entire College of Natural Sciences for the Undergraduate Division
· McKenzie Gamble and Kathleen Sanchez were selected as the Winners for Best Oral Presentation out of the entire College of Natural Sciences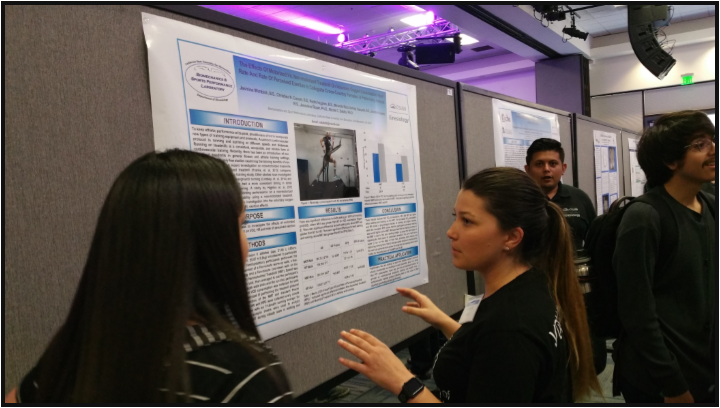 ---
2018 National Strength and Conditioning Association Southwest Regional Conference
On April 20-21, 2018, Drs. Nicole Dabbs and Guillermo Escalante along with several students attended the sold-out NSCA Southwest Regional Conference in Santa Monica, CA.  Student presenters included Chris Hernandez, Darren Favela, Johnathan Ramirez, Miranda Reid, and Elizabeth Corella.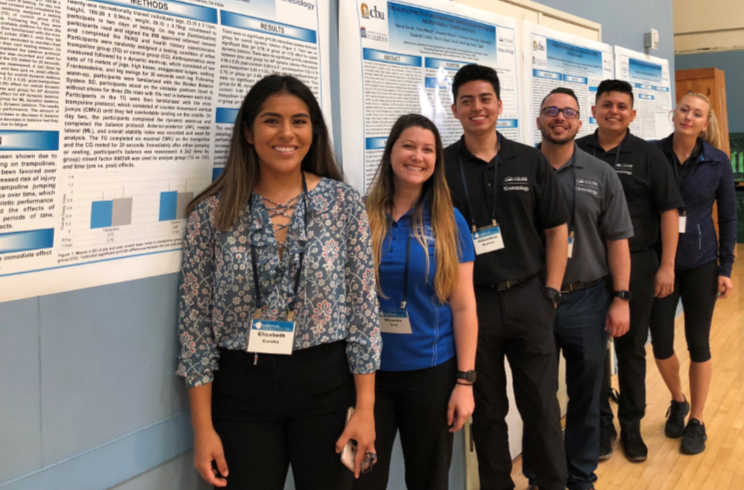 ---
CAHPERD Southern District Conference hosted by CSUSB Kinesiology
 In March 2018, the Kinesiology Department hosted the CAHPERD Southern District Conference. Like last year, the event was a collaboration with the California Association for Health, Physical Education, Recreation, and Dance (CAHPERD). This is the third straight year that such an event has been organized by our department. The full day event was made up of several hour long sessions led by professors and expert teachers in the field. Three of the teachers were former CAHPERD Teachers of the Year. In addition, one session, organized by CSUSB Pedagogy students and Dr. Gentry, had the majors present research critiques to provide the attendees with current information to take back to their schools. The event had more than 100 attendees.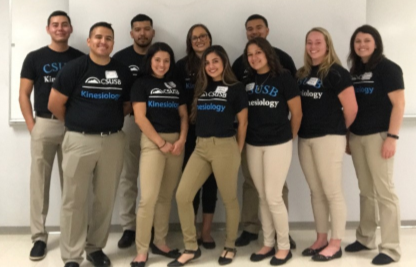 ---
American College of Sports Medicine: Southwest Regional Meeting 2017
On October 20-21, 2017, a group of several faculty and students attended the Annual SWACSM Meeting in Long Beach, CA.  Activities included an oral informational session on Exercise is Medicine by Drs. Nicole Dabbs and Jason Ng; poster presentations by Drs. Sangouk Wee and Zhaojing Chen; and several poster presentations by students (photos below).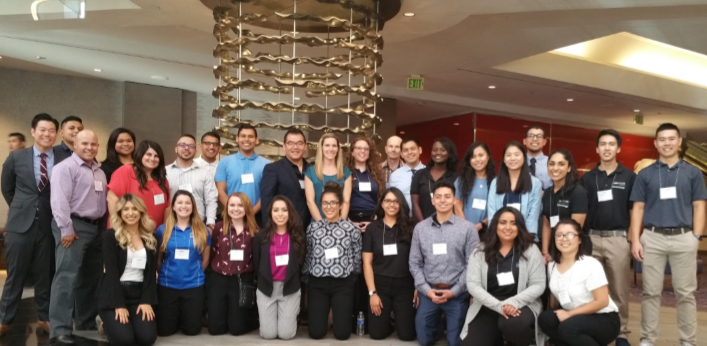 ---
2017 Western Society of Kinesiology and Wellness Conference
 On October 13-15, 2017, Drs. Guillermo Escalante, Chris Gentry, HK Oh, Hosung So, and Sangouk Wee along with a group of several students attended the annual Western Society of Kinesiology and Wellness Conference in Reno, NV.  Activities included four oral presentations by faculty, five poster presentations by faculty, and eleven research critique and literature review poster presentations by students.  Additional highlights of the conference are listed below:
· The CSUSB Kinesiology faculty as a group received the Booster Award
· Dr. Guillermo Escalante was awarded the Young Scholar Award
· Dr. Chris Gentry and his group of students were presented an award for undergraduate research
· Dr. Sangouk Wee was presented the Outstanding Research Award
· In a Jeopardy competition, our students came in 2nd place
---
National Strength and Conditioning Association National Meeting 2017
On July 12-15, 2017, Dr. Nicole Dabbs, Dr. Jason Ng, Professor Phillip Drouet, and Professor Matthew Jackson traveled with several students to Las Vegas, NV for the National Strength and Conditioning Association National Meeting.  CSUSB Kinesiology students, Rafael Alamilla, Jonathan Aquino, Christina Cooper, Andrew Khong, Miranda Reid, Javier Romero, Kong Tu, and Jasmine Wimbish, all presented research findings at this conference alongside other well-established researchers and professionals in the field.  Moreover, students were recognized with awards (Christina Cooper and Jonathan Aquino); Jonathan Aquino received the NSCA Undergraduate Research Poster Presentation Award.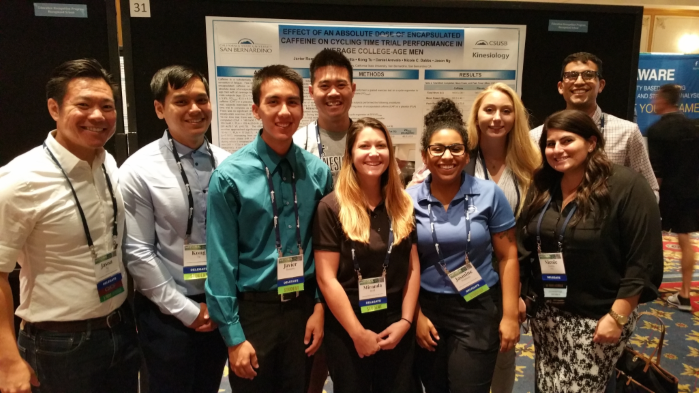 ---
In October 2016, California State University San Bernardino (CSUSB) Kinesiology department hosted South West American College of Sports Medicine (SWACSM). The conference was attended by a number of the Kinesiology Faculty as well as 45 Kinesiology undergraduate students.