Careers for English Majors
An English degree is unique. It prepares you for a wide range of careers and offers much pleasure along the way. While reveling in literature, language, writing, and rhetoric, you develop highly transferable skills for the job market, including analytical thinking, effective writing, creative problem-solving, linguistic sensitivity, emotional intelligence, and insight into the human condition. With this skill set, you can do just about anything—including work in writing and editing, business, law, education, technology, health, science, government, and politics. A bachelor's degree in English also offers an excellent foundation for graduate study in various fields.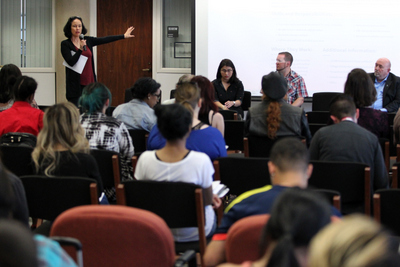 Associate Chair Sunny Hyon introduces panel at the SEE (Strategic Employability in English) event on April 26. Photo: Peter Acosta/CSUSB
---
Valuable Knowledge and Skills Gained as an English Major
Analytical reading
Effective writing
Critical and synthetic thinking
Imaginative problem-solving
Information literacy and research skills
Ability to connect with multiple audiences
Awareness of diverse perspectives
Emotional intelligence
Deep understanding of human nature
English majors are highly successful in a range of careers and callings.  They pursue such varied professions as law, grant writing, teaching, corporate communications, language pathology, video game design, and medicine; they are also highly sought after by large corporations, small businesses, start-ups, government agencies, media organizations, and a wide range of other employers.  
The English Major in Demand