Academics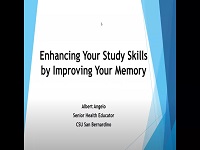 Enhance Your Study Skills

This workshop will help you improve your learning skills so that you can achieve your academic goals. You will learn how to develop skills to combat procrastination, set goals and practice better time management. You will also learn tools to improve your memory and test-taking abilities!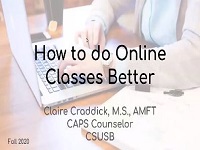 How to Do Online Classes Better
Are you worried about taking online classes this semester? Are you unsure of how to communicate or build relationships with your professors virtually? This workshop will help you start out the semester strong by offering tools to effectively engage in lectures, become better organized, and find ways to seek support and enhance your online learning experience.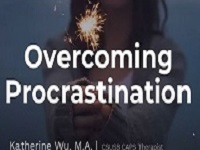 Overcoming Procrastination
This virtual workshop will help you identify the anxieties that drive your procrastination behaviors and will provide easy exercises you can do whenever you are feeling tempted to procrastinate.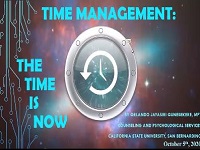 Time Management
Ever thought to yourself, "I don't feel like I have any control of the time in my day?" If so, this workshop on time management will inform you about how to better plan out your schedule, prioritize and set goals, and counteract procrastination so that you are able to take back control of your time. This workshop will also support you in developing a balanced and successful personal as well as academic life. Don't wait – the time is now.
Understanding and Overcoming Procrastination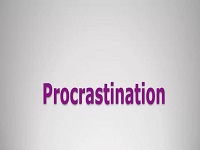 Many of us struggle with managing our time and we avoid doing the tasks, assignments, and chores that need to be completed. Fortunately, there are strategies that can help! This workshop will help you learn the skills and methods to reduce procrastination as well as help improve your time management skills.
Communication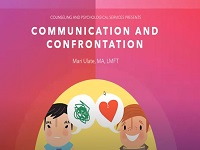 Communication and Confrontation 
Assertive communication skills are needed in every domain of life. This webinar will teach you skills to use in school, work, and family situations and also how to overcome common communication pitfalls. Learn how to respond to unhealthy communication styles, assertively state your boundaries, and de-escalate an argument.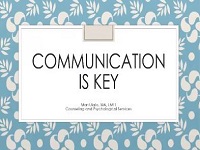 Communication is Key
Do you ever find yourself having trouble resolving problems within your relationships? You try to talk it out, but it usually ends with an argument and you wonder - how did we get here? This workshop is for those who want to grow in having healthy conversations. You will learn listening and communication skills and will be able to identify the traps and patterns that can send a discussion into an argument. Join us as we learn about healthy communication skills to use in any relationship.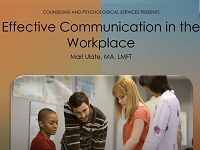 Effective Communication in the Workplace 
Do you have a fear of communicating with your boss or expressing your needs to your coworkers? Come learn communication skills to communicate effectively in the workplace or any professional setting.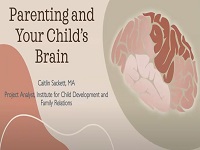 Parenting & Your Child's Brain
This workshop will explore how parents affect their children's brain development. Children's brains grow rapidly in the first five years of life, and as primary caregivers, parents play a big role in this growth. Information on parenting styles, attachment security, early language, and abuse and neglect will be shared.
Lifestyle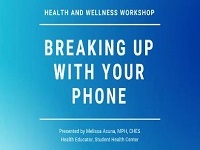 Breaking Up with Your Phone 
From texts to emails to social media, we are constantly connected to our smart phones. While phones can be a useful tool, overuse can leave us feeling unproductive, overstimulated, and can strain our mental well-being. Together, we'll understand the addictive components of our phones and explore ways to break the cycle to live a more balanced lifestyle.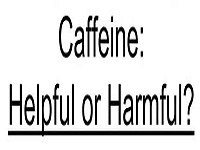 Caffeine: Helpful or Harmful?
It seems as though one day we hear caffeine is good for us… the next day, it's not. What's the real story? In this workshop, we'll talk about the truths and myths behind regular caffeine consumption. By the end of the presentation, you'll have a clear idea about the pros and cons of regular caffeine consumption!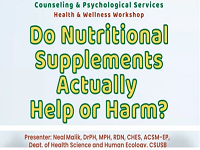 Do nutrition supplements actually help or harm?
If you can believe it, about 30% of the supplements sold in the U.S. contain banned substances (like steroids). How can we find the right supplements and which ones may improve our mental and physical health? In this workshop, we'll talk about how to find quality supplements and which ones have been found to improve our health. By the end of the presentation, you'll know what to look for when buying supplements and which ones you may want to consider taking (with your doctor's approval, of course!). Presenter: Neal Malik, DrPH, MPH, RDN, CHES, ACSM-EP, Dept. of Health Science and Human Ecology, CSUSB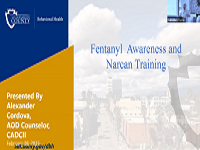 Fentanyl Awareness and Narcan Training
Watch this workshop to learn how abuse of fentanyl, a synthetic opioid, is devastating our communities. You will also be trained in how to use NARCAN, a potentially lifesaving nasal spray medication administered to rapidly reverse opioid overdose -- and save lives.  Presenter: Alexander Cordova, AOD Counselor, CADC II, San Bernardino County Behavioral Health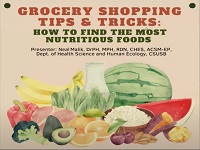 Grocery Shopping Tips and Tricks: How to Find the Most Nutritious Foods
Did you know that items placed on grocery store shelves aren't random? In this workshop, we'll talk about some tricks nutritionists use to buy the most nutritious foods when grocery shopping! By the end of this workshop, you will learn how to have a cart full of healthy items every time.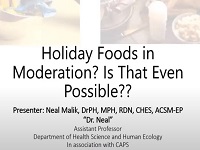 Holiday Foods in Moderation? Is That Even Possible??
Let's face it, the holidays are a time for fun, family, friends… and feasts! In this workshop, we'll talk about simple strategies you can use to continue maximizing your health potential. Come and get a head start on those health-related New Year's Resolutions!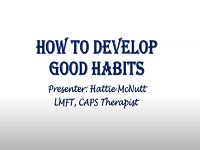 How to Develop Good Habits 
If you want to become a more successful student, don't get discouraged and don't give up - just work to develop good habits that can help increase your level of success. This workshop will help you develop good habits that will improve your learning skills and your life skills.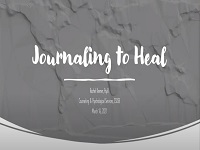 Journaling to Heal  
When we have difficult or painful experiences, it can be can hard to work through the negative emotions involved. Attend this webinar to learn of a research-based journaling technique to process your painful experiences.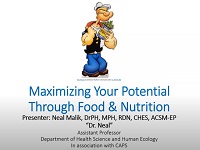 Maximizing Your Potential Through Food and Nutrition 
Some scientists say that 90% of how we look and feel every day is related to our diet! In this session, we'll talk about specific foods and nutrients to help maximize your body's potential.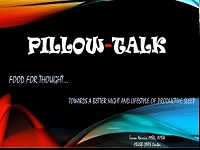 Pillow Talk
Identify, explore, and manage your sleep habits through evidence-based techniques and strategies designed to promote and increase overall energy throughout the day. Learn how to sleep more deeply and re-initiate effective sleep after disruptions and disturbances. We will identify the facets of total sleep care/regeneration, explore sleep assessment tools and strategies, and learn mindfulness exercises that can promote and encourage better sleeping habits.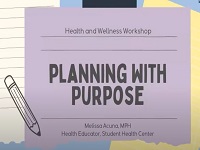 Planning with Purpose 
Have you ever wanted to build better habits while better organizing your life? This workshop will introduce participants to Passion Planning - a type of personal planning that encourages goal-setting and life organization while emphasizing self-growth. Together, we will explore techniques to help you stay consistent and enjoy your planning experience!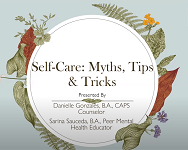 Self-Care: Myths, Tips & Tricks
What do you believe about self-care? Are you finding it difficult to make time for yourself?  Do you wish you knew how to practice self-care in your everyday life? Come to this workshop to learn what self-care is and how to integrate it into your own life!  Presenters: Danielle Gonzales, B.A., CAPS Counselor & Sarina Sauceda, B.A., Peer Mental Health Educator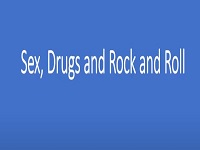 Sex, Drugs, and Rock & Roll
College is a time for self-discovery and exploration. For some students that includes being sexual and using alcohol and drugs.  This workshop will teach you how to stay safe and healthy when it comes to sex, alcohol, drugs, and partying and how to help your friends stay safe.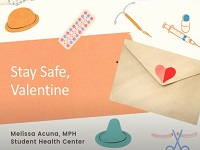 Stay Safe, Valentine!
With love in the air, safe sex is always important! This workshop will provide an overview of different barrier and birth control options to best suit your lifestyle.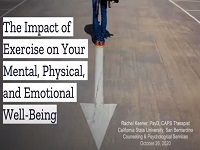 The Impact of Exercise on Your Mental, Physical & Emotional Well-Being

Many people equate exercise with weight loss. In reality, exercise is so much more than that! Want to live a longer, happier, healthier, smarter, more youthful life? Come to this workshop to be inspired in your own exercise journey by the incredible benefits that exercise has for the mind, body, and emotions!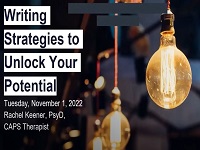 Writing Strategies to Unlock Your Potential  
So much untapped potential sits inside each one of us. Attend this workshop to learn strategies to unlock your full potential, become unstuck, heal from past hurts, make big decisions, and live more fully. The first 30 in-person attendees will receive a free journal.   
Mood Management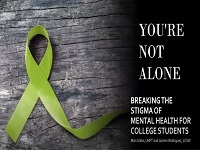 #MentalHealthIsHealth: Stigma and Self-care in the Time of COVID
Are you feeling lonely, overwhelmed, sad, or more anxious and wonder, "is it just me?" You are not alone—especially in the time of COVID. Come learn about common mental health challenges of college students, how to break the stigma, and cope during this difficult time.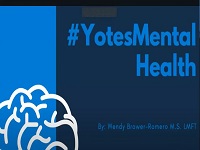 #YotesMentalHealth 
Have you ever struggled mentally or emotionally but felt too ashamed to reach out for help? You are not alone - 1 out of 5 adults will have a diagnosable mental illness in their lifetime. Although mental health is so important, we rarely talk about it with friends, family members, or in our communities. Let's change that! Come participate in this presentation to discuss the importance of mental health and highlight how together we can change our campus community to be more supportive of your mental health!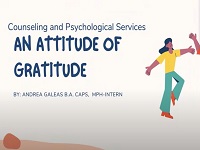 An Attitude of Gratitude
Research has shown that gratitude and happiness are strongly correlated and practicing gratitude can have tremendous benefits for our mental and physical health. In this webinar, you will learn about some of these research findings, as well as tips on incorporating a gratitude practice into your life.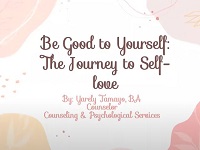 Be Good to YourSELF: The Journey to Self-love
Do you ever find yourself being your worse critic? This workshop will provide you with strategies and activities to increase self-awareness and self-compassion to get you on your journey to self-love.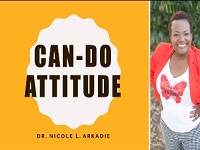 Having a Can-Do Attitude with a Balanced Mindset
The way in which we view life events has a direct impact on our psychological well-being, mood, engagement, actions, and attitude. If our construct of reality is negative then it will be reflected in our interactions with others, our belief in ourselves, and it will taint our perspective of our ability to flourish in life. In this workshop, participants will learn how to apply the CDA approach to help improve their engagement with themselves, others, and their work while enhancing their overall psychological well-being.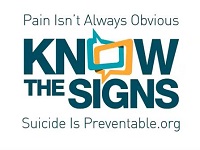 Know the Signs: Suicide is Preventable
Some of our friends, family members, and peers struggle with emotional pain. And, for some, it's too difficult to talk about the pain, share their thoughts of suicide, and let others know their need for help. Though the warning signs can be subtle, they are there. By recognizing these signs, knowing how to start a conversation and where to turn for help, you have the power to make a difference – the power to save a life. Watch to learn the signs!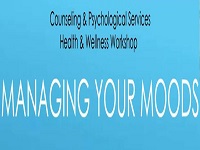 Managing Your Moods  
Are you feeling overwhelmed by your emotions? Are you finding it difficult to control feelings of stress, sadness, or anger? Feelings cannot be eliminated, but this workshop can help you learn strategies to manage overwhelming emotions.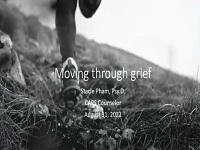 Moving Through Grief 
Death and grief are normal experiences – but they are also emotional and overwhelming. Come to this workshop to learn ways to navigate your grief as you move forward.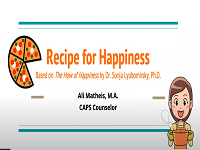 Recipe for Happiness
Discover your own recipe for happiness. Based on the research of Dr. Sonja Lyubomirsky, author of The How of Happiness, this webinar will teach you how to be intentional about sustaining your happiness with a mixture of helpful tools and strategies. Presenter: Ali Matheis, M.A. CAPS Therapist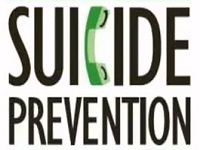 Suicide Prevention
Each year over 1,100 college students die by suicide. Many people who lost someone to suicide wished they could have done more to help. This workshop will teach you how to recognize the warning signs for someone at risk for suicide as well as how to help keep them stay safe and connected to resources.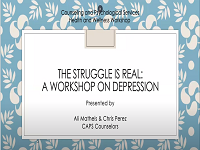 The Struggle is Real: A workshop on Depression
Are you feeling sad and lonely? Have you lost your spark and motivation? Come to this workshop to learn about the symptoms of depression in yourself and others. Learn how to manage depression with positive coping skills.  Presenters: Ali Matheis, M.A. CAPS Therapist & Chris Perez, M.A. CAPS Therapist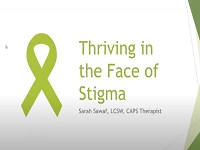 Thriving in the Face of Stigma
Has your mental health been affected lately? Have you been finding it difficult to take care of yourself? Learn how to manage your mental health in the face of stigma and tough times.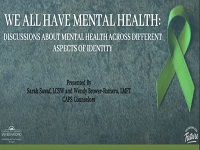 We All Have Mental Health: Discussions about Mental Health Across Different Aspects of Identity
This workshop will help you learn how mental health stigma affects us all in both similar and unique ways across cultures, races, sexual orientations, and all facets of our identities.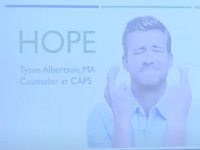 What's the Hope? How to meaningfully engage with life.
Life can be challenging. Sometimes we feel defeated by the inherent difficulties of life. This workshop is designed to help us explore how a shift in our perspective can transform our challenges into meaningful experiences and lead us to engage in life in hopeful ways.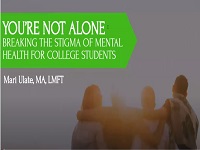 You're Not Alone: Breaking the Stigma of Mental Health for College Students
Have you ever felt overwhelmed, sad, or lonely in your college experience and wondered, "is it just me?" You are not alone! Come learn about common mental health challenges of college students, the stigma and barriers students face, and how to break the silence on mental health.
Other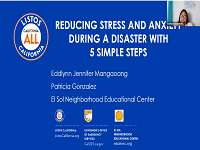 Reducing Fear and Anxiety During a Disaster with Five Simple Steps
This workshop will be focused on identifying the stressors and causes of anxiety that emergency situations can create. You will learn how preparedness can help to mitigate these feelings by empowering yourself to be ready to face any disaster that may come your way.  Presenters:  Patricia Gonzalez, Nurse, Natural Health Educator/Counselor/ Community Violence Intervention Specialist/ Community Health Worker and Eddlynn Jennifer Mangaoang, Community Health Workers at El Sol: Neighborhood Educational Center
Relationships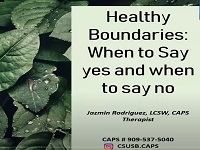 Healthy Boundaries: When to Say Yes and When to Say No
Do you wonder if you have a hard time setting boundaries? Begin your journey toward developing healthy boundaries. We will learn about the different types of boundaries and how to communicate them to others.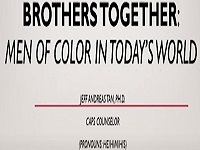 Brothers Together: Men of Color in Today's World 
This self-help workshop will explore topics related to being a Man of Color (BIMA- MOC - Black, Indigenous, Mixed Race, and API Men of Color) in today's world. Within a supportive and brave social context of respect and empowerment, we will briefly explore experiences related to racism and discrimination, toxic masculinity, development of healthy relationships, and Men's Mental Health/Wellness in light of current events.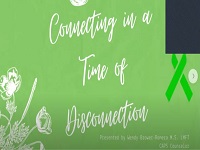 Connecting in a Time of Disconnection
You are not alone if you are missing face-to-face interactions and human touch. However, many of us have felt disconnected and lonely even when surrounded by crowds of people. Learn initial steps that can be taken to increase self-awareness, acceptance, and feeling more authentically connected to the world around you.
Dating Tips: What Can Help and What Can Hurt a Relationship  
What are the new dating trends of Gen Z? This webinar will explore what the research says about what helps -- and what hurts-- long-term committed relationships.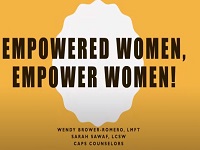 Empowered Women, Empower Women 
In honor of Women's History Month, join us as we fight gender socialization that strives to divide women. Let's unite and rebuild a sense of connection and community!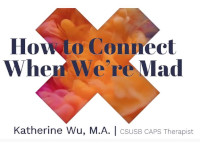 Many of us feel stuck and unhappy in our relationships when one of us is mad at the other. This workshop will cover two basic but powerful techniques to use when we're mad at people we care about, and when they are mad at us. Participants will learn how to use "I feel" statements and validating statements to non-defensively join with others, even during disagreement.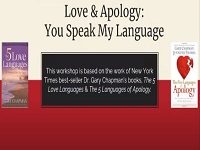 Love & Apology: You Speak My Language 
Learn how to enhance your relationships by fluently speaking the primary language of love and apology of those with whom you are in close relationship. This workshop will cover simple ways of identifying how you give and receive both love and apologies to the people most important to you. This workshop is based on the work of New York Times best-seller Dr. Gary Chapman's books, The 5 Love Languages and The 5 Languages of Apology. 
Love & War: Strengthen Your Relationships 
Based on the research of relationship expert John M. Gottman, this webinar will teach you how to strengthen the relationship between you and your partner, identify areas of improvement in your communication, and show you how to engage in conflict without engaging in all-out war!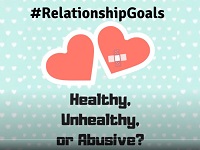 #RelationshipGoals
This workshop will focus on the 7 qualities of a healthy relationship, how to "fight fair," and the difference between healthy, unhealthy, and abusive relationships through interactive activities and group discussion. This event satisfies the mandatory yearly End Sexual Violence Training requirement.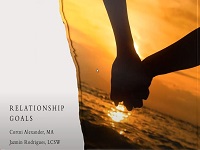 Relationship Goals 101: Instagram vs. Reality 
Join us as we unravel the unrealistic relationship expectations portrayed on social media. Learn about red flags and warning signs of abuse. Learn about boundaries, healthy communication, respect and more.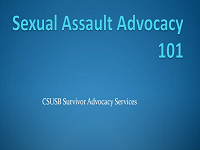 Sexual Assault Advocacy 101
In honor of Sexual Assault Awareness Month, join us as we address sexual violence, consent, ways to support survivors, and learn how to access the local resources available to you. Presenter: Claudia Ochoa, Campus Survivors Advocate, and the VOICE Peer Educators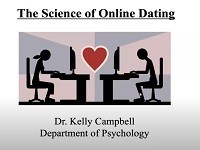 The Science of Online Dating
Learn tips for online dating success, including how to set up a useful profile, make contact with prospective partners, avoid being catfished, cope with getting ghosted, and find long-lasting love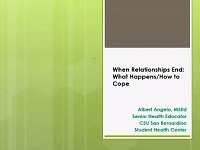 When Relationships End: How to Cope

This workshop will cover the emotional stages one experiences during a relationship breakup and the healing process that follows. Learn how to cope when a relationship ends -- and also how to prepare for the new opportunity to love again!
Stress Management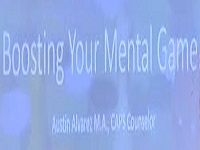 Boosting Your Mental Game!
In this workshop, we will discuss using different types of mental skills such as deep breathing and visualization to help prepare for performances, maintain confidence, and stay calm and collected under pressure.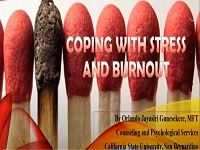 Coping with Stress and Burnout 
Burnout: a state of exhaustion that occurs when you are stressed and overworked. Attend this webinar to learn how to prevent burnout and manage your stressors.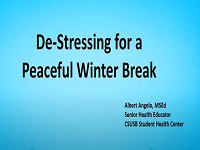 De-Stressing for a Peaceful Winter Break 
Attend this workshop to learn effective methods to reduce stress during the holidays. You will learn strategies that will enable you to have a peaceful, healthy, and happy holiday season.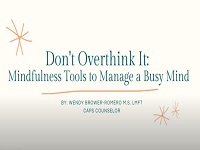 Don't Over Think It: Mindfulness Tools to Manage a Busy Mind 
Do you ever find yourself over-thinking or wishing you could flip an "off" switch on your worrying? Come to this workshop to learn mindfulness tools and strategies to help you manage a busy mind.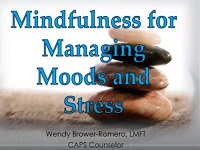 Mindfulness for Mood and Stress Management
Meditation has been shown to assist in managing stress and anxiety and can increase your ability to be aware of and to regulate your emotions. Learn about the benefits of meditation and mindfulness and how you can incorporate these skills into your daily life!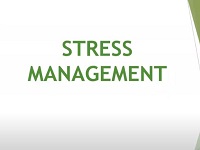 Stress Management
Learn how perceptions, expectations, poor boundaries, and emotional triggers heighten stress. Develop skills to combat procrastination, fear, and worry and learn ways to create and maintain better boundaries. The information and tools presented in this program will help you to start enjoying a more productive, balanced, and peaceful life!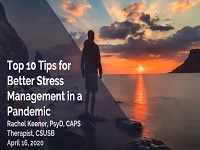 Top 10 Tips for Better Stress Management in a Pandemic
During the current COVID-19 crisis, people are experiencing a great deal of stress, which has negatively impacted our thoughts, feelings, and behaviors.  This virtual workshop will help you gain tools to cope with the stress that you are experiencing.
 Understanding Yourself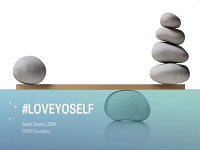 #LoveYoSelf
Ever notice that you're hard on yourself? You're not alone. Come join us as we learn how to understand and challenge our inner-critic by practicing self-compassion and encouragement.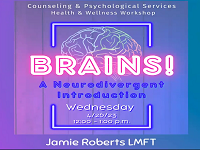 BRAINS! A Neurodivergent Introduction
TikTok has opened the floodgates of awareness around Neurodivergent brains. Over 15% of the population is neurodivergent, but only ¼ receive a diagnosis in childhood.  This leaves many adults struggling, frustrated, and trying to understand themselves. In this workshop, we will look at what diagnosis' fall under the neurodivergent umbrella, the validity of self-diagnosis, and ways to set up an affirming environment for your learning needs.  Presenter: Jamie Roberts, LMFT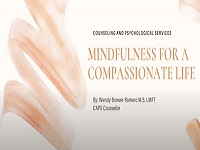 Mindfulness for a Compassionate Life
 Do you find that you consistently judge yourself or other people for their flaws? Are you hard on yourself when you are imperfect or become defensive when given feedback? This workshop will provide you with practical mindfulness tips to increase self-awareness. You will also learn daily strategies to connect with yourself and others with greater compassion and empathy.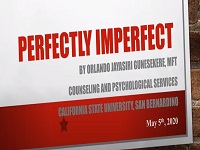 Perfectly Imperfect
Learn to identify your negative self-perceptions, show you how those negative self-perceptions are linked to the core beliefs you hold, and enable you to change those views about yourself into something more positive. The aim is for you to leave the room with more love for yourself than when you came in so that you can comfortably say, "I am not perfect, and that is okay."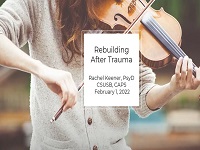 Rebuilding After Trauma
How do you move forward after experiencing traumas and other major difficulties in your life? To avoid becoming stuck, attend this workshop to learn evidence-based practices that you can incorporate in your life to move forward. You can't erase the hardships you have experienced, but you can grow through them to become a stronger, wiser, and healthier version of yourself.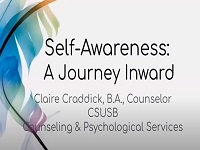 Self-Awareness:  A Journey Inward
Do you ever wish you understood yourself better? This workshop provides you with opportunities through thought-provoking activities to help you gain insight into yourself. Take the time to reflect on YOU, explore your wants and needs, increase emotional awareness, and ultimately improve how you communicate and connect with others.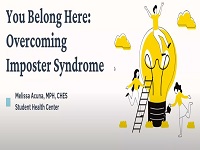 You Belong Here: Overcoming Imposter Syndrome
Do you sometimes doubt your accomplishments, or have a fear of being exposed as a fraud? Whether in class, at work, or in any other accomplished setting, feelings of imposter syndrome can make you doubt yourself. This workshop will help you understand your internalized patterns of self-doubt and will also help you break the cycle in order to gain confidence and acceptance of yourself.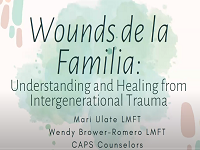 Wounds de La Familia: Understanding and Healing From Intergenerational Trauma
"Your pain didn't start with you, but it can end with you."--Stephanie M. Hutchins Ph.D. All of us carry the legacies of our families—both their successes and their struggles.  This talk aims to discuss how we can both celebrate the gifts of our heritage while also healing from the unaddressed pain that has continued throughout the generations. Presenters: Wendy Brower-Romero, LMFT, CAPS Therapist & Mari Ulate, LMFT, CAPS Counselor