Academics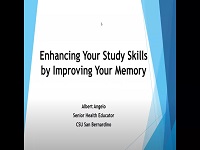 Enhance Your Study Skills

This workshop will help you improve your learning skills so that you can achieve your academic goals. You will learn how to develop skills to combat procrastination, set goals and practice better time management. You will also learn tools to improve your memory and test-taking abilities!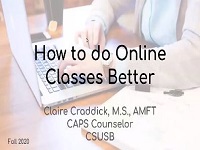 How to Do Online Classes Better
Are you worried about taking online classes this semester? Are you unsure of how to communicate or build relationships with your professors virtually? This workshop will help you start out the semester strong by offering tools to effectively engage in lectures, become better organized, and find ways to seek support and enhance your online learning experience.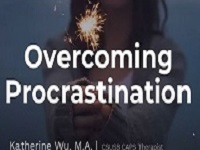 Overcoming Procrastination
This virtual workshop will help you identify the anxieties that drive your procrastination behaviors and will provide easy exercises you can do whenever you are feeling tempted to procrastinate.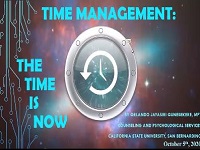 Time Management
(Note:  Transcription to be added as soon as available) 
Ever thought to yourself, "I don't feel like I have any control of the time in my day?" If so, this workshop on time management will inform you about how to better plan out your schedule, prioritize and set goals, and counteract procrastination so that you are able to take back control of your time. This workshop will also support you in developing a balanced and successful personal as well as academic life. Don't wait – the time is now.
Communication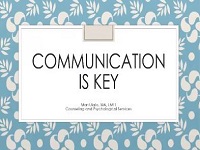 Communication is Key
(Note:  Transcription to be added as soon as available) 
Do you ever find yourself having trouble resolving problems within your relationships? You try to talk it out, but it usually ends with an argument and you wonder - how did we get here? This workshop is for those who want to grow in having healthy conversations. You will learn listening and communication skills and will be able to identify the traps and patterns that can send a discussion into an argument. Join us as we learn about healthy communication skills to use in any relationship.
Lifestyle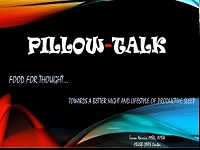 Pillow Talk
(Note:  Transcription to be added as soon as available) 
Identify, explore, and manage your sleep habits through evidence-based techniques and strategies designed to promote and increase overall energy throughout the day. Learn how to sleep more deeply and re-initiate effective sleep after disruptions and disturbances. We will identify the facets of total sleep care/regeneration, explore sleep assessment tools and strategies, and learn mindfulness exercises that can promote and encourage better sleeping habits.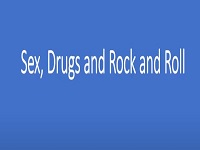 Sex, Drugs, and Rock & Roll
College is a time for self-discovery and exploration. For some students that includes being sexual and using alcohol and drugs.  This workshop will teach you how to stay safe and healthy when it comes to sex, alcohol, drugs, and partying and how to help your friends stay safe.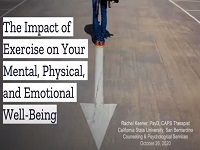 The Impact of Exercise on Your Mental, Physical & Emotional Well-Being

Many people equate exercise with weight loss. In reality, exercise is so much more than that! Want to live a longer, happier, healthier, smarter, more youthful life? Come to this workshop to be inspired in your own exercise journey by the incredible benefits that exercise has for the mind, body, and emotions!
Mood Management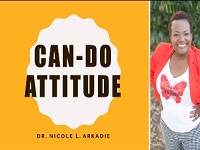 Having a Can-Do Attitude with a Balanced Mindset
(Note:  Transcription to be added as soon as available) 
The way in which we view life events has a direct impact on our psychological well-being, mood, engagement, actions, and attitude. If our construct of reality is negative then it will be reflected in our interactions with others, our belief in ourselves, and it will taint our perspective of our ability to flourish in life. In this workshop, participants will learn how to apply the CDA approach to help improve their engagement with themselves, others, and their work while enhancing their overall psychological well-being.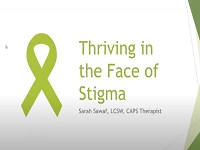 Thriving in the Face of Stigma
Has your mental health been affected lately? Have you been finding it difficult to take care of yourself? Learn how to manage your mental health in the face of stigma and tough times.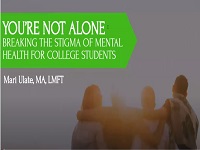 You're Not Alone: Breaking the Stigma of Mental Health for College Students
Have you ever felt overwhelmed, sad, or lonely in your college experience and wondered, "is it just me?" You are not alone! Come learn about common mental health challenges of college students, the stigma and barriers students face, and how to break the silence on mental health.
Relationships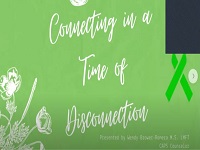 Connecting in a Time of Disconnection
You are not alone if you are missing face-to-face interactions and human touch. However, many of us have felt disconnected and lonely even when surrounded by crowds of people. Learn initial steps that can be taken to increase self-awareness, acceptance, and feeling more authentically connected to the world around you.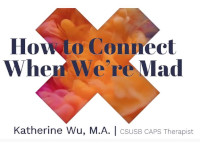 Many of us feel stuck and unhappy in our relationships when one of us is mad at the other. This workshop will cover two basic but powerful techniques to use when we're mad at people we care about, and when they are mad at us. Participants will learn how to use "I feel" statements and validating statements to non-defensively join with others, even during disagreement.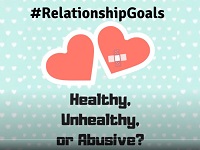 #RelationshipGoals
(Note:  Transcription to be added as soon as available) 
This workshop will focus on the 7 qualities of a healthy relationship, how to "fight fair," and the difference between healthy, unhealthy, and abusive relationships through interactive activities and group discussion. This event satisfies the mandatory yearly End Sexual Violence Training requirement.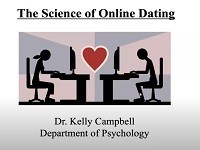 The Science of Online Dating
Learn tips for online dating success, including how to set up a useful profile, make contact with prospective partners, avoid being catfished, cope with getting ghosted, and find long-lasting love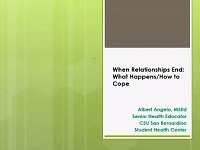 When Relationships End: How to Cope

This workshop will cover the emotional stages one experiences during a relationship breakup and the healing process that follows. Learn how to cope when a relationship ends -- and also how to prepare for the new opportunity to love again!
Stress Management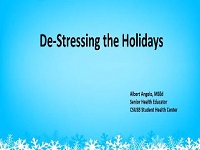 De-Stressing the Holidays 
(Note:  Transcription to be added as soon as available) 
This workshop will help you de-stress the holidays so you can enjoy the season and the winter break! Tips to reduce holiday stress, strategies for healthy eating, and creating a spending plan to stay on budget will be covered in the workshop.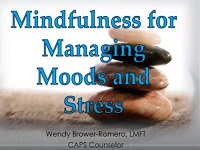 Mindfulness for Mood and Stress Management
Meditation has been shown to assist in managing stress and anxiety and can increase your ability to be aware of and to regulate your emotions. Learn about the benefits of meditation and mindfulness and how you can incorporate these skills into your daily life!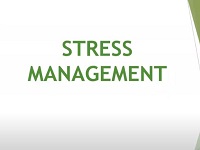 Stress Management
Learn how perceptions, expectations, poor boundaries, and emotional triggers heighten stress. Develop skills to combat procrastination, fear, and worry and learn ways to create and maintain better boundaries. The information and tools presented in this program will help you to start enjoying a more productive, balanced, and peaceful life!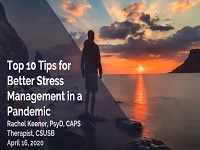 Top 10 Tips for Better Stress Management in a Pandemic
During the current COVID-19 crisis, people are experiencing a great deal of stress, which has negatively impacted our thoughts, feelings, and behaviors.  This virtual workshop will help you gain tools to cope with the stress that you are experiencing.
 Understanding Yourself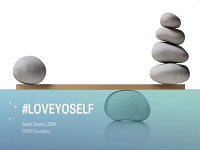 #LoveYoSelf
(Note:  Transcription to be added as soon as available) 
Ever notice that you're hard on yourself? You're not alone. Come join us as we learn how to understand and challenge our inner-critic by practicing self-compassion and encouragement.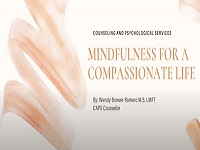 Mindfulness for a Compassionate Life
(Note:  Transcription to be added as soon as available) 
Do you find that you consistently judge yourself or other people for their flaws? Are you hard on yourself when you are imperfect or become defensive when given feedback? This workshop will provide you with practical mindfulness tips to increase self-awareness. You will also learn daily strategies to connect with yourself and others with greater compassion and empathy.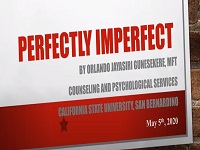 Perfectly Imperfect
Learn to identify your negative self-perceptions, show you how those negative self-perceptions are linked to the core beliefs you hold, and enable you to change those views about yourself into something more positive. The aim is for you to leave the room with more love for yourself than when you came in so that you can comfortably say, "I am not perfect, and that is okay."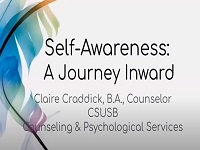 Self-Awareness:  A Journey Inward
Do you ever wish you understood yourself better? This workshop provides you with opportunities through thought-provoking activities to help you gain insight into yourself. Take the time to reflect on YOU, explore your wants and needs, increase emotional awareness, and ultimately improve how you communicate and connect with others.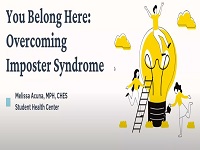 You Belong Here: Overcoming Imposter Syndrome
(Note:  Transcription to be added as soon as available) 
Do you sometimes doubt your accomplishments, or have a fear of being exposed as a fraud? Whether in class, at work, or in any other accomplished setting, feelings of imposter syndrome can make you doubt yourself. This workshop will help you understand your internalized patterns of self-doubt and will also help you break the cycle in order to gain confidence and acceptance of yourself.