Anxiety  

Reflectly Journal for Android / Reflectly Journal for iOS 
Reflectly Journal Diary can help you deal with negative thoughts, reduce stress, improve gratitude, mindfulness. 
Depression 

What's up for Android / What's up for iOS
What's up? Uses Cognitive Behavioral Therapy and Acceptance Commitment Therapy to help cope with Depression, Anxiety, Anger, and stress. Allows you to engage in activities and provides educational information to help get you through those tough days. 
 

Android/ iOS
             Happify has science-based activities and games which can help reduce stress, overcome negative thoughts.  

 iOS
            Provides tools to help you cope, distract yourself, relax and think positive.

Strava for Android / Strava for iOS
Strava: Run, Ride, Swim allows you to track your fitness routine by comparing your running, cycling, gym training, yoga, CrossFit  performance and it allows you to set goals, and gives you analysis of your performance. 
 

MyFitness Pal for Android / MyFitness Pal for iOS
MyFitness Pal Allows you to track your calories by manually putting in the information or scanning the barcode.  
Finances

Goodbudget Planner for Android / Goodbudget Planner for iOS
Goodbudget Planner gives you envelopes to categorize your money and you can share your budget with people you trust for accountability. 

Mint for Android / Mint for iOS
Mint: Budget, Bills, & Finance Tracker allows you to budget your weeks and days. 

PocketGuard for Android / PocketGuard for iOS
PocketGuard: Personal Finance, Money & Budget allows you to manage your money by tracking, setting goals, receiving notifications, and improve your spending habits.  
Habits 

HabitShare for Android / HabitShare for iOS
HabitShare Tracker allows you to share your habits with friends for accountability or you can keep it private. 

Habitica for Android / Habitica for iOS 
Habitica: Gamify Your Tasks allows you to organize and reach your goals while making you feel like you're playing a video game. 

Habit-Bull: for Android / Habit-Bull for iOS
Habit - Bull: Daily Goal Tracker keeps track of your daily tasks, access to forums, set goals and get inspirational quotes!
Meditation/ Relaxation 

Breathe2Relax for Android / Breathe2Relax for iOS
Breathe2Relax is an app that instructs the user when to breathe in and when to breathe out and the number of breathing cycles that have been completed.

Calm for Android / Calm for iOS
Calm's Curated free recordings include: soothing meditations for mindfulness and self-compassion; sleep meditations; calm music; relaxing soundscapes; mindful movement exercises; mindfulness for kids; daily mindfulness activity calendars; journaling resources; ideas for social connection.

Headspace for Android / Headspace for iOS
Headspace offers guided meditations and articles.  Headspace is offering fee support during the current global crisis.

Insight Timer for Android / Insight Timer for iOS
Insight Timer offers a free library of over 30,000 recorded meditations for sleep, anxiety, stress, mindfulness, self-compassion, calming music, for kids, etc.

Relax Melodies for Android / Relax Melodies iOS
Relax Melodies – Sleep Sounds allows you to use sleep sounds, white noise, calm music & meditation to feel more relaxed. 
Mood 

Daylio for Android  / Daylio for iOS 
Daylio – Diary, Journal, Mood Tracker, Self- Care Bullet Journal, goals, and mood tracker. 
Moodpath for Android / Moodpath for iOS  
Moodpath- Depression & Anxiety Test allows you to receive bi-weekly mental health assessments to share with your therapist, allows you to track and reflect on your mood for the day. 
 
Nutrition  

Mealtime for Android / Mealtime for iOS 
Mealtime Meal Plans & Recipes helps plan your meal and helps you eat healthier. 

SuperFood for Android / SuperFood for iOS
SuperFood - Healthy Recipes allows you to cook healthy meals with a well- balanced diet. 

Tasty for Android / Tasty for iOS
Tasty, provides recipes and videos of meals for you to follow, it's like a cookbook on your device! 

Yummly for Android / Yummly for iOS 
Yummly Recipes & Shopping List provides thousands of easy and delicious recipes to follow. 
PTSD 

PTSD Coach for Android / PTSD Coach for iOS 
PTSD Coach educates you on posttraumatic stress disorder (PTSD), provides you with relaxation skills, anger management and other strategies. 
Self-Care  

Day One for Android / Day One for iOS  
Day One Journal, allows you to journal through pictures and calendar. 

Gratitude for Android / Gratitude for iOS  
Gratitude Happiness Journal allows you to journal & record what you are thankful for, it provides daily motivation/quotes, reminders of quotes. 

Motivation for Android / Motivation for Apple  
Motivation, Daily Quotes, Positive Quotes, get inspirational quotes daily and choose your own category. 
Self-Harm  

7 Cups for Android / 7 cups for iOS
Anonymous FREE emotional support by trained active listeners. Chat one on one, access to chat rooms and community forums. Active listener available 24/7.

Calm Harm for Android / Calm Harm for  iOS  
Calm Harm, helps you resist or manage self- harm, activities for breath, and self- control. 

notOK for Android / notOK for  iOS 
notOK is easy to use with one click of a button to get you immediate support when you're feeling down.  

ReMinder Suicide Safety Plan for Android / The ReMinder Suicide Safety Plan for iOS helps you to create a simple suicide safety plan, that can be accessed at any time on your phone. A suicide safety plan can help to keep you safe when you are feeling low or suicidal. Your plan will remind you of reasons to live and connect you with the people and services who can help during the tough times.

 Suicide Safety Plan for Android / Suicide Safety Plan for iOS Suicidal thoughts can seem like they will last forever – but these thoughts and feelings pass with time. This app is designed to support those dealing with suicidal thoughts and help prevent suicide.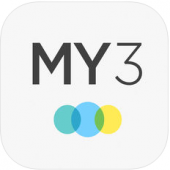 My3 for iOS My3 app is a free app that allows you to create your support system, build a safety place, access resources, access the National Suicide Prevention Lifeline and receive the support you need.

The Virtual Hope Box for Android / The Virtual Hope Box for iOS  The VHB contains simple tools to help with coping, relaxation, distraction, and positive thinking. 
Study  

 AnkiDroid for Android / AnkiDroid for iOS
AnkiDroid Flashcards allows you to create flashcards with images and sounds, use a whiteboard, detailed statistic wherever you go on your phone and tablet. 

Brainscape for Android / Brainscape for iOS 
Brainscape Flashcards is a great way to use flashcards to help you study wherever you go. 

Flashcards for Android / Flashcards for iOS
Flashcards with Cram allows you to use flashcards with multiple devices and study everywhere you go.
Substance  

Sobriety Counter for Android  
Sobriety Counter - Bad Habits helps analyze your bad habits. It has several features that make breaking a habit easier such as quote of the day, rewards tracker, and more. 
 

Smoke Free for iOS 
Smoke Free- Quit Smoking Now has evidence-based techniques to track, log, graph and see how much you save from being smoke free. 

Quit Tracker for Android 
Quit Tracker: Stop Smoking allows you to track how much money you save, the amount of life time you regain. You will get motivated to stop smoking with the tools they use. 
DISCLAIMER: This site may contain links to apps not administered by California State University, San Bernardino or one of its divisions, schools, departments, units or programs. California State University, San Bernardino is not responsible or liable for the accuracy or the content of linked pages.