Student Health Center Provides Yotes First Aid and Out-Patient Care Services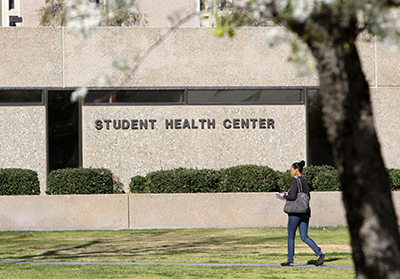 The Student Health Center (SHC) is one of 21-plus departments in the Division of Student Affairs. The center is fully accredited and has a team of healthcare professionals who are passionate about students' health and well-being and ready to care for their needs. The center's services promote health and provide support for students as they achieve their academic goals. It is open and providing both in-person and phone/virtual appointments.

All enrolled CSUSB students that pay the Health Center fee are eligible for health services at the Student Health Center. The center provides first aid, basic out-patient care services, and resources that are essential to the overall health, well-being, and success of students. The center is a confidential, safe space that offers a wide range of services, including immunizations, cough and flu care, treatment of skin conditions and wounds,  men's and women's health, including reproductive care services, such as contraception, pregnancy tests, testing for sexually transmitted infections, and treatment of infections, limited psychiatric care, and assessment and treatment of other conditions. Also important to note is that there is no charge for office visits.

The Student Health Center is here to help resolve students' health concerns. Although basic health care is provided, treatment for major illnesses and injury, as well as certain conditions requiring a specialist or hospitalization, are beyond the scope of service. Students are referred to an outside provider for these illnesses or injuries.

In addition, the Student Health Center offers an on-site pharmacy that is open for prescription and over-the-counter medication pick up. Some pharmacy services are available remotely by request, such as:
Prescription consultation
Transfer of prescriptions
Refills to outside pharmacies
Student Health Center's Department of Health Promotion also provides one-on-one health education appointments and workshops throughout the year that focus on a variety of topics, including healthy relationships, nutrition, and stress management. Follow the Student Health Center's Health Promotion team on Instagram @CSUSB_phe to find out about upcoming events and workshops. 

"I welcome you to utilize our high-quality, culturally considerate, and student-centered care as we partner with you to help you achieve and maintain healthy lives and support your personal and academic goals," said Dr. Beth Jaworski, Executive Director of Health, Counseling, and Wellness. "Additionally, if you are interested in having a positive impact on the health and well-being of your peers and the campus community as a whole, please consider joining the student-led Student Health Advisory Committee (SHAC) that helps develop new Student Health Center programs and services, promotes health education and disease prevention, and advocates for Student Health Center services, delivery, and funding. If you are interested, please contact Albert Angelo, Senior Health Educator and SHAC adviser, at aangelo@csusb.edu or 909-537-3296."                               

Health services are also offered at the CSUSB Palm Desert Campus in the R.D. and Joan Dale Hubbard Student Health and Psychological Counseling Center located in HS-119.

To schedule an appointment at the Student Health Center, call 909-537-5241. 
To access more information about the Student Health Center, click here