Faculty News
Dr. Vogelsang awarded multi-year $750,000 NIH/NIA grant to study social participation, gender, and cognitive decline.
Annika Anderson, Rigaud Joseph (social work) and Paul Jones (social work lecturer) of CSUSB's Project Rebound published a paper on the efficacy of programs that provide support services to formerly incarcerated college students. https://doi.org/10.1080/10911359.2023.2244019
Dr. Vogelsang interviewed by BBC about mid-life career changes.  Link here: The mid-career workers pivoting to dream jobs - BBC Worklife.
Dr. Megan Carroll published "Marginalize or Valorize: A Two-Case Study of Parental Essentialism and Fathers' Social Location" in Men & Masculinities, co-authored with Dr. Jennifer Randles (Fresno State): https://doi.org/10.1177/1097184X231182623
Dr. Megan Carroll was featured in two episodes of the Free From Desire podcast, which won the Tribeca Film Festival's 2023 Narrative Nonfiction Audio Award.  
Dr. Vogelsang will be presenting two papers at the International Sociological Association's World Congress (held every four years) in Melbourne, Australia.  Link here: https://isaconf.confex.com/isaconf/wc2023/meetingapp.cgi/Search/0?sort=Relevance&size=16&page=1&searchterm=vogelsang
Dr. Vogelsang was interviewed about the pandemic-related loneliness among older adults 2023. Link: https://cvindependent.com/2023/03/ending-isolation-what-can-be-done-to-help-coachella-valley-seniors-as-they-struggle-with-pandemic-caused-loneliness/
Dr. Annika Anderson was invited to deliver the keynote speech at the inaugural Supporting Successful Reentry Conference at University of California, Riverside, on April 19, 2023. 
Dr. Vogelsang joins panel at CSU-SB Palm Desert Campus to discuss Isolation among Older Adults post-COVID. Link: https://www.youtube.com/watch?v=mfmcR3WD7dY&t=1s
Dr. Megan Carroll presented on the "Asexual Research" panel and "Asexuality in the Workplace" panel for the international Asexuality Conference 2023 as of Sydney World Pride.
Dr. Vogelsang part of research team understanding LGBTQ older adult vaccination patterns.  Link: https://www.liebertpub.com/doi/abs/10.1089/lgbt.2022.0191 
Dr. Megan Carroll was featured in a story about Palentine's Day for the Los Angeles NPR radio station, LAist.
Natalia Vega Varela, Nancy L. Cohen, Neisha Opper, Myriam Shiran, and Clare Weber,
"The State of Reproductive Health in the United States: The End of Roe and the Perilous Road Ahead for Women in the Dobbs Era" Gender Equity Policy Institute, January 19, 2023. https://doi.org/10.5281/zenodo.7548698
Dr. Ethel Mickey recently published "The Organization of Networking and Gender Inequality in the New Economy: Evidence from the Tech Industry," in the journal Work and Occupations.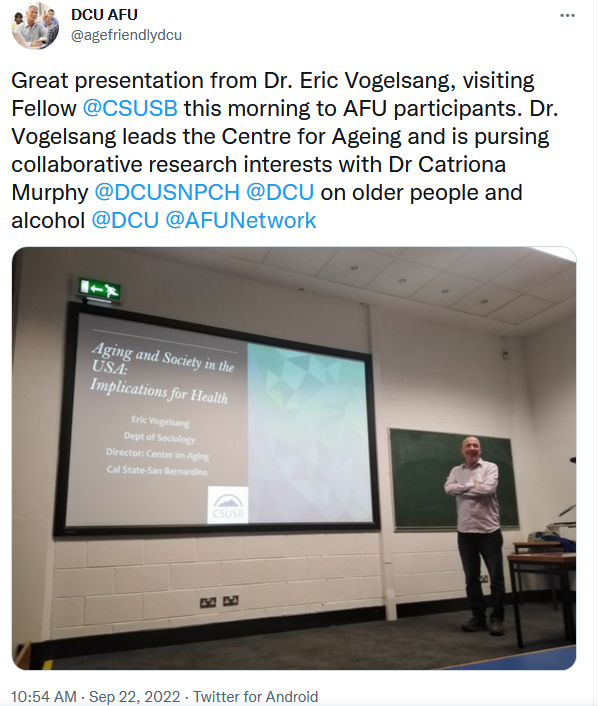 Dr. Vogelsang was an "Age Friendly University Fellow" at Dublin City University in Ireland during Fall 2022.
Dr. Vogelsang leads study on older adult shingles vaccination. Link: https://www.sciencedirect.com/science/article/pii/S0264410X22011835
Dr. Karen J. Robinson presented her paper "How did I get here?: Expectations, Persistence and the College-going Process of Low-income Students" at the Oxford Educaiton and Ethnography Conference (September 2022).  The conference is held annually at New College, one of the oldest colleges at Oxford University.
Dr. Annika Anderson's work with Project Rebound was featured in the following article titled: From Incarceration to Higher Education, Project Rebound Paves Path to Success
Dr. Arianna Huhn (Anthropology) and Dr. Annika Anderson co-authored a Museum & Society article titled Promoting Social Justice through Storytelling in Museums.
Dr. Paloma Villegas was named coordinator of the Masters Program in Social Science and Globalization.
Student/Alumni News
Sociology undergraduates Janet Rosales, Eric Tafoya, and Christopher Aguirre were recently accepted to present at the American Society of Criminology (ASC) Conference for this November in Philadelphia.  Per their mentor, Dr. Roberto Rivera, "all three are highly focused on their individual areas of criminology and will present CSUSB with professional pride at the conference".
Melissa Lea De Paz (class of 2023) was accepted to CSU San Bernardino for the Master in Counseling program.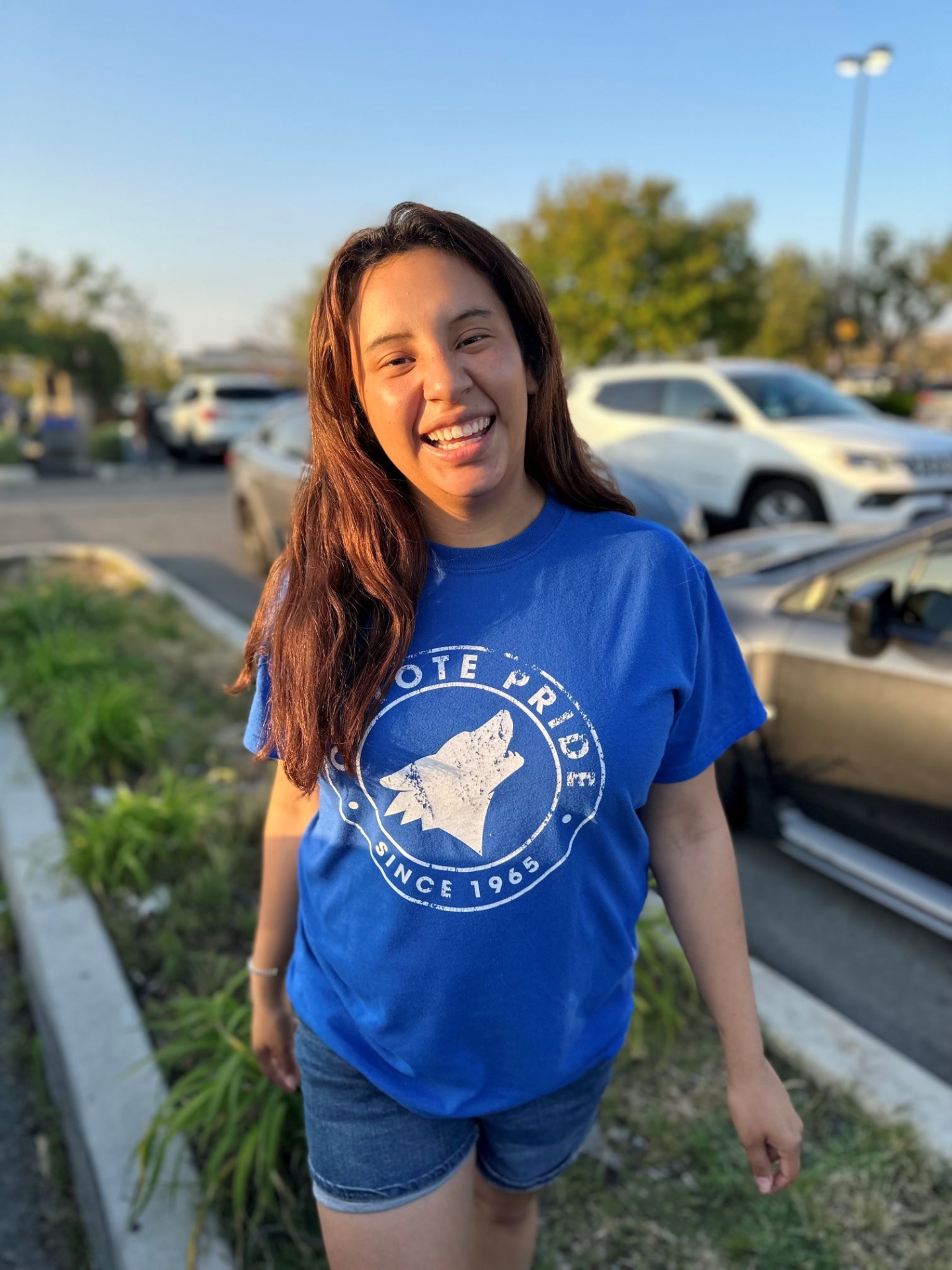 Chelsea Mercado (class of 2023) was accepted to USC for the Master of Education in the Enrollment Management and Policy program.  An alumnus of San Bernardino Valley College, Chelsea's career goal includes working at a community college so that she can support students who have been repeatedly told that higher education is not a space for them.  She plans to use her time at USC to build on her knowledge of educational equity while learning key aspects of enrollment management.
Joanna Rivera has been accepted to CSU San Bernardino for the Master in Counseling program.
Ashley Marie Certo has been accepted to CSU Fullerton for the Master in Social Work program.
Cristina Merino has been accepted to USC for the Master in Social Work program.
Sofia Figueroa has been accepted to USC for the Master of Education in School Counseling program.
Isabella Cantu is an Aggie! She was accepted with full funding to the Department of Sociology at the University of California, Davis. Isabella began her PhD program last Fall 2022.  We are so proud of you! Go Yotes!
Tyler Lange (Class of 2015) was featured in an Inside CSUSB piece for his education work in Rialto.
CSUSB alumnus gives back as a special education teacher | CSUSB News | CSUSB
Leticia Herrera (Class of 2019) was named the 2021-2022 Labor Council for Latin American Advancement Trabajadoras Fellow.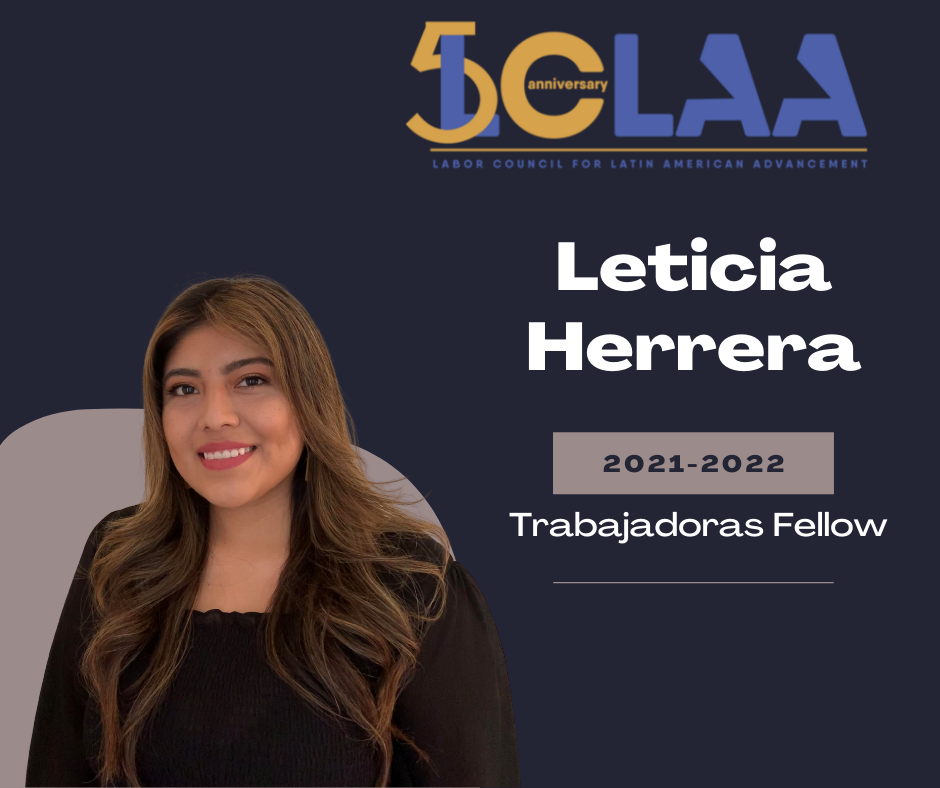 Juliyana Hasroun (Class of 2020) was selected as a CSU Sally Casanova Pre-Doctoral Scholar for 2021-22.
Creiselda Terpoorten (Class of 2020) was accepted into UCR's Master Public Policy program