Welcome to the College of Extended and Global Education at California State University, San Bernardino.  For over 50 years the College of Extended and Global Education has provided lifelong learning opportunities for people in San Bernardino and throughout the world to expand their careers and expand their knowledge.
We believe that social and economic empowerment comes from education, and we proudly serve our constituencies in fulfilling our goal of expanding access to education and  enriching lives of people we serve.
As the Dean of the College, I am committed to ensuring that our programs reach students and expand access to educational opportunities.  Our students come from local communities and from all corners of the world. We offer innovative and creative educational programs as we strive to address the needs of our diverse population. Our university reputation for excellence in education has had a global impact in the creation of numerous business and international education partners.  We define the future!
In the coming years as we build the Center for Global Innovation, groundbreaking taking place this winter, we look to expand on this success.  We invite our local business community, faculty, and international partners in the creation and development of new programs in emerging fields.  We are increasing our investment in online programs and technology.  Our students will receive a world class education that will inspire a passion for learning and provide them key to success.
Please continue to explore our website for more information on youth programs, professional development, career training, English Language programs, degree and other programs. We hope you think of us to extend your knowledge and expand your opportunities!
Sincerely yours,
Tatiana Karmanova, PhD
AVP for International Education and Dean, College of Extended and Global Education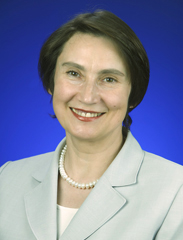 Dr. Tatiana Karmanova
AVP for International Education and Dean, College of Extended and Global Education