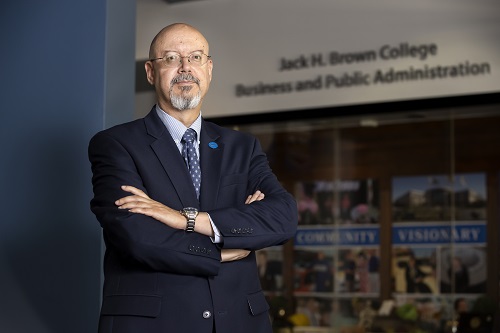 Dean Tomás Gomez-Arias, Ph.D.
Letter from Dean Tomás Gomez-Arias
Greetings!
We live in a world characterized by diversity and change.  At the Jack H. Brown College of Business and Public Administration, we acknowledge those differences in gender, race, ethnicity, country of origin, socioeconomic background, ability, political view, sexuality, and thought.  Those differences are our strength if we create an environment where everyone is offered the conditions where they can reach their potential and contribute their best to society.
It is important for all members and stakeholders of the JHBC community to feel connected and welcomed. The JHBC Office of Academic Equity (OAE) is part of the institutional framework of the college to make it more equitable and inclusive. This office analyzes the past, questions the present and strategizes to shape the future to develop an environment where all individuals flourish.
In its 5th year, the OAE leverages diversity among students, staff, faculty, and our communities to enhance work relationships between colleagues, increase learning opportunities for students, drive greater productivity and performance, and create positive social impact. As we continue to fiercely embrace both individuality and community, we will continue to generate new ideas in our already rich environment. Diversity of people and ideas will strengthen the who we are as a college and push us towards a more just and successful future.
I look forward to continuing the work the OAE has been doing towards a promising future where everyone has access to the opportunities to become their best selves.
Best,
Tomás Gómez-Arias