Veterans Success Center Donates Gift Cards to Families in Need for Thanksgiving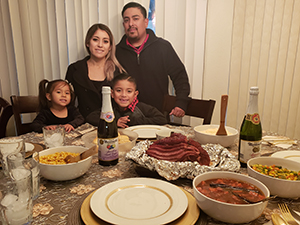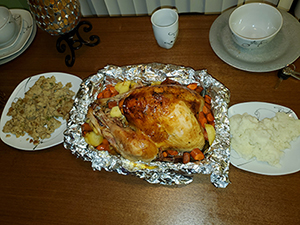 The Veterans Success Center hosted its annual Thanksgiving Giveaway. Thanks to the generous support of their sponsors, the department was able to provide CSUSB students who currently serve or have served in the military with grocery gift cards for Thanksgiving. A total of 53 Stater Brothers gift cards were awarded to students in need, which ranged from $25-$75.
Last year, in addition to gift cards, the Veterans Success Center provided families with turkeys and traditional thanksgiving sides, such as mashed potatoes, stuffing, sweet potatoes, cranberries, and more. Everything needed to make a thanksgiving meal.
In 2019, the Leyva family was a recipient of the food items and appreciated the donations.
Said the Leyva family, "We want to thank you so much for all the free Thanksgiving items. My family greatly appreciate it! It all turned out to be a beautiful evening! My husband Francisco Javier Leyva served in the Army for five years as an infantryman. We were first stationed at Fort Campbell, KY., then to Fort Carson, CO. He also did one deployment in Afghanistan during his time of service. We appreciate what you guys are doing for military families!"
Follow the Veterans Success Center on Instagram @Veterans_Success_Center @CSUSBVeteranSuccessCenter and Facebook to stay up to date on the latest events and resources. Call the Veterans Success Center office at 909-537-5195 or click the link below for more information. 
To access information about the Veterans Success Center, click here