CSUSB Students Attend National Business Women Association's LEILA Awards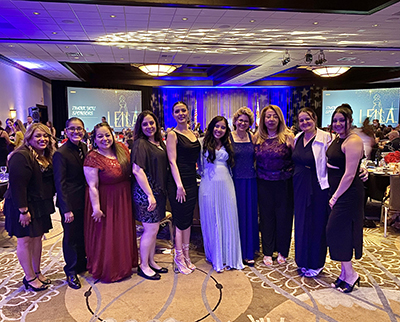 The National Latina Business Women Association Inland Empire Institute (NLBWA-IE) hosted its annual LEILA Awards gala on May 6. The event is an opportunity for local government leaders and the Inland Empire business community to come together to recognize local Latina entrepreneurs and celebrate their success, achievements, and impact in the community. CSUSB administrators and students were in attendance to celebrate the honorees. 
"Attending the LEILA Awards was a unique opportunity for our CSUSB students to network with Latina business leaders from throughout the Inland Empire and connect with role models from various fields of entrepreneurship," said Dr. Paz Olivérez, Vice President for Student Affairs. "The students had a wonderful time connecting with each other and meeting professionals from local media, business, and from the NLBWA-IE's leadership. We look forward to continuing our relationship with the NLBWA-IE and providing more opportunities like this to CSUSB students."
"NLBWA-IE's LEILA Awards event celebrates Latina women business owners and their accomplishments," said Michelle Skiljan, Senior Director of Corporate and Foundation Relations. "By attending, students had the opportunity to experience a gala event, observe and meet successful women business owners and professionals, and gain experience and confidence in themselves and their abilities to pursue their career paths."
In 2022, LEILA nominees were recognized in three categories: Latina Executive Of The Year, Latina Owned Emerging Business Of The Year, and Latina Owned Business Of The Year. The event honored 14 Latina business women in the Inland Empire based on their successes, accomplishments, and influence on Latina leaders in business, leadership, education, and advocacy.
The nominees are Latinas who have demonstrated entrepreneurial leadership and service to their community. They undergo a rigorous selection process based on accomplishments, as well as contributions to their communities through civic organizations, educational institutions, professional associations, and volunteer work.
In addition, NLBWA-IE Corporate Advisor Rossina Gallegos, Director and CSRA Officer Corporate Social Responsibility for the Americas of MUFG Union Bank, N.A., was honored with the 2022 LEILA Chairman's Excellence Award.
"Having the opportunity to attend the NLBWA LEILA Awards Ceremony gave me a glimpse of the community I aspire to surround myself with," said Angela Alavez, a Business Administration student. "The women I met at this gala were professional, charismatic, and happy to see CSUSB students interested in associations like this one."
At the event, NLBWA-IE shared with attendees the valuable insights learned from their latest research study: Impacts of COVID-19 on Latina Businesses in Inland Southern California. 
NLBWA-IE has been honoring Latinas since 2015. The annual event brings together over 250 guests, and the nominees are recognized for their contributions to the business community at an elegant black-tie awards gala open to the public.

To access information about the National Latina Business Women Association Inland Empire Institute, click here