Get to Know Jairo Leon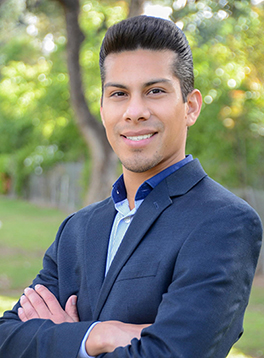 He is the new director for the Undocumented Student Success Center (USSC). He joined the Coyote family on Jan. 31.
According to Jairo, the Undocumented Student Success Center is a safe space for undocumented students and provides them support in their academic, social, and professional aspirations. However, the center is open to all CSUSB students, and Jairo invites students to visit and stay connected virtually by following the center on Instagram and checking out the Undocumented Student Success Center website.
"I also extend my invitation to the entire campus community because I know part of my responsibility is not just to provide direct services for undocumented students but also provide educational opportunities for the entire campus so that folks can understand what it means to be undocumented in America, what it means to be an undocumented student at San Bernardino specifically," said Jairo.
As director, "My primary responsibility is to amplify the undocumented experience here at CSU San Bernardino," said Jairo. "That means advocating and creating and building upon the programs and services available to them."
The USSC offers a variety of services, including free legal support. The center partners with the organization CARECEN to provide this service to students. CARECEN performs immigration intakes to ensure students know their eligibility for any immigration relief opportunities.
"This is an opportunity to meet with an attorney, to get advice from an attorney that knows our immigration system, that is here to support our undocumented students, so it's really a crucial service that we offer our students, and I invite all of them to take advantage," said Jairo.
In addition, the center also helps students navigate financial aid and submitting the California Dream Act application, which is due on March 2. USSC will be hosting virtual information sessions in February to answer questions and help students fill out the application.
Jairo has worked in higher education for five years at a variety of institutions, including University of California, Los Angeles; University of California, Berkeley; San Diego State University; and Cornell University. At an early age, Jairo learned the power of education from his parents, which inspired him to work in higher education.
"I come from an immigrant family, and for us, education was always emphasized as a pathway to a better life and better opportunities, and so while my parents didn't have the opportunity to attend college themselves, they knew the power and opportunity of education," said Jairo.
From 2017-2020, Jairo served as co-chair of the NASPA Undocumented Immigrants and Allies Knowledge Community. As co-chair, Jairo convened staff and faculty from across the country to exchange knowledge and strategies that foster the academic success of undocumented students.
The Undocumented Student Success Center is located in the Santos Manuel Student Union, room 102B. Stay connected and follow USSC on Instagram @undocuyoties.
To access information about the Undocumented Student Success Center, click here