Peer Career Educators Provide Career Development Assistance to Students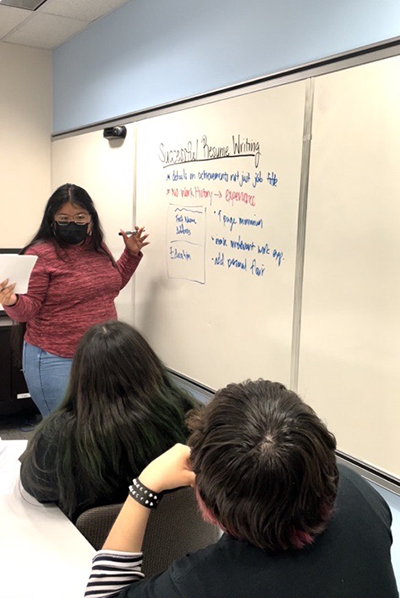 The Career Center is one of 21-plus departments in Student Affairs. Its peer career educators program was created in 2018 and provides students with career education and development assistance. The peer career educators are trained to support students with resumes and cover letters. In addition, they inform students about important career development services and resources on social media platforms, such as TikTok.

"Students often trust their peers for guidance and support, in addition to the support provided by faculty and staff," said Valentina Felix, Career Center career advisor. "Using a peer mentorship model, the Career Center has been able to build upon the services provided by our professional staff and advisors."

Students are able to make a difference by helping their peers define, develop, and grow their career goals while also enhancing their own. The Career Center has three peer career educators and plans to add more as campus repopulates. During spring semester, students can schedule an appointment and meet with a peer career educator through the Career Center's virtual drop-ins on Zoom during the designated days and times below:
Tuesday: 2 - 4 p.m.   
Wednesday: 12 - 2 p.m.  
Thursday: 1 - 3 p.m.
To meet with a peer career educator, click here
To access more information about the Career Center, click here