CSUSB Welcomes New AVP of Student Success and Educational Equity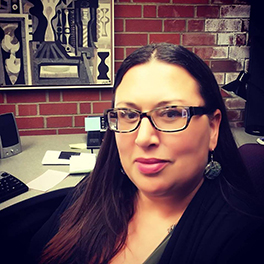 Let's welcome Dr. Molly Springer! She is our new Associate Vice President of Student Success and Educational Equity at CSUSB. Dr. Springer joined the Coyote family in August. With more than 20 years experience in higher education, she is a veteran administrator and advocate for traditionally underserved populations.
Throughout her career, Dr. Springer has developed programs and initiatives that have concentrated on the needs of disproportionately impacted students. This is one of the reasons that attracted Dr. Springer to CSUSB, its equity work, as well as the Native community in the area.
As a Native American, first-generation college student, Dr. Springer experienced firsthand the benefits of programs for underserved populations.
"I fell in love with programs that supported me, and so I wanted to do that for the rest of my life, to support students who were like me," said Dr. Springer. "It was so impactful."
In her role, Dr. Springer supports closing the opportunity gaps that exist for our disproportionately impacted student populations. Since joining CSUSB, Dr. Springer has been appointed to the President's Diversity, Equity, and Inclusion board, and she is Vice-Chair of the Student Recruitment, Retention, & Graduation Committee to aid in this effort.
As the Associate Vice President for Student Success and Educational Equity, Dr. Springer oversees 10 departments in the Division of Student Affairs: Educational Opportunity Program (EOP), Student Assistance in Learning (SAIL), the Career Center, the Veterans Success Center, the Undocumented Student Success Center, Services for Students with Disabilities, Upward Bound, Educational Talent Search, GEAR UP, First Star Academy, and Cal-SOAP.
Prior to joining CSUSB, Dr. Springer served as dean of Equity, Engagement and Completion at Sacramento City College; director of Learning Communities at CSU Monterey Bay; assistant dean of Students/Native American Program at Dartmouth College; assistant dean of Student Life at University of Illinois; coordinator of Multicultural Student Services at Ohio State University; research analyst School of Psychology at San Diego State University; and director of the Student Retention Center at UCLA.
"Lots of different things I've done in my career to support students who've been marginalized and continue to need access to not only a college education, but also be able to feel empowered about their own voice and their ability to move and shake the system and change it for the better," said Dr. Springer.