Professional Development Opportunity for Students Only a Click Away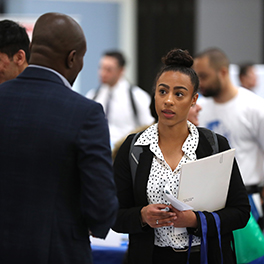 All 21-plus departments in Student Affairs are available to students virtually, including the Career Center. The department will continue to offer their regular services at the San Bernardino and Palm Desert campus, just remotely. These services are available Monday-Friday, 8 a.m.-5 p.m.
The department empowers students and alumni in the San Bernardino and Palm Desert area to achieve their career goals and improve their professionalism through its services and resources. The Career Center hosts regular virtual workshops and webinars that cover a variety of important topics, such as career exploration, resume and cover letter writing, interview strategies, and tips to search for jobs and internships. Virtual job fairs and graduate school expos are also held throughout the academic year.
"First and foremost, the Career Center supports our students with the very best services and programming possible to assist with reducing student uncertainty about life beyond Cal State San Bernardino," said Roger Woolsey, Executive Director of the Career Center. "We encourage students to engage alumni on the Coyote Network, attend workshops, and to schedule an appointment with a Career Center counselor."
He added, "We support your unique interests via career education resources, counseling, programming, and employer relations and recruiting."
Follow the Career Center on Instagram @CSUSB_CC to find out about upcoming virtual events and workshops. Call the Career Center office at 909-537-5250 or click the link below for more information.