CIMES's Statement in Solidarity with the Black Lives Matter Movement
The Center of Islamic and Middle Eastern Studies (CIMES) at California State University, San Bernardino is saddened and outraged by the murders of George Floyd, Rayshard Brooks, Breanna Taylor, Ahmaud Arbery, and countless other Black individuals. We recognize the deplorable systemic racism that permeates the past and present of the U.S. and stand in strong solidarity with those who seek to make fundamental changes to the system. CIMES is part of a global movement that advocates for peace and justice. Our commitment at CIMES is to strengthen our solidarity with those of MENA (i.e., Middle East and North Africa) and BIPOC (i.e., Black, Indigenous, and People of Color) in North America and globally through our teaching and community outreach. CIMES also recognizes the contribution of Black Muslims who comprise a third of the American Muslim population in our nation's civic, athletic, artistic, and civil rights movement, with leaders such as Malcolm X, Muhammad Ali, Keith Ellison, Kareem Abdul Jabbar, Ahmad Jamal, Art Blakey, T-Pain, to name a few. At CIMES, we organize events to raise awareness about the struggles of Muslim populations and other religious and/or indigenous groups in MENA, most of whom are people of color and live in Global South. We acknowledge the similarities between their plight and those of people of color everywhere, including the Black Lives Matter movement. We condemn racism, anti-Blackness, and white supremacy in all of their forms and are committed to fighting to dismantle them. An injustice to our Black siblings is an injustice to all of us. We declare unequivocally that Black Lives Matter in this country and around the world.
The Center for Islamic and Middle East Studies (CIMES) at CSUSB serves as a flagship for international dialogue and academic excellence for students and faculty as well as the local and international communities. The Center supports research, lectureships, curriculum development and community outreach in order to advance the study of Islam and the Middle East.
Latest News
Director of CIMES, Dr. Ahlam Muhtaseb, wins the CSUSB 2019-2020 Outstanding Scholarship, Research, and Creative Activities Award
June 12, 2020
Read the full article on Dr.Ahlam Muhtaseb
CIMES member, Dr. Parastou Feizzaringhalam, wins the 2019-20 Golden Apple Award
June 8, 2020
Read more about Dr. Parastou Feizzaringhalam
Director of CIMES, Dr. Ahlam Muhtaseb, was selected by the CSUSB Office of Student Research as one of 2020 Research and Creative Activity Faculty Mentor Awardees.
Faculty selected for this award have shown exceptional dedication to student's success for careers in research, teaching, and preparing them to meet the highest professional and ethical standards as scholars. As a recipient of this award, you will receive $2,000 towards your professional development funds.
Read more about Dr. Ahlam Muhtaseb
Dr. David Yaghobian, Associate Director of CIMES, has been widely interviewed by the media about many issues related to Iran and Palestine
Read more about Dr. David Yaghobian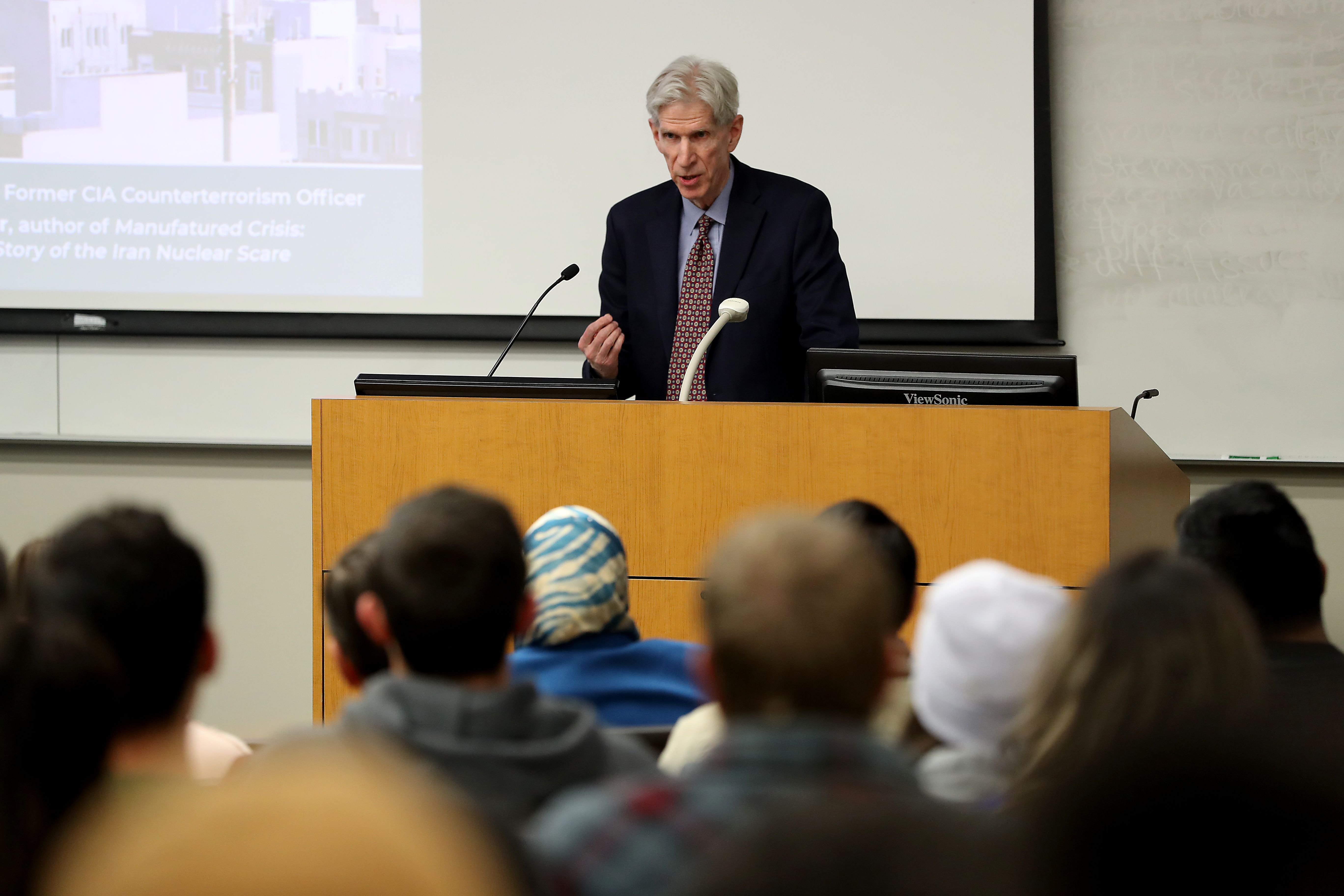 The United States & Iran: From Manufactured Crisis to the Brink of War'
February 6, 2020
Author and journalist Dr. Gareth Porter is the featured speaker at the talk sponsored by CSUSB's Center for Islamic and Middle Eastern Studies. The event is free and open to the public.
The United States & Iran Article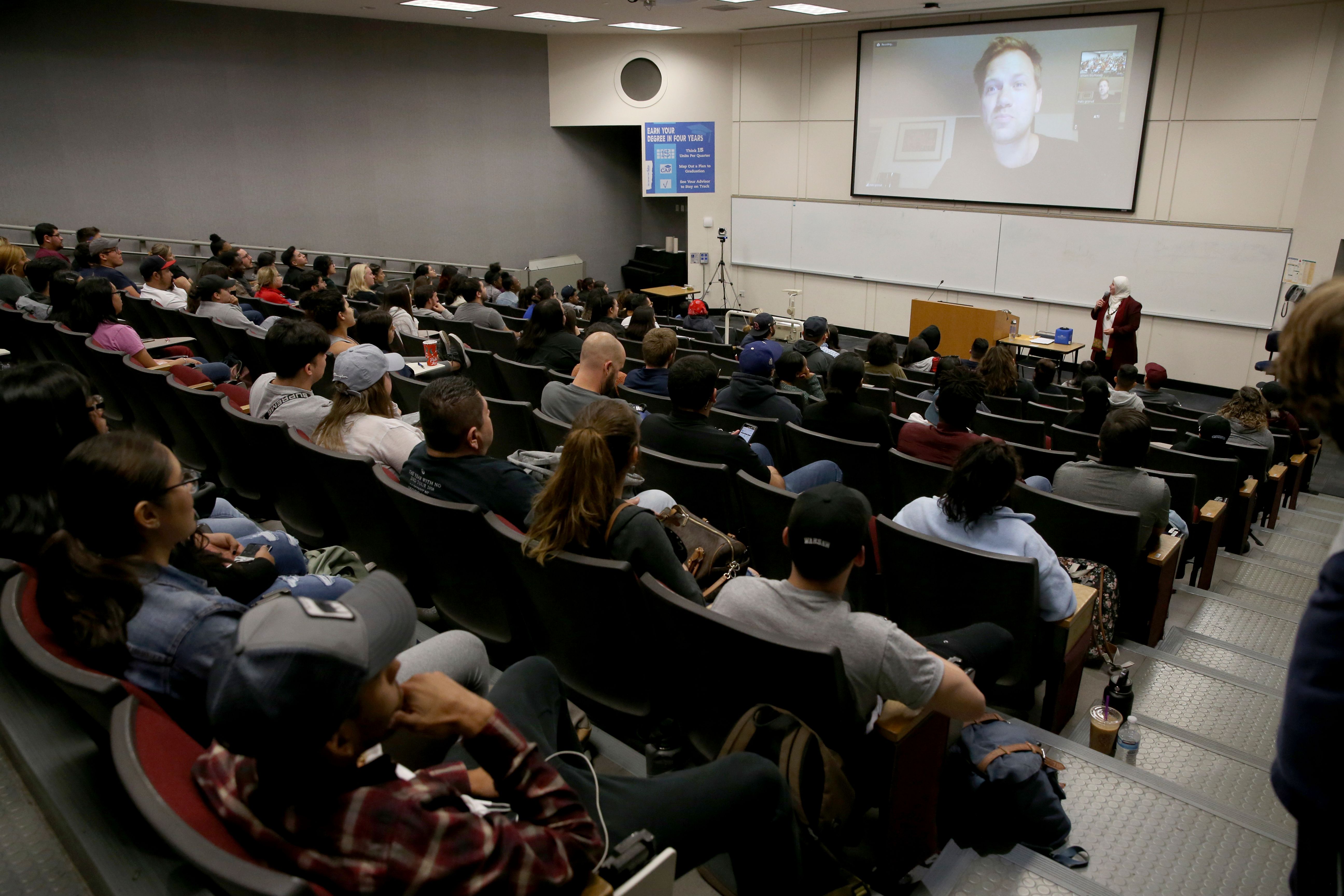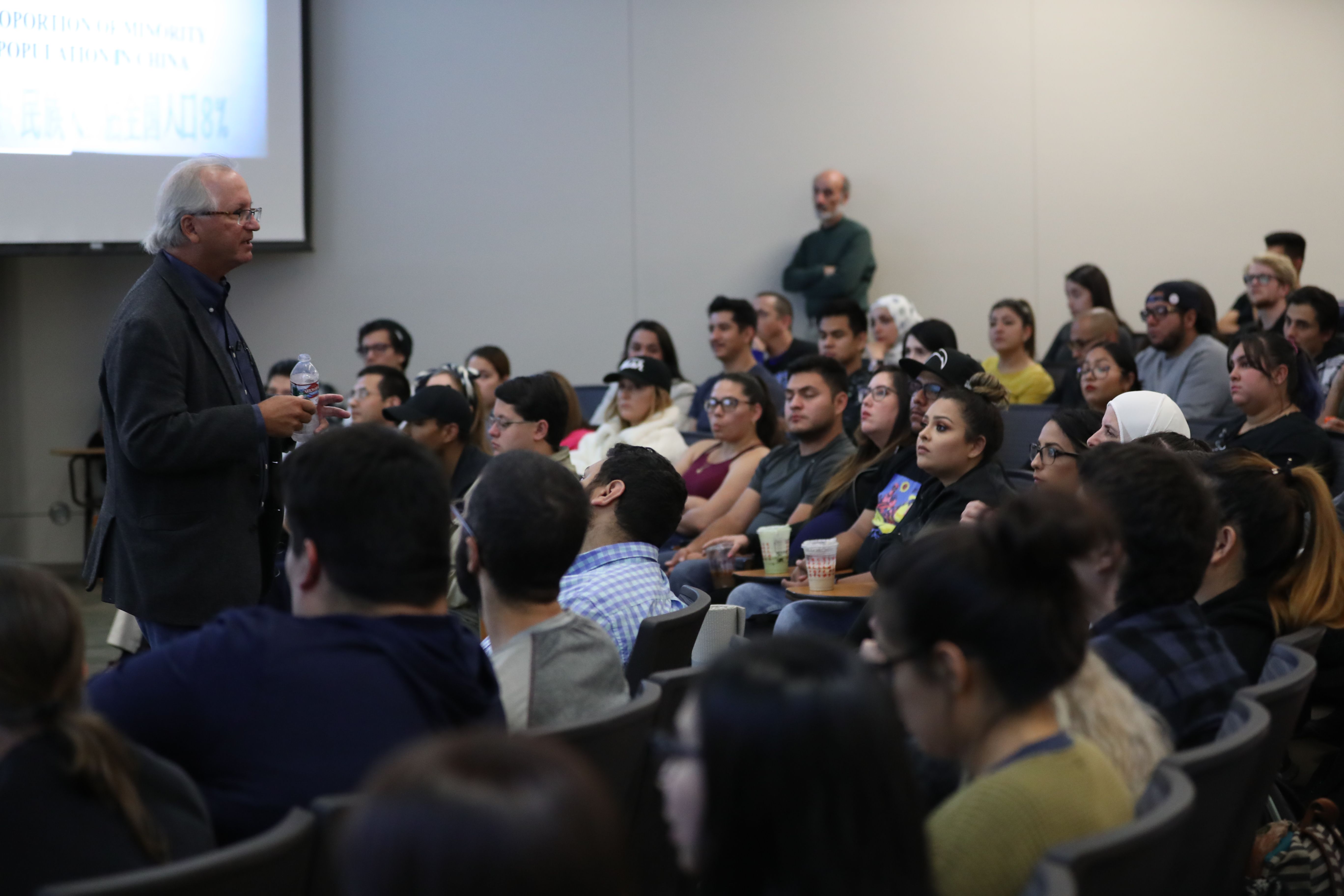 China and its treatment of Uyghur Muslims focus of presentation at CSUSB
November 12, 2019
The mass internment of China's Uyghurs, a largely Muslim ethnic minority who live in the northwestern region of Xinjiang, will be among the topics discussed by two guest speakers when the Center for Islamic & Middle Eastern Studies presents "China and the Uyghur Muslims: A Human and Cultural Genocide."
China and the Uyghur Muslims Article
Rise of Populism and Islamophobia: How Can We Stem the Tide?
May 23, 2019
The current rise of populism across the globe is directly linked to the spread of Islamophobia, as policy and radicalized funnel, that candidates and political parties utilize to draw voters to the ballot box.  Here, rightwing populism has used Islamophobia, xenophobia and racial discourses to repackage people's real economic pain, social and political instability in Western societies and posit itself as the solution to these complex and long-standing problems. This panel seeks to deconstruct the current confluence of populism and Islamophobia to understand its growing manifestation and utility in political discourses domestically and abroad, and to assess the role of mass media in advancing racist and Islamophobic agendas. 
View Rise of Populism & Islamophobia Gallery & Speakers
Rise of Populism & Islamophobia Flyer
U.S. Hegemony & the Arab World Conference in Celebration of the 40th Anniversary of Arab Studies Quarterly
April 20-21, 2018
The Arab World is undergoing great economic, environmental and educational strides in some areas, while experiencing challenges in others. The role of the U.S. as the major player in the region requires constant and careful scrutiny. This conference aims to critically evaluate the impact of U.S. policy decisions, political and economic alliances, military interventions as well as reactions and popular resistance against the U.S. hegemony in the region from a socio-political and historical perspective.