The panel will include a talk by Dr. Yasser Abu Jamei, a well-known Palestinian psychiatrist and director of the Gaza Community Mental Health Programs. He will be joined by Professor Liliana Conlisk-Gallegos, Professor of Communication Studies at CSUSB, to talk about militarizing borders and its impact in the cases of Gaza and the Mexican borders. Professor Conlisk-Gallegos will talk about rarely discussed forms of invisible racist violence, which usually take place at the US-Mexico borders regardless of people's legal status. Professor Conlisk-Gallegos will share her personal experience crossing the borders most of her life. Dr. Abu Jamei and Dr. Conlisk-Gallegos will draw parallels from the two borders focusing on trauma, especially among children. For questions, please email Professor Ahlam Muhtaseb: amuhtase@csusb.edu .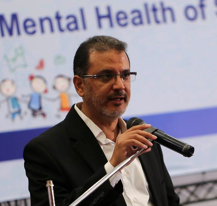 Dr. Yasser Abu Jamei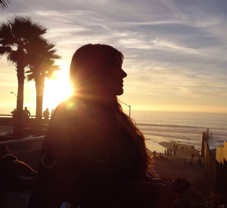 Professor Liliana Conlisk-Gallegos
Dr. Abu Jamei is a general psychiatrist, as well as a child psychiatrist, and a researcher with a Master's in Neuroscience from the University of Birmingham in the UK. Dr. Abu Jamei has been with the Gaza Community Mental Health Programs since 2004 playing different supervisory, clinical and research roles. He assumed the leadership of the institution in 2014 and continues to serve as the general director overseeing the general operations of the program in providing a world class mental health care with the limited resources available. GCMHP is the largest free standing NGO serving the mental health needs of the population in Gaza, offering multiple programs including outreach to stranded communities isolated by war and poverty. Dr. Abu Jamei will be an invited speaker at the American Public Health Association Annual conference in San Diego this month.
Dr. Liliana Conlisk Gallegos is from the Tijuana-San Diego border region in Southern California. She identifies as transfronteriza (transborderite), a sector of society who perpetually crosses borders.  The transfronterizo identity is laced by a different form of trauma, one that comes from repeated acts of dehumanization spread across generationally. Her experience living on the border inspired her specialization in the decolonization of current academic perceptions of knowledge. Through her experimentation with "live" research in both content and format she has designed projects involving multimedia production to curate interactive research performances for community healing. One of such performances is The Art of Dreamingworkshop which showcases data in the form of art made by students and community members around the topic of being undocumented and the complex interplay between forms of trauma, resistance, and survival. Data is collected for a digital archive while the art pieces are auctioned off to fundraise for an emergency scholarship for undocumented students at CSUSB.