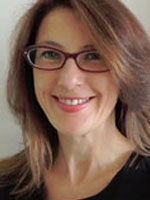 Ece Algan, Ph.D.
Ece Algan is Professor of Communication Studies at California State University, San Bernardino, and her research focuses on the relationship between cultural politics and media. She has conducted ethnographic fieldwork research on local radio, emerging communication technologies and youth for almost a decade in Southeast Turkey. She is fluent in English and Turkish, which is her native tongue. Her work has been published in several media and communication journals and edited collections, and earned many awards, including a Top Paper Award at 2011 NCA, Top Faculty Paper Award at the Global Fusion 2009 Conference and the James E. Murphy Best Faculty Paper Award in 2003. She serves on editorial and advisory boards of Journal of International Communication, Global Media Journal's Mediterranean Edition and Moment: Journal of Cultural Studies.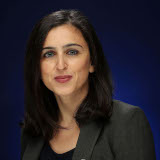 Yasemin Dildar, Ph.D., Associate Director, CSMAW
Yasemin Dildar is an associate professor of economics at California State University, San Bernardino. She earned her M.A. in Economics from Middle East Technical University in Turkey, and she received her Ph.D. in Economics from University of Massachusetts Amherst. Her research focuses on gender and development, macroeconomics and labor economics. She has worked on women's labor force participation, fertility decisions, domestic violence, and children's domestic work in Turkey. She has publications in journals such as World Development, The European Journal of Development Research, Middle East Development Journal, Journal of Behavioral and Experimental Economics, Journal of Economic Policy, Social Science History, and Review of Radical Political Economy.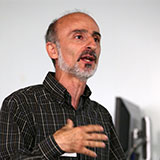 Dany Doueiri, Ph.D., Director, CSMAW
Prof. Doueiri joined CSUSB in 2001 and served as the coordinator of the Arabic Language Program until 2016. He has been a member of executive board of the Center for the Study of Muslim and Arab Worlds since its creation in 2003. He teaches courses on Arabic language and culture, and contemporary issues of the Muslim world. He has worked in the educational and non-profit sectors for 30 years and is an educational consultant and a frequently invited speaker for national and international institutions in the areas of language pedagogy, program development, teacher professional development, interfaith, and advocacy in education. Prof. Doueiri has received multiple awards and recognitions in the fields of teaching, service, and interfaith work.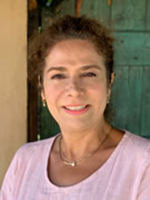 Parastou Feizzaringhalam, Ph.D.
Parastou Feizzaringhalam, Ph.D. is Associate Dean of the College of Arts and Letters and Professor of English, specializing in Applied Linguistics.  She joined CSUSB in 2007, having received her PhD in Applied Linguistics from Penn State University. She has co-authored two major books (Discourse Analysis: Putting our Worlds into Words and Grammar, Meaning and Concepts: A Discourse-Based Approach to English Grammar, both by Routledge), and has also published a number of articles comparing and contrasting English and Persian from the multiple perspectives of grammar, pragmatics, and cognitive linguistics. Dr. Feiz's research and teaching are driven by a deep interest in language and discourse and their connections with conceptual meaning, culture, and ways of thinking.  She enjoys spending time with her family in San Diego, cooking, taking long walks, and watching birds.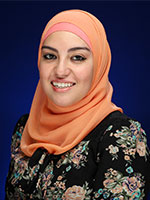 Mahbuba Hammad, Ed.D., M.P.H.
Mahbuba Hammad serves under many capacities as instructor and director of multiple projects and national/international initiatives in public educational and nonprofit organizations. At CSUSB, she has integrated contemporary issues of Arab and Islamic culture, such as healthcare, environment, human rights, media and film into the classroom. She has extensive experience in grant development, instruction, teacher training, assessment and program administration and has worked with students in K-16. Her research focuses on Arabic literacy and breast cancer in Arab and Muslim communities. She was recently named by the International Literacy Association (2019) as one of 30 Under 30 literacy leaders and visionaries creating positive change in the global literacy landscape. She was also honored (2019) by Assembly member Eloise Gómez Reyes as one of 30 Under 30 individuals who exemplify dedication, innovation and service in the 47th district in the Inland Empire.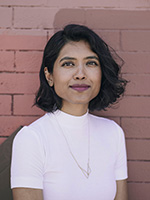 Hareem Khan, Ph.D.
Hareem Khan is Assistant Professor of Anthropology and Ethnic Studies at California State University, San Bernardino. She holds a Ph.D. from the Department of Anthropology at the University of California, Santa Barbara and a B.A. in Anthropology and Global Health from Northwestern University.  Hareem's current research examines the burgeoning South Asian beauty industries in Southern California, focusing on the entanglements of race, labor, and the commodification of cultural aesthetic practices. A portion of this project appears in an edited volume on transnational migrant labor titled The Migrant's Body published by Amsterdam University Press. Hareem has also been published in the Journal of Asian American Studies, Wear Your Voice digital magazine, The New Ethnographer digital blog, and an anthology on global raciality organized by the UC Center for New Racial Studies.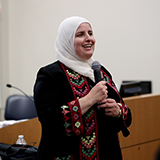 Ahlam Muhtaseb, Ph.D.
Ahlam Muhtaseb is a professor of media studies at California State University, San Bernardino. She earned her M.A. in Government Relations and her Ph.D. in Computer-Mediated Communication from the University of Memphis, Tennessee. Her research interests include digital communication, social media, and diasporic communities. She has published her scholarship on digital communication and other communication sub-topics, and has presented her scholarship to scholarly meetings. Her most recent projects include working on an upcoming documentary on the year 1948 and its catastrophic consequences; a project that has originated from her field work in the Palestinian refugee camps in Lebanon, Syria, and Palestine.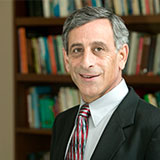 Jamal Nassar, Ph.D. (Dean Emeritus)
Jamal Nassar (Ph.D. in Political Science, University of Cincinnati) is the author of 6 books on globalization, terrorism, politics in the developing world and Palestinian resistance movement. Many of his articles, chapters and reviews have also been translated into about a dozen other languages. Dr. Nassar has chaired several national and international conferences on the Middle East, has addressed the United Nations on the Palestine question, and has been a consultant or expert witness in court cases in the United States and Canada. He was the editor of Arab Studies Quarterly from 1991–95. He remains on the editorial board of this and other scholarly journals.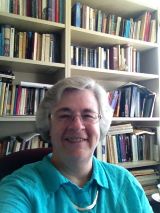 Cheryl Riggs, Ph.D.
Dr. Cheryl Riggs received her Ph.D. from the University of California, Santa Barbara in 1989 and recently retired as full professor of History at CSUSB. During her career, she published on world civilizations, medieval philosophy and Christian history, as well as serving as general editor for world history publications. She is the author of numerous academic papers and invited lectures presented both domestically and internationally, including Oxford University and Bethlehem University. Her most recent publication, "From Investment to Divestment: Non-violent Religious Protest and the United Methodist Church in an Historical Context" is a product of her interest in American Churches' responses to Middle Eastern conflict.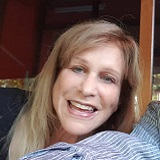 Wendy B. Smith, Ph.D. Professor Emerita
Professor Smith received her Ph.D. in 1990 from the Department of Applied Linguistics at UCLA. She began teaching at CSUSB September of 1989 and is the architect of the current M.A. program in Applied Linguistics/TESL in the Department of English, having directed it for four years when it was established. She has received two Fulbright Awards, one to Yanka Kupala University in Belarus (2011-12)and the other to Tbilisi State University in the Republic of Georgia (2014-5). Professor Smith was also a Visiting Scholar at Hebrew University and lived in Jerusalem from 1997-2000, conducting sociolinguistic research on the interaction and situation of the Palestinian and Jewish Israelis. She is currently doing research on the interaction of members of Union of the Deaf in Tbilisi.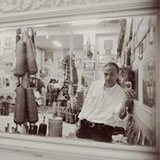 David Yaghoubian, Ph.D., 
David Yaghoubian (Ph.D. in History, University of California, Berkeley) is a professor of history at California State University in San Bernardino. He is coeditor with Edmund Burke III of Struggle and Survival in the Modern Middle East, second edition. He is the author of Ethnicity, Identity, and the Development of Nationalism in Iran (2014).