This process is used for high-volume reproduction. It uses three rotating drums: a plate cylinder, a blanket cylinder, and an impression cylinder. The plate cylinder holds the image to be printed, and ink is applied to the image. The ink is transferred, or offset, onto the blanket cylinder. Paper passes between the blanket cylinder and the impression cylinder, and the image is transferred onto the paper.
Creates a higher quality printed document by allowing inks to be pressed into the paper fibers.
This service is also a more economical option for larger quantities (1,000 and up).
The production time varies depending on the scope of the project and current scheduling.
Two color and four color offset presses are available to print everything from small announcement envelopes to 13" x 19" full color posters, brochures and other marketing materials.
All documents to be printed should be submitted to us in PDF/X-1a:2001 format. This will insure RGB converts to CMYK and all fonts are embed.
Inks used in Offset Printing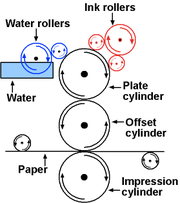 Pantone Matching System (PMS) is a standard color-reference system used by printers and graphics designers for inks, papers, and other materials. A PANTONE color is a standard color defined by percentage mixtures of different primary inks. Our official CSUSB colors are PMS 300 Blue and Black.

Four-Color Process is a printing method using the four process colors: cyan, magenta, yellow, and black (CMYK). These four colors can be combined to create a myriad of other colors.