Phi Kappa Phi Study Abroad Grants are designed to help support undergraduates as they seek knowledge and experience in their academic fields by studying abroad. Forty-five $1,000 grants are awarded each year.
Named Study Abroad Grants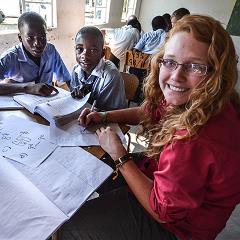 Two Phi Kappa Phi Study Abroad Grants have been endowed by generous donors. Below are descriptions of the Society's named Study Abroad Grants and the contributors who made them possible:
McKenzie Study Abroad Grant - Established in 2011 from the generosity of past Society president Wendell H. McKenzie, Ph.D. and his wife Georgie McKenzie, the grant will be given annually to a successful applicant from North Carolina State University. Should there not be a successful applicant from North Carolina State University, the funds will be granted to a successful candidate from another Phi Kappa Phi member institution.
Larry Sommers Study Abroad Grant - Former Society president, Larry Sommers of Okemos, Michigan, did not have the opportunity to study abroad as a University of Wisconsin undergraduate in the late 1930's. His endowed gift to the Society will make such opportunities available for future generations of students to enrich their education.
Study Abroad - Frequently Asked Questions (FAQs)
Who is eligible to apply?
You are eligible to apply if you meet ALL of the following:
you attend an institution with an active Phi Kappa Phi chapter;
you have a minimum of 30 semester hours (or equivalent) and no more than 90 semester hours (or equivalent) by the deadline of April 1, 2017, excluding all AP, credit by exam, etc. Students attending a school on the quarter system must contact their Registrar's office to determine the number of earned semester hours;
you have a grade point average of 3.5 or higher on a 4.0 scale. We do NOT round-up - meaning a 3.46 GPA does not qualify;
your study abroad program begins between May 1, 2017 and June 30, 2017;
you have at least two semesters left at your home institution after the completion of your study abroad program;
you have applied to or been accepted into an accredited study abroad program before April 1, 2017 and provide a letter of acceptance or a letter confirming your application, on official letterhead, as part of your application.
What is the deadline?
The completed application and supporting materials must be postmarked by April 1, 2017, at 11:59pm. Materials arriving after the deadline will not be considered.
What if I have not yet received a letter of acceptance from my accredited study abroad program?
If you have applied for your study abroad program but have not been accepted by our application deadline, you must include a letter from your study abroad director/coordinator on official letterhead verifying the program and your submitted application. Study Abroad Grants will NOT be awarded without an offical letter of acceptance from the accredited study abroad program.
Do I have to make copies transcript(s) and letters of recommendation?
No. The transcript(s) and letters of recommendation should remain in their sealed envelopes.
Can the letters of recommendation and transcript be mailed directly to Phi Kappa Phi?
Yes, you can send them to:
Study Abroad Program
The Honor Society of Phi Kappa Phi
7576 Goodwood Blvd
Baton Rouge, LA 70806
When will I know if I am a winner?
Winners will be notified by June 1, 2017.
When will I get my grant?
Once we have received your letter of acceptance and all of the requirements have been met, your grant will be mailed directly no earlier than July 1, 2017 and no later than September 1, 2017
Chapter contact: AJ Hernandez - ahernand@csusb.edu
Study Abroad CSUSB contact: Elva Salgado - esalgado@csusb.edu