Who can earn the Added Bilingual Authorization?
Credential admission office Application deadlines.
Program Mission:
The mission of our Spanish Bilingual Authorization program is to prepare teacher candidates with the linguistic, cultural, and pedagogical skills needed to provide qualitative bilingual education to students from diverse backgrounds. We believe that bilingualism and biliteracy are valuable assets for all students, and we are committed to providing our candidates with the knowledge and skills necessary to promote academic excellence, equity, and social justice in California multilingual classrooms. Our program emphasizes the development of culturally proficient teaching practices, collaboration with families and communities, and the use of educational technology to enhance language and content learning. Our goal is to produce bilingual educators who can inspire and empower students to become active and engaged global citizens.
Spanish Bilingual Integrated students have Full-tuition opportunities (IBAP Grant), don't miss out!
Program Prerequisites:
The applicant must demonstrate Spanish/English bi-literacy skills (most students in CSUSB demonstrate this knowledge via WCOE Spanish Placement Test or, if needed, successful completion of SPAN 3305 Applied Spanish Grammar).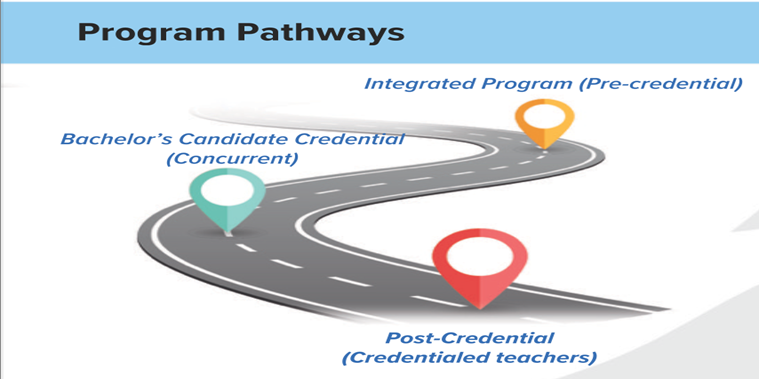 Forms:
Bilingual Authorization Interest Form
Track A Form (2 semesters): Hybrid (Face-to-Face + Synchronous)
Track B Form (3 semesters): Hybrid (Face-to-Face + Synchronous)
For More Information
Dr. Nena Tórrez
Co-Coordinator Bilingual Authorization 
ntorrez@csusb.edu
(909) 537 – 7321, CE-267
Dr. Jordi Solsona-Puig
Co-Coordinator Bilingual Authorization 
jordi.solsona-puig@csusb.edu
(909) 537 – 5531, CE-277
Testimonials:
"I joined the Bilingual authorization program because I knew it would empower me to teach students in a Dual Immersion setting English/Spanish. Becoming a bilingual elementary school teacher will empower, equip and provide more opportunities to future bilingual teachers in the education field as it has done for me! It has affected my teaching career greatly as it helps me to preserve my culture by teaching in Spanish, something that is extremely important to me, and it gives me great joy to know that my students are also learning my first language; a priceless reward for me!"
" As an immigrant in this country, I rarely had teachers who resembled me or spoke Spanish, which made me feel invisible.  For this reason, I wanted to be a positive, bilingual role model that could inspire children from diverse cultures. The bilingual credential program empowered me with the foundational knowledge to meet the needs of culturally and linguistically diverse children. I believe that children and their community are an asset to be treasured. When my students walk into my classroom, I receive them with warmth, and respect. I reassure my students' parents that their children are in a safe and supportive environment. "