CSUSB honors June and Ernest Siva and two faculty for their community collaboration efforts
The contributions of June and Ernest Siva, two longtime friends of the university, and two faculty members, Enrique Murillo Jr. and Alexandra Cavallaro, were recognized on March 4 when the Cal State San Bernardino Office of Community Engagement held its Community Collaboration Celebration.
June and Ernest Siva were honored with the Outstanding Community Partner Award for their exceptional and sustained effort in developing service learning, research and internship opportunities for CSUSB students to engage in and learn from Native communities.
Murillo, founder and executive director of the Latino Education and Advocacy Days project, co-director of the Doctorate of Education in Educational Leadership Program and professor of education, was publicly honored for receiving the Thomas Ehrlich Civically Engaged Faculty Award, which he was given in the fall of 2020.
Cavallaro, assistant professor of English and director of CSUSB's Center for the Study of Correctional Education, was formally recognized as recipient of CSUSB's 2021 Outstanding Community Engagement Award, which she was given in the spring of 2021.
"This celebration, this recognition of our colleagues and community leaders, is near and dear to my heart," said university President Tomás  D. Morales in his opening remarks. "We are an anchor institution. We are stewards of place. We are an institution that is part of our community. We are not the shining star on the hill. We are in valley, in the trenches, working with all 56 school districts. We're working with over 400 nonprofit organizations. This is what we do as a university."
Addressing the honorees, Morales said, "All four of you, in your efforts, are deeply appreciated by many more people than are assembled here today, including those who may not know that you are the individuals behind the initiatives that have made a positive difference in their lives. I want to thank you, from the bottom of my heart, for your engagement to the greater good."
Added Diane Podolske, director of the Office of Community Engagement, "Community engagement is central to what we are as a university, not only to be a good neighbor, but also to improve the quality of life in our local communities. This work is possible due to the combined effort of all of us – our students, our faculty, our staff, administrators and amazing community partners."
The Sivas are longtime friends and contributors to the university and the community. They founded the nonprofit Dorothy Ramon Learning Center in Banning in 2003, which is named after Ernest Siva's aunt, to help preserve Southern California's Native American cultures. The center provides cultural activities such as storytelling and hands-on learning for children and works as a liaison with teachers, schools, museums and others interested in Southern California Indians. 
Most recently, Ernest Siva was featured in an article and in a podcast by the Los Angeles Times, which also noted that he contributes to Cal State San Bernardino's language program through an arrangement between the San Manuel Band of Mission Indians and the university. A class on the Native American language was introduced over a decade ago, but today, it is offered as a full-credit course. In 2009, CSUSB awarded Siva an honorary Doctor of Fine Arts degree.
Both have a long history of collaboration with the university's history, world languages and literatures, English, music, museum studies and public history programs, said Thomas Long, professor of history, who introduced the Sivas.
"With the collaboration of June and Ernest, CSUSB students in all of these, and other departments, have had an opportunity to gain valuable professional experiences while supporting the vital work being done by both our community partners," Long said. "Indeed, June and Ernest's dedication to preserve the histories of Native American culture has positively impacted many of our CSUSB faculty and students, and quite frankly, CSUSB as a whole."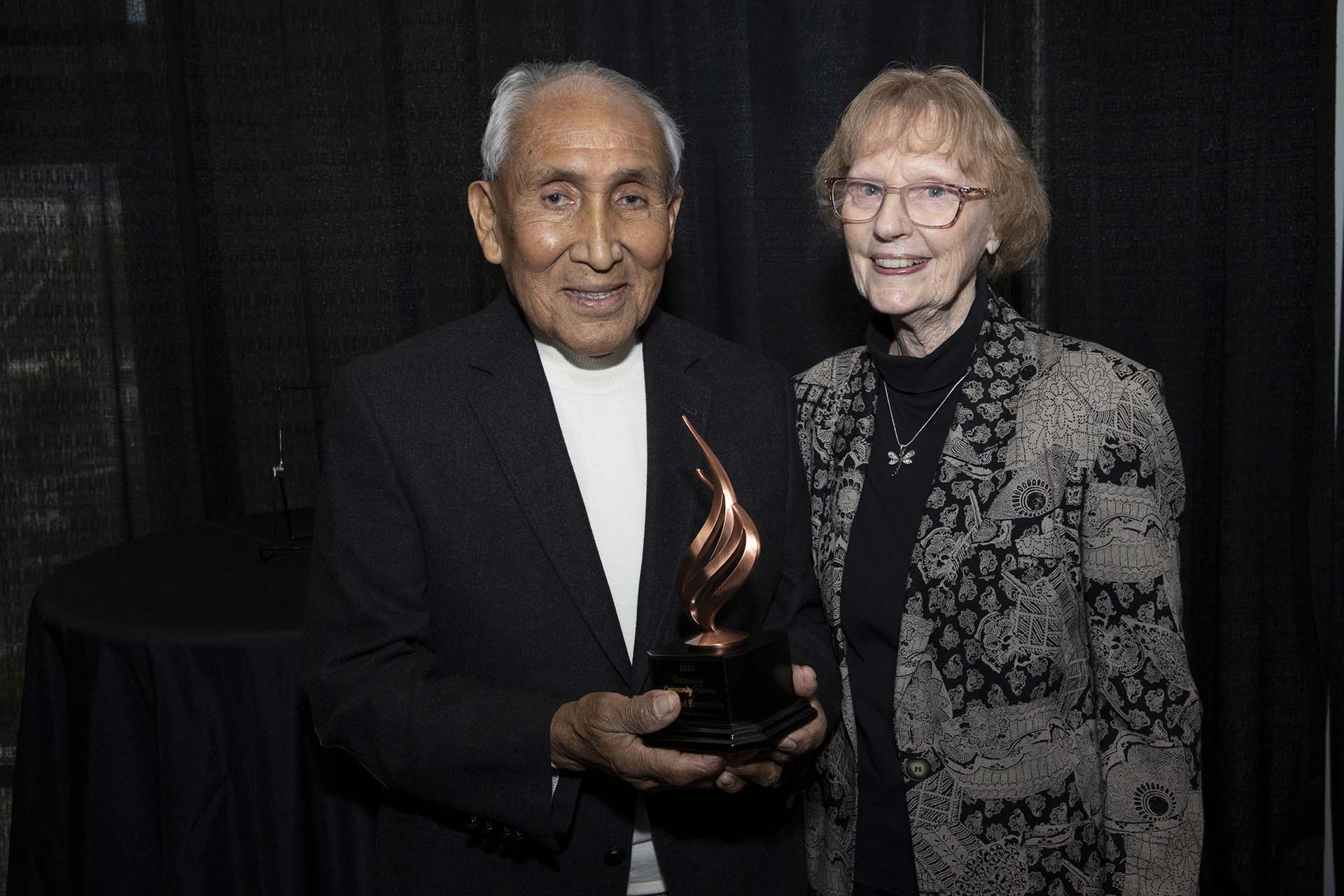 June Siva said the gratitude flowed both ways. "We are honored and most grateful. Our partnership with Cal State San Bernardino has been a long one, and we are so grateful for Juan (Delgado, professor of English, emeritus) and Tom (Long), who serve on our board and have contributed so much to our organization," she said. "We are more than grateful for all of the contributions that Cal State has made to us, as well."
Ernest Siva recalled how the relationship with the university began. "We were welcomed from the very beginning, and I think that Juan was the first one to invite me to his class, and that just blossomed from there to the English department and so on," he said. "The partnership was easy to do. It just presented itself. And it also echoes our traditional motto, which came down through word of mouth, that we are to save and share. And that was played out before our times, and we're happy that it also was a principle mover in our organization."
In recognizing Murillo as the recipient of the Thomas Ehrlich Civically Engaged Faculty Award, given by Campus Compact, Podolske said, "This award is widely known as the highest national recognition for a faculty member engaged in community-based scholarship. This is, in essense, a lifetime achievement award, named after one of the pillars in the community engagement field."
Murillo said he was "pleasantly surprised" when he learned about the honor. "Quite often, many of us – not just me, but many of us – in this room, we just do our work, and we see this as part of our daily lives; nothing exceptional. So when a group like this says, 'This is an exceptional activity that this person is involved in,' it really makes you feel great."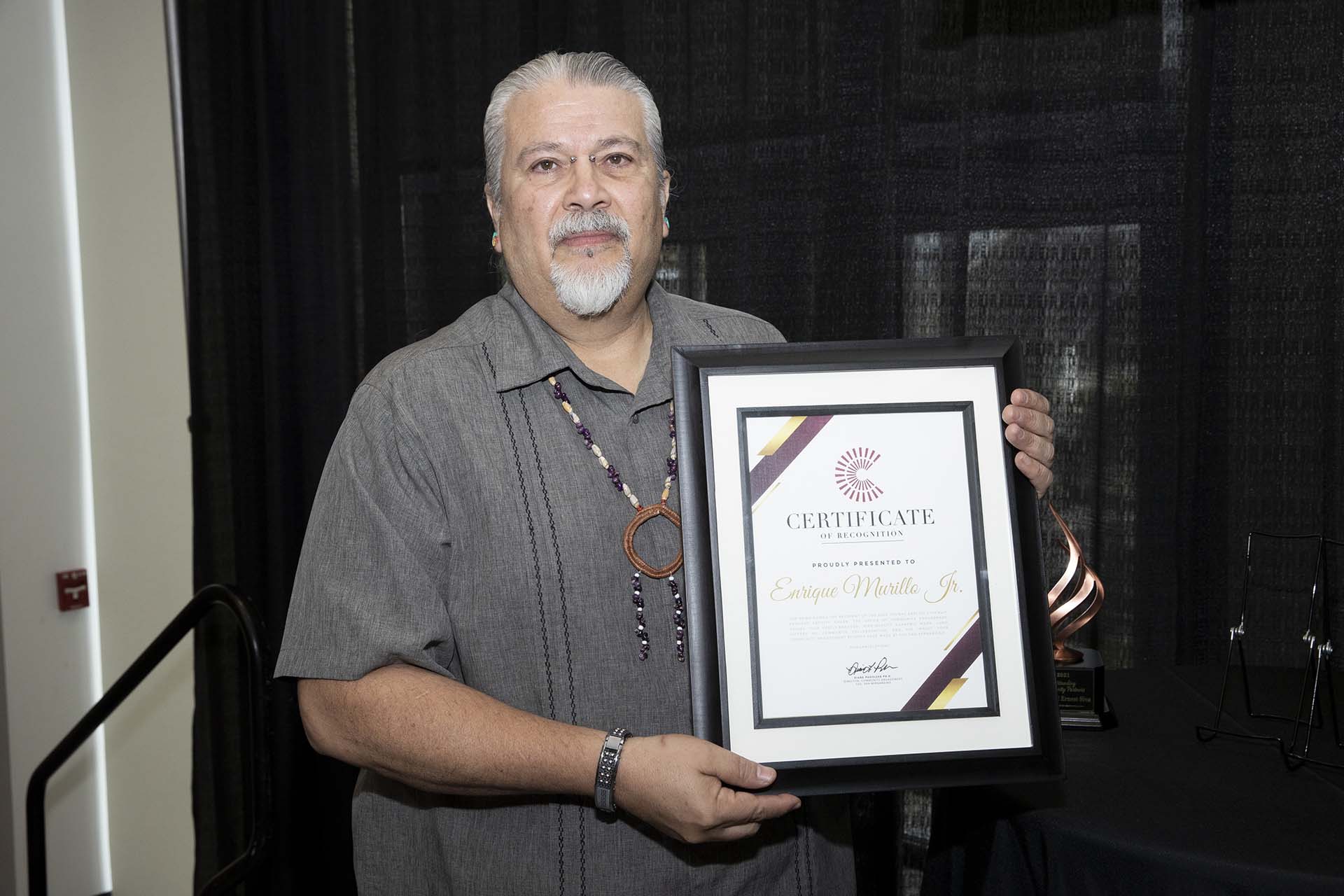 He also paid tribute to Ernest Siva. As a graduate student at UCLA, Murillo took a class on the music of the California Indians taught by Siva. He learned from Siva the value of rescuing and preserving the traditions and cultures that define people. Siva said, "That brings back great memories. He and his group and other companions were fine students and did a fine project."
Cavallaro, upon formally receiving CSUSB's 2021 Outstanding Community Engagement Award, brought three of her students onto the stage with her. She was recognized for her deeply innovative and engaged academic work; history of community collaboration and change, especially with the Prison Education Project (PEP); and her role in promoting Cal State San Bernardino as an institution committed to the development of a stronger and more engaged society through the Inside-Out Prison Education Program.
Yet the award, she said, was not just for her work. "The programs that I help to facilitate would absolutely not be possible without an entire community."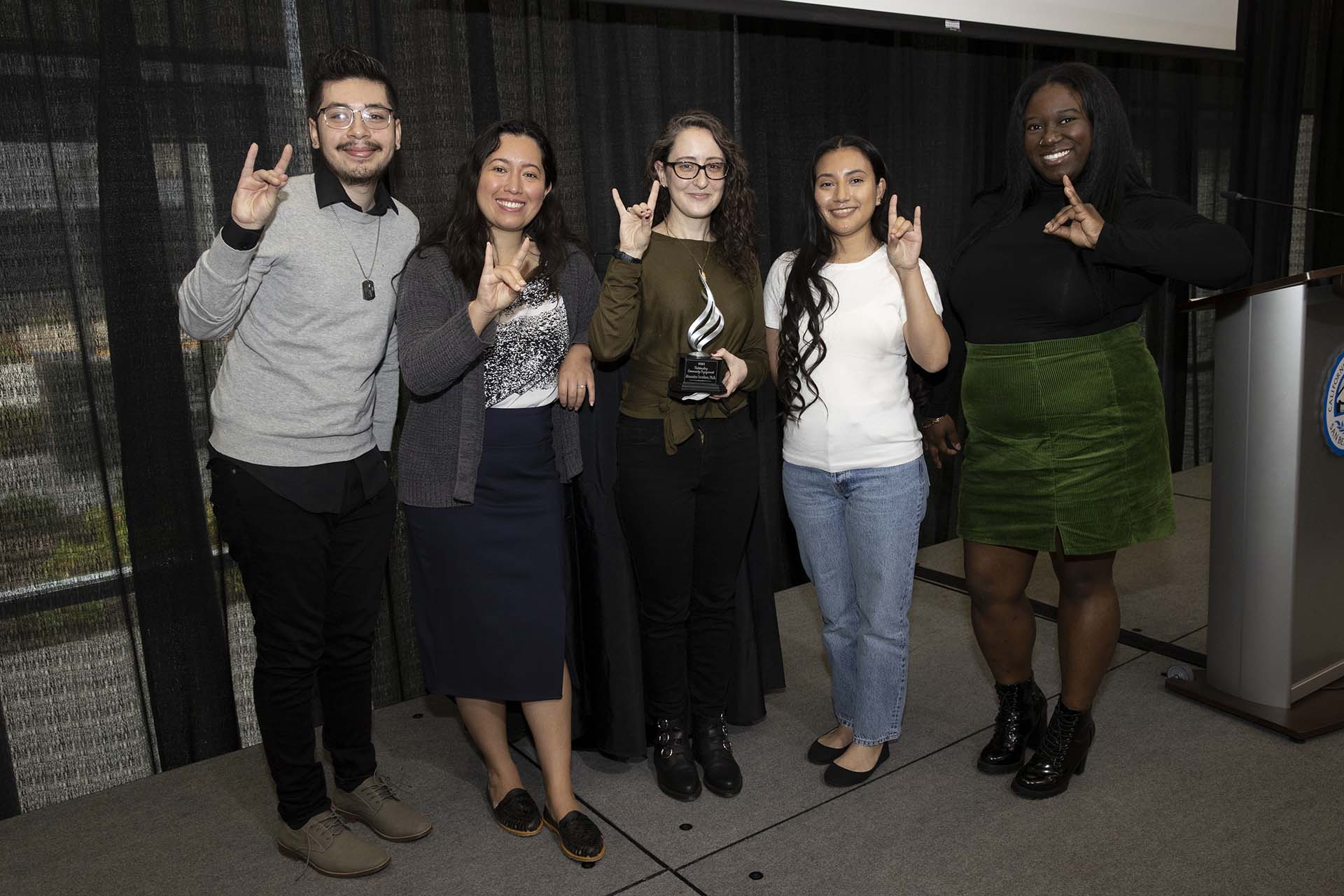 She expressed her gratitude for Podolske and her office for marshalling needed resources to get her projects off the ground, for colleague Vanessa Ovalle Perez, assistant professor of English and assistant director of the Center for the Study of Correctional Education, and for her students, both at CSUSB and at the California Rehabilitation Center in Norco, where Prison Education Project Creative Writing classes – English 5140: Community-Based Writing – are held.
"CSUSB students are the best of the best," Cavallaro said. "And they include those who are incarcerated. This award is for them."
The entire awards celebration can be viewed online at the "Community Engagement Award Cermony" on YouTube.