Who is this degree for? 
The M.A. in Career and Technical Education is designed to provide advanced and specialized education to personnel working in a variety of settings related to career, technical, and adult education such as secondary, post-secondary and other private and state environments. The program provides opportunities for teachers to gain expertise with and knowledge in pedagogy and andragogy required to teach their subject matter. The program can be used to meet the requirements for leadership positions in these facilities.
Admission to the Program
Applicants must possess a baccalaureate degree from an accredited college or university. Prior to being admitted to the Master of Arts in Career and Technical Education Program in the College of Education, applicants must be admitted to the university as an unclassified graduate student. Application for admission to the university should be made at least three months prior to the date the applicant would like to begin taking courses.
Advancement to Candidacy
In order to be formally advanced to candidacy, applicants must have:
1.        Been accepted to the College of Education as a classified graduate student;
2.        Completed the graduate entrance writing requirement;
3.        Filed an approved graduate program form for completion of the degree.
The Career and Technical Education core consists of six courses: ECTS 6370, ECTS 6380, ECTS 6390, ECTS 5080, ECTS 5190, and ECTS 6350. Students should start with the College of Education writing requirement ECTS 5560.
Requirements for Graduation
1.        A minimum of 33 semester units of acceptable work, with 27 completed in residence at this university;
2.        A minimum of 15 units of credit taken after a student has been advanced to candidacy for the degree;
3.        A grade point average of 3.0 ("B") in course work taken to satisfy the Master of Arts degree requirements and grades of "C" (2.0) or better in all courses in the program;
4.        Registration and successful completion of comprehensive examination ECTS 6980;
5.        the Graduate Writing Assessment Requirement is met through successful completion of ECTS 6980.
Any additional general requirements not cited above and listed in Graduate Degree and Program Requirements. The program may not include less than one half the total number of courses taken at the 6000 level.
The program may not include more than 2 courses (3 semester units each) in approved extension and transfer courses from other colleges. California State University, San Bernardino will not consider for transfer credit course work from an institution which will not accept that work in its own advanced degree program.
Program and Graduation Requirements are available in the Course Bulletin.
CTE Spotlight
IMPORTANT: It is essential for anyone considering this program to have read and be conversant with the two books listed below. Follow these links to amazon.com for text purchase information!
Technically Speaking Why All Americans Need to Know More About Technology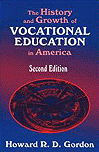 The History and Growth of Vocational Education
Please read both of these books before you decide whether or not to apply for the MA Program. Anyone that has read these books is invited to e-mail Dr. Scarcella for information on pre-program assessment for success.
How can I be admitted to the program?
Qualified applicants should apply for GRADUATE admission to CSUSB and contact Dr. Joe Scarcella (see below) to develop a specific MA Program Plan.
Who can I contact for further information?
Dr. Joe Scarcella, MA Program Coordinator for Career and Technical Teacher Education Programs jscarcel@csusb.edu 909-537-5287 CE-317
---
The Career and Technical (Vocational) Education Option of the MA Degree in Education program at California State University, San Bernardino, is accredited by the Western Association of Schools and Colleges and over the past thirty years has developed an excellent reputation.