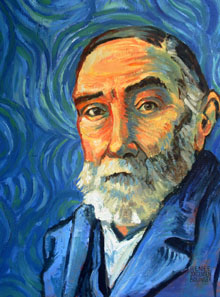 Evening Star - Gottlob Frege | Artist: Renee Jorgensen Bolinge
Welcome to the philosophy department at California State University, San Bernardino. We are dedicated to teaching undergraduates rigorous philosophy in small-class settings. We are also dedicated to pursuing our own research programs. We have particular strengths in metaphysics, philosophical logic, and political philosophy.
Prospective students and those seeking more information about the department are encouraged to contact Peter Robertshaw, chair. We've prepared a short handout for prospective students about the philosophy program. Here's a short slideshow, Philosophy: What are you going to do with that?