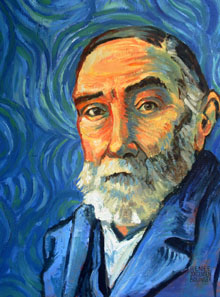 Evening Star - Gottlob Frege | Artist: Renee Jorgensen Bolinge
Welcome to the Department of Philosophy at California State University, San Bernardino. We are dedicated to teaching undergraduates rigorous philosophy in small-class settings. We are also dedicated to pursuing our own research programs. We have particular strengths in metaphysics, philosophical logic, and political philosophy.

Prospective students and those seeking more information about the department are encouraged to contact Peter Robertshaw, chair. We've prepared a short handout for prospective students about the philosophy program. Here's a short slideshow, Philosophy: What are you going to do with that?
Announcements
Seeking Assistant Professor of Ancient Philosophy
The Department of Philosophy at California State University, San Bernardino, is seeking to hire a full-time, academic-year, tenure-track Assistant Professor. The area of specialization is Ancient Greek or Roman Philosophy. The area of concentration may be anything that will help the department diversify its course offerings and which does not overlap with areas our current tenure-line faculty teach. We are especially interested in candidates who could offer courses in one or more of Africana (African, African American), East Asian, Indigenous American, Islamic, South Asian, and other less commonly taught philosophies. Since almost all our department's courses are designated "Writing Intensive," preference will be given to candidates who demonstrate commitment to and success in helping undergraduates develop as writers. 
Review of applications begins on November 1, 2021, and will continue until the position is filled. For the full list of required and preferred qualifications, the components of a complete application, and the application link, see: https://philjobs.org/job/show/18110.  Apply via: https://careers.csusb.edu/en-us/job/504402/department-of-philosophy-assistant-professor.
For Students
Faculty Office Hours - Fall 2021
Tentative Upper-Division Philosophy Course Schedule 2021-2014
News
Visit our new News! page