Merrie Lyn Shickler
OLLI member since 2014
A third generation California native, Merrie Lyn grew up in Long Beach and continued her education at CSULB, earning a B.A. and M.A. in Child Development and Family Relations, with a minor in English.  Along the way, she also completed the requirements for a Secondary Teaching Credential and a second M.A. in Education Administration. After 13 years in a classroom in the Long Beach Unified School District, she accepted her first of many administrative positions during which time she also earned an Ed.D. in Education Administration at USC, with the encouragement and support of husband, Ross, who had followed the same path earlier. Merrie Lyn retired after 38 years in 2009 and she and Ross moved to the desert from Huntington Beach in late 2011. Upon his death in 2013, with plenty of family, but no friends here, she transferred her membership in DKG, an international society of women educators, to a local chapter, and searched online for an OLLI. Joining OLLI in 2014 gave her a reason to get up and get out with like-minded seniors. She has especially enjoyed classes in writing, literature, film, art, and philosophy, in addition to member events and travel. Merrie Lyn has also served on the Marketing Committee and as an Ambassador.  
Marilyn Friedman
OLLI member since 2018
Marilyn is a Pennsylvania transplant, having left Pittsburgh in the 1960s when the temperature was 18 below zero. Her first class at CSUSB was mediation and she has been a volunteer mediator with the Palm Springs and Indio courts for the past seven years. Prior to that she has volunteered in the media department for the BNP Parabas Open tennis tournament. She has also volunteered for the Palm Springs International Film Festival, the McCallum Theatre, and she enjoys helping children with reading at local schools. Marilyn finally discovered OLLI in the summer of 2018 and is so grateful to Cash Baxter, her favorite instructor, for giving her the gift of a newfound thirst for knowledge. She says 'If only I had a teacher who presented information in such a fun, amusing way when I was young...but it's never too late.' Marilyn is now proud to be an OLLI Ambassador and looks forward to her enhanced life, thanks to continuing education, and the wonderful staff and friends she has met through OLLI. 
Miles Auslander
OLLI member since 2015
Miles has been a member of OLLI for the last two years and began attending classes soon after he retired. Miles enjoys the variety of courses that OLLI offers and so far, his favorite class has been Paris in the Spring, which highlighted films and documentaries focusing on Paris over the years. In addition to attending classes, Miles is also a volunteer for OLLI and has been a greeter for several terms.
Born in Brooklyn, Miles spent most of his adult life in Los Angeles where he was a physician specializing in gastroenterology and then healthcare management before retiring two years ago. Before becoming full-time residents in the Coachella Valley ten years ago, Miles, and his wife of 43 years, Karen, were weekend visitors for 30 years. Miles and Karen have a 35-year-old daughter who just recently got married and who lives in Newport Beach.
In addition to volunteering for OLLI, Miles also spends time serving as a volunteer at the Living Desert where he assists with giraffe feedings and in the petting zoo; he also works as an usher at the McCallum Theater in Palm Desert for two shows a week. Additionally, Miles is an avid golfer and both Karen and Miles love skiing and traveling.
Patsy Crouser
OLLI member since 2014
A love of learning brought Patsy to OLLI, where she's been a member since 2014. Originally from Gresham, Oregon, Patsy received her master's degree in liberal arts from Lewis and Clark College, and spent her professional career teaching and developing senior English literature and college writing courses for high school students. Following retirement, Patsy has been involved with the American Association for University Women, the Gresham Elks club, the Palm Springs Methodist Church, the Children's Discovery Museum, and The Living Desert, where she currently volunteers with giraffe feedings and as an interpretive host in the Africa zone. At OLLI, Patsy enjoys taking classes, attending events, and participating in trips. Since 2016, Patsy has been chair of the Volunteer Coordination Committee and serves on the Leadership Board. Her role as the volunteer coordinator is a perfect fit for her because she enjoys meeting so many nice people with similar interests. Patsy currently resides in Rancho Mirage with her husband, Ken.Some fun facts about Patsy:
She is a self-described ham
She is a skilled lip sync performer to songs like New York, New York.
Upon retiring, Patsy learned tap and jazz dance, and started an entertainment troupe at the Gresham Elks that toured the state of Oregon.
Kevin Sweeney
OLLI member since 2003
Kevin grew up in Greenbrae, Marin County, CA. He earned a BS in biology from Santa Clara University and an MD from Loyola University, Chicago. Following his graduation from medical school, Kevin returned to San Francisco to establish a general surgery private practice. He also served as chief of general surgery and vice president of the medical staff at St. Mary's Hospital and Medical Center.Kevin and his longtime partner, Dion Blundell, moved to the Coachella Valley in 2001. In 2003, Kevin became a member of the first class of OLLI at Cal State San Bernardino and immediately began volunteering. He currently serves as chair of the Curriculum Committee and is a member of the Leadership Board. Kevin enjoys volunteering for OLLI because it gives him an opportunity to meet other members and learn more about their interests, particularly regarding curriculum. He has enjoyed seeing the program grow beyond education to include volunteering and socializing with other interesting people. Outside of OLLI, Kevin enjoys tennis, swimming, travel, and reading.Some fun facts about Kevin:
He is very proud of his Serbian heritage.
He had a distant English relative who died without a will, leaving millions of pounds to his descendants.
As a baby, he was held in the arms of Admiral Chester Nimitz and teethed on his tie.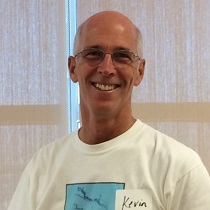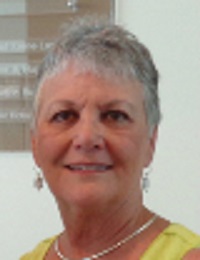 Sue Robinson Neeb
OLLI member since 2010
A native of Los Angeles, Sue graduated from Los Angeles Harbor College and spent her professional career as a senior administrator in human resource administration and management training. She is now retired and volunteers her time and talents with a variety of Coachella Valley non-profit organizations, including Desert Best Friends' Closet, FIND Food Bank, and the California Highway Patrol office. Sue discovered OLLI through a friend and has attended many great classes and made many new friends over the years. OLLI has benefited from Sue's service as a member of the Curriculum Committee for the past seven years and the Leadership Board for the past two years. In addition to her love of travelling, Sue enjoys attending plays, movies, painting classes, and spending time at Lake Havasu. She and her husband, Bill Neeb, have lived in the Coachella Valley for ten years.
Ray Smythe
OLLI member since 2012
Ray is a retired teacher and taught for 39 years. His favorite thing about the Osher Lifelong Learning Institute is learning new ideas and gaining information from passionate instructors. He also enjoys meeting new people and making new friends. Ray has been volunteering for OLLI for a number of years and has served on several committees.
A year-round resident, Ray moved to the Coachella Valley from Portland, Oregon 16 years ago. In addition to being involved with OLLI, Ray has written several books. He belongs to a walking group that meets 6 days a week. Ray also loves to read, write, and socialize with friends.
He and his partner of 44 years, Steve, make their home in Cathedral City. If you see Ray around while attending classes, be sure to say hello!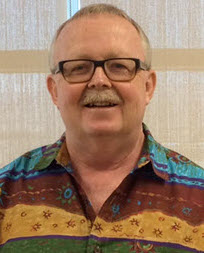 Russ Hoburg
OLLI member since 2006
Longtime OLLI member and volunteer, Russell Hoburg, was born and raised in San Francisco. After graduating from City College of San Francisco in 1961, Russ became a merchant seaman. Between trips out to sea, he would work on tugboats and ferry boats on the San Francisco Bay. Following a long career as a ferry captain, Russ visited friends in the Coachella Valley and fell in love with the area.In 2004 he became a resident of Sun City, enjoying the wonderful neighborhoods, big swimming pools, and tennis courts, and in short order discovered the Osher Lifelong Learning Institute. In fact, Russ, served as one of OLLI's first classroom ambassadors when classes were held at the Palm Springs Art Museum and the La Quinta Public Library.When OLLI classes moved to the CSUSB Palm Desert campus, Russ realized how much he missed the academic environment and not only continued his OLLI classes, but also enrolled as a student at COD and then CSUSB, earning his bachelor's degree in English literature. Fun fact: as a tutor in the writing center during his bachelor's program, Russ would use his paycheck to buy gift cards for his fellow classmates.