APIDA Heritage Month's 'Rebellion with Love' celebrates cultures, disrupts boundaries
---

---
The golden light of the setting sun streamed through the windows of the Santos Manuel Student Union South Fourplex, signaling that the end of the day's fast for those observing the Muslim holy month of Ramadan was near.
And with the theme, "Rebellion with Love," Cal State San Bernardino's celebration of Asian Pacific Islander Desi American (APIDA) Heritage Month formally began April 5 as several dozen students, faculty, administrators, staff and guests gathered for event, "South Asian Stories at Sunset," where the Ramadan fast was broken with students and staff who are practicing Muslims, and those attending heard from three students the marginalized histories, stories and struggles of the South Asia diaspora.
Nationally, Asian Pacific Islander Desi American Heritage Month is celebrated during the month of May, but because the university has a short month in May with finals and commencement, CSUSB starts its celebration in April. Check the Asian Pacific Islander Desi American Heritage Month Calendar of Events webpage for updates on programs.
"South Asian Stories at Sunset" presented a rich cultural texture that broadened what it means to be a member of the Asian American, Pacific Islander and South Asian community at the university, to acknowledge the shared struggles, triumphs and contributions made to the unique fabric of what it means to be an American.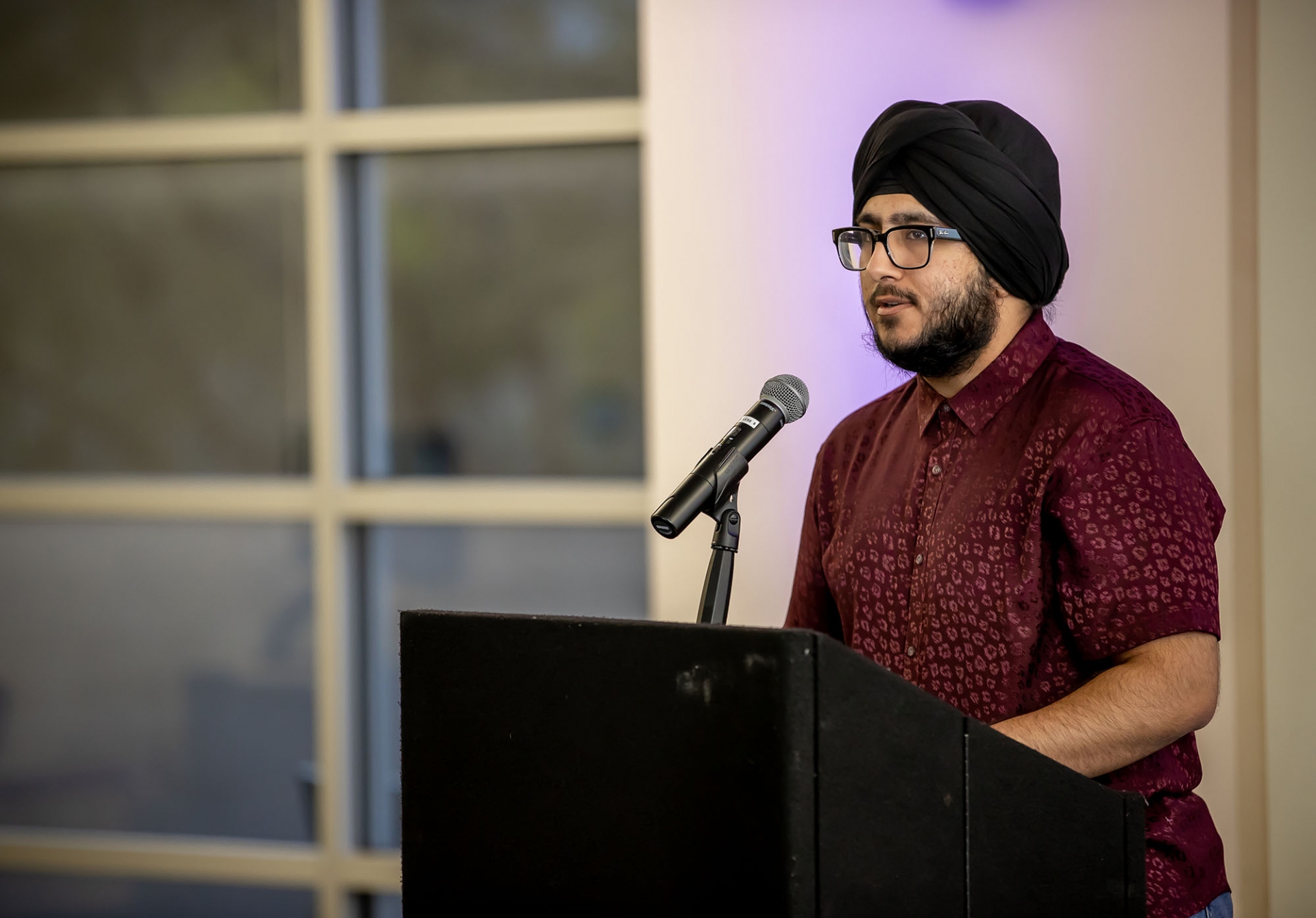 Kabir Singh Suri, a junior cybersecurity student who shared his story at the event, said it was important that APIDA students embrace their cultural identity and not be afraid to share it with others. Being of Indian descent who practices Sikhism, Suri said, "Your unique perspective can help enrich the campus community."
And, added, Simran Kaur, a graduate student in cybersecurity, seeking different experiences outside of one's culture is equally important. Like Suri, she said her experience growing up in India in the Sikh religion and immigrating to the U.S. at age 11 provided her with a unique background that contributes to the richness and diversity of the APIDA community at CSUSB.
Yussif Kanbar, a communication studies graduate student, offered this: "Celebrating your heritage gives you a sense of belonging, and it teaches you why that is an important thing to have. It's part of our identity. It's where we come from, and it's our traditions and beliefs."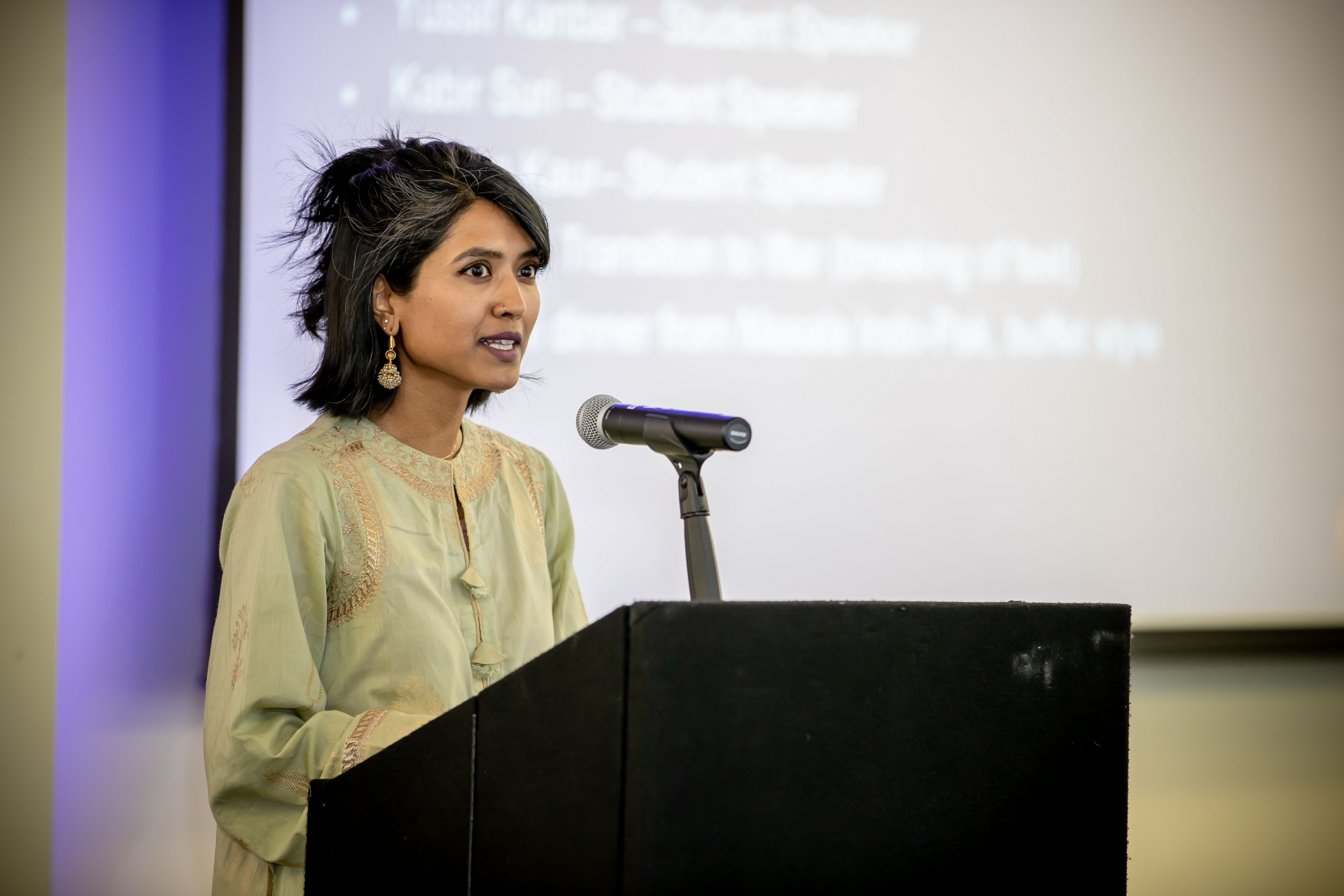 Hareem Khan, who co-chairs the APIDA organizing committee with Kimberly Anacleto, said, "As co-chairs, Kim and I really wanted to approach the month with intention by thinking about the kind of programming that would not only fit the month, but also disrupt some of its boundaries."
She noted how the heritage celebration evolved and became more inclusive, beginning with Asian Americans, then expanding to Pacific Islanders and Desi (South Asian) Americans.
But Khan, an assistant professor of ethnic studies and anthropology, said she also saw how that effort could "still participate in the work of exclusion. For example, even the category of Desi, which is supposed to be inclusive of South Asians, tends to focus sometimes on India, sometimes Pakistan, ignoring the multiplicities of the region and the many countries making up the subcontinent, including Sri Lanka, Nepal, Bangladesh, and so on.
"APIDA should also be about uplifting the histories of Arabs and Arab Americans who are otherwise marginalized within APIDA Heritage Month, but also in many Asian American and ethnic studies departments," said Khan, a practicing Muslim of Indian and Pakistani heritage. "In following Islam's emphasis on critical thinking, I took this opportunity as co-chair, along with Kim, to be critical and curious about what constitutes this month, and what we can do to acknowledge some of its silences."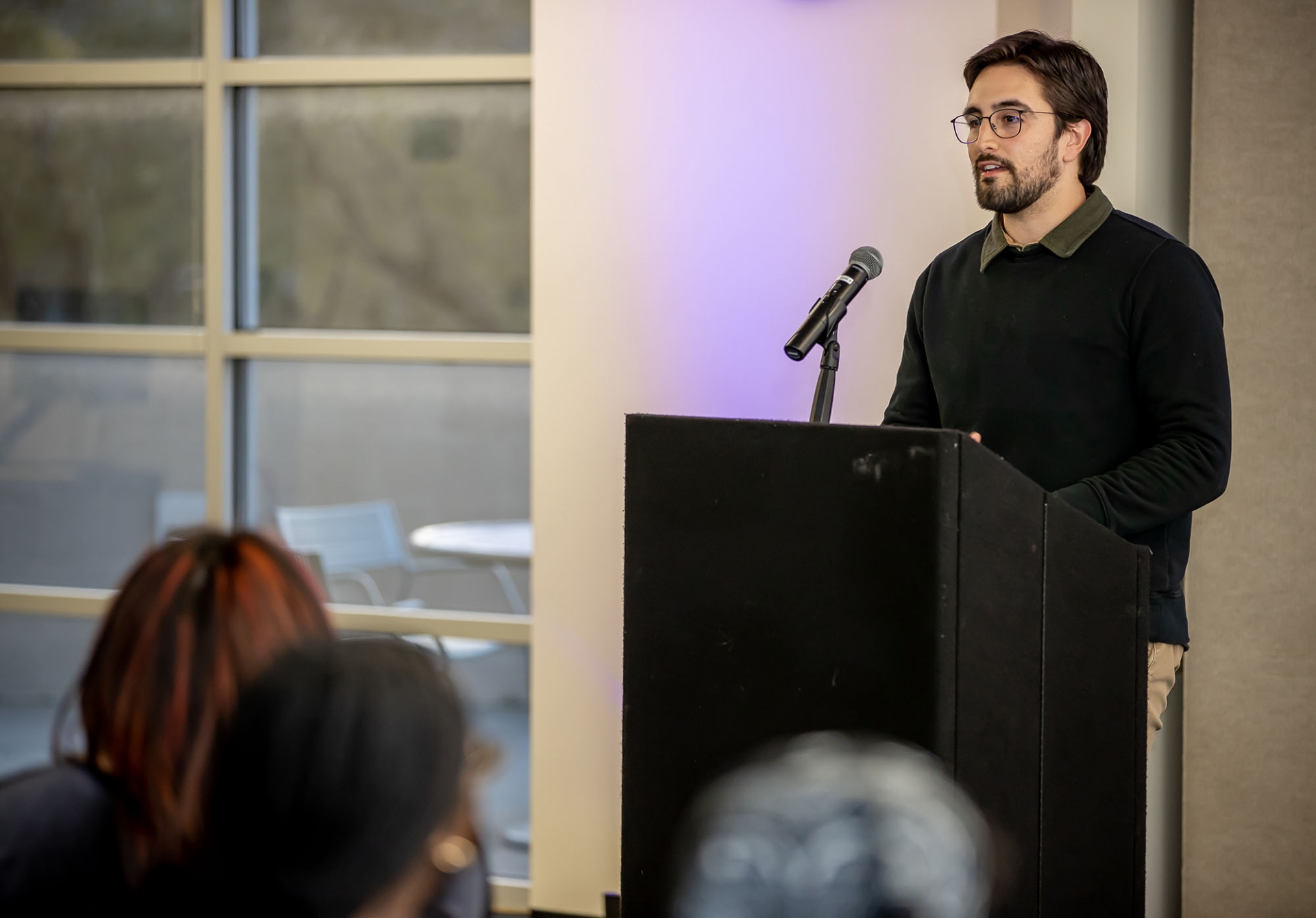 Kanbar shared what, for a time, made him silent about being a Muslim American with roots in Lebanon. As a child growing up in the Inland Empire, he knew there was something different about him and his family, "especially when Christmas came around and I asked, 'Why aren't we celebrating Christmas?' or 'Why are we calling the school to say we're not coming in for Eid?' or 'Why is my mom wearing a hijab and other moms aren't?'"
Once his parents explained the differences between religions, Kanbar said it "became normal for me to feel different than my friends at school."
He also told of when he was in seventh grade, a few years after the 9/11 attacks, a classmate called him a terrorist, and his parents' reactions when they were stigmatized, which led them to move back to Lebanon for a time because they felt they would be safer there.
While in Lebanon, his perspective changed. He met people who were like him, and school days were scheduled around Muslim and Christian holidays, "so I felt welcome. I felt like I belonged, and I felt that sense of validation that it's OK to be Muslim."
But upon his return to the U.S., he encountered the hard reality that, in some ways, it wasn't the same here. "Upon landing at LAX, I was pulled aside by TSA and asked questions: 'Where are you coming from?' 'How long were you there?' 'What were you doing?' 'Where did you live?'" Kanbar recalled "They must have been disappointed to hear that all I did was go to school and hang out."
He said that set the tone for him in the next few years, and he remembered when he was called a terrorist in seventh grade. "It had become so normal in my mind that terrorism was associated with Islam that I didn't question it," Kanbar said. "I simply decided that I just wouldn't talk about my culture in front of friends or teachers. I was afraid they would call me biased because I was Muslim if I tried to defend my culture."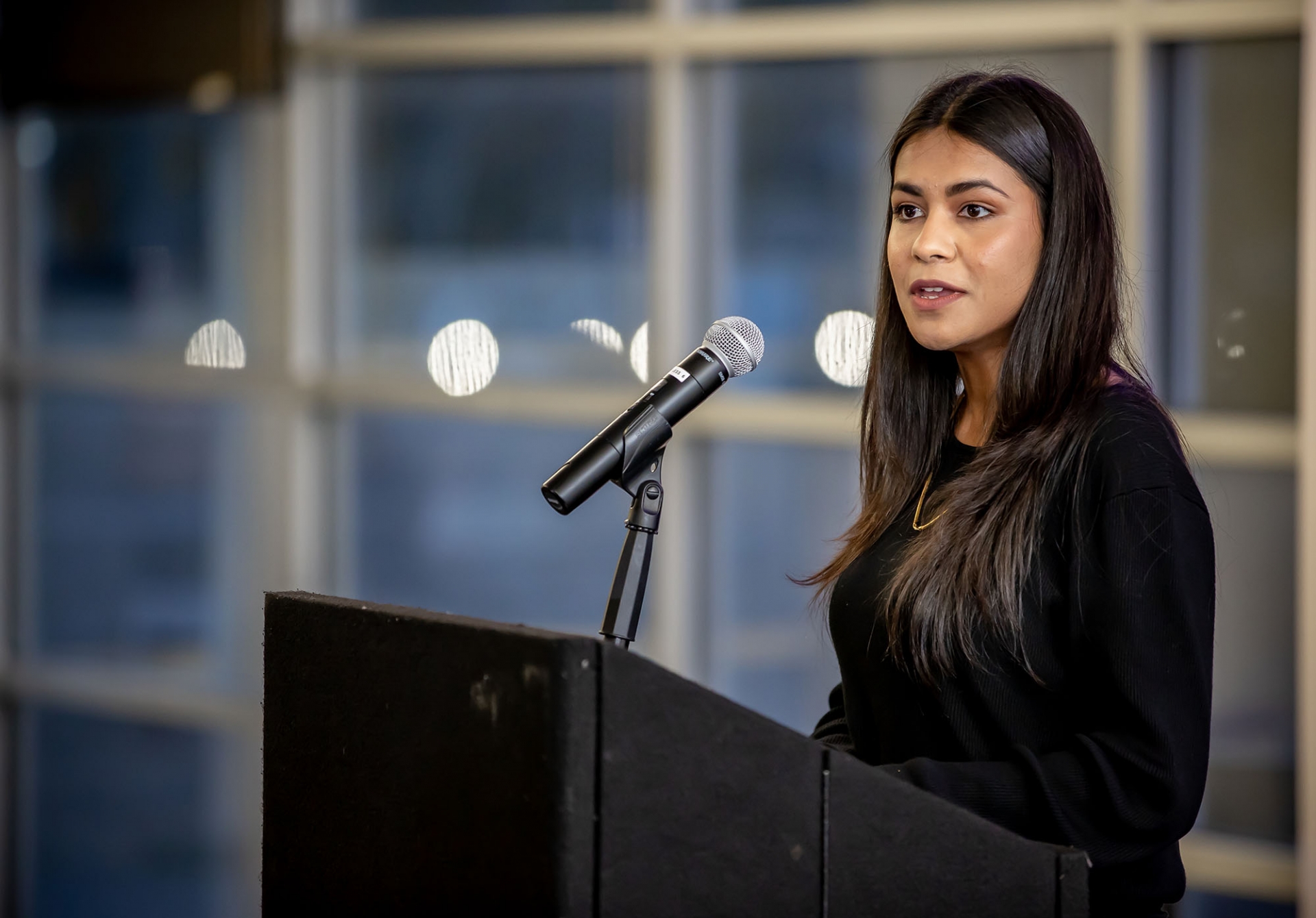 It even came to the point, he said, that when his Muslim culture came into conflict with mainstream American culture, he would abandon his culture "just to fit in easier."
But he met professors at Riverside City College and at CSUSB, and participated in CSUSB's Model United Nations program. And there was a shift in his perspective – they all made him feel that it was OK to be Muslim.
"I was empowered to speak up about my experiences," Kanbar said. "I was surrounded by people who showed me kindness and love, and a feeling of validation that I had when I was back in Lebanon. I felt that feeling again, that I belonged. These uplifting actions taught me the importance of inclusivity and why celebrating your heritage is important."
CSUSB Provost Rafik Mohamed said APIDA Heritage Month presents opportunities for those outside the APIDA community to consider different cultural identities and perspectives, and "to discover shared interests and experiences, to build community by bringing together people of diverse backgrounds to engage in meaningful dialogue … to look at ourselves in a different mirror, and to hopefully create opportunities to advance beyond the artificial statuses that have been created to advance divisive political and economic agendas, and otherwise keeping us from recognizing the beauty that we all have to offer in this place and to the world."
---
---
Listed on the Asian Pacific Islander Desi American Heritage Month are links to resources and lists of organizations, articles, podcasts and books that encourage exploration of topics that focus on this community.
Events for the month also include:
At 4:30 p.m. Thursday, April 6, the Asian Faculty, Staff and Student Association will host its 23rd annual AFSSA Scholarship Awards and Recognition Ceremony. This event is an opportunity to recognize and celebrate the academic achievements of CSUSB students, as well as to honor individuals and student organizations who have made a significant contribution to AFSSA and/or the campus community. The celebration will take place at the SMSU North Conference Center C and D. Space is limited; RSVP online at 2023 Spring AFSSA Scholarship Award and Recognition Ceremony.
At noon Monday, April 10, in the Santos Manuel Student Union South Theater, the Center for Center for the Study of Muslims and Arab Worlds will screen "Stranger at the Gate."

Two principles in the film, Bibi Bahrami and Mac McKinney, and executive producer Mohannad Malas, will attend the screening and the question-and-answer session that will follow. 

The Modern China Lecture Series will host two free presentations, both on Zoom, during APIDA Heritage Month.
The first will be at 10:30 a.m. Monday, April 17, when Gina Tam, associate professor of history at Trinity University, presents "Gender and Agency in Hong Kong Activism."
The second, at 10:30 a.m. on Wednesday, April 19, will feature Daniel Mattingly, assistant professor of political science from Yale University, who will present "Chinese State Media and Its Global Audience."
Both talks can be accessed at https://csusb.zoom.us/j/388207496

.

The Korean Lecture Series will offer two programs, both at the SMSU South Fourplex.
Beginning at 2:30 p.m. Tuesday, April 18, guest speaker Kim Jong-hoe will present the first of two talks: "Modern Korean Literature and Hwang Sun-won's Fiction," followed at 2:30 p.m. Wednesday, April 19, with "Korean Diaspora Literature."
Both presentations will follow with a question-and-answer session; refreshments will be served.
Noon Monday, April 24, on Zoom, Kay Ulanday Barrett, a poet, performer, and cultural strategist, will present the keynote, "Rebellion with Love." More information will follow.