Social work professor strives to be 'voice for the voiceless'

In 2007, when associate professor of social work Rigaud Joseph arrived in Fort Lauderdale, Fla., from his native Haiti, he had already been teaching K-12 and vocational students across many public and private institutions for 10 years.  
He also had already earned a law degree from Haiti State University, Cap-Haitian Law School.
But Joseph learned quickly that his years of education and experience wouldn't translate into a professional position in the United States.
"I couldn't understand a lick of English, and that was very tough for me," he recalls. "I spent all my life speaking French. I had to work as a security guard to find something to do to help the family. I swallowed my pride, basically.
"I understood that I needed a new beginning," he says. "I took my high school diploma from Haiti and started from scratch." 
Joseph's "new beginning" meant returning to school at age 37 and shifting his focus from law to social work. "I always wanted to be a voice for the voiceless, an advocate for the defenseless and those who are marginalized, downtrodden. That's what had pushed me toward law," he says.
He progressed quickly up the academic ladder, taking between six and nine classes each semester. He completed an associate degree at Broward Community College in only one year before enrolling at Florida Atlantic University. Again, in just one year he completed a bachelor's degree in social work, followed by a master's in social work in only 10 months. 
He took a hiatus from academia, gaining practical experience as a family therapist in Miami, working with underprivileged children, adolescents and their families involved in the child welfare system.
After two years, he followed a calling back to the classroom. "I always knew that I was born a teacher and I wanted to teach." He returned to school to pursue a doctorate, this time at Florida International University, where he became a graduate research assistant and adjunct professor.
In April 2017, as he wrapped work on his dissertation, he interviewed for a position at Cal State San Bernardino, and after completing a doctorate in social welfare in July 2017, joined the faculty as assistant professor that fall.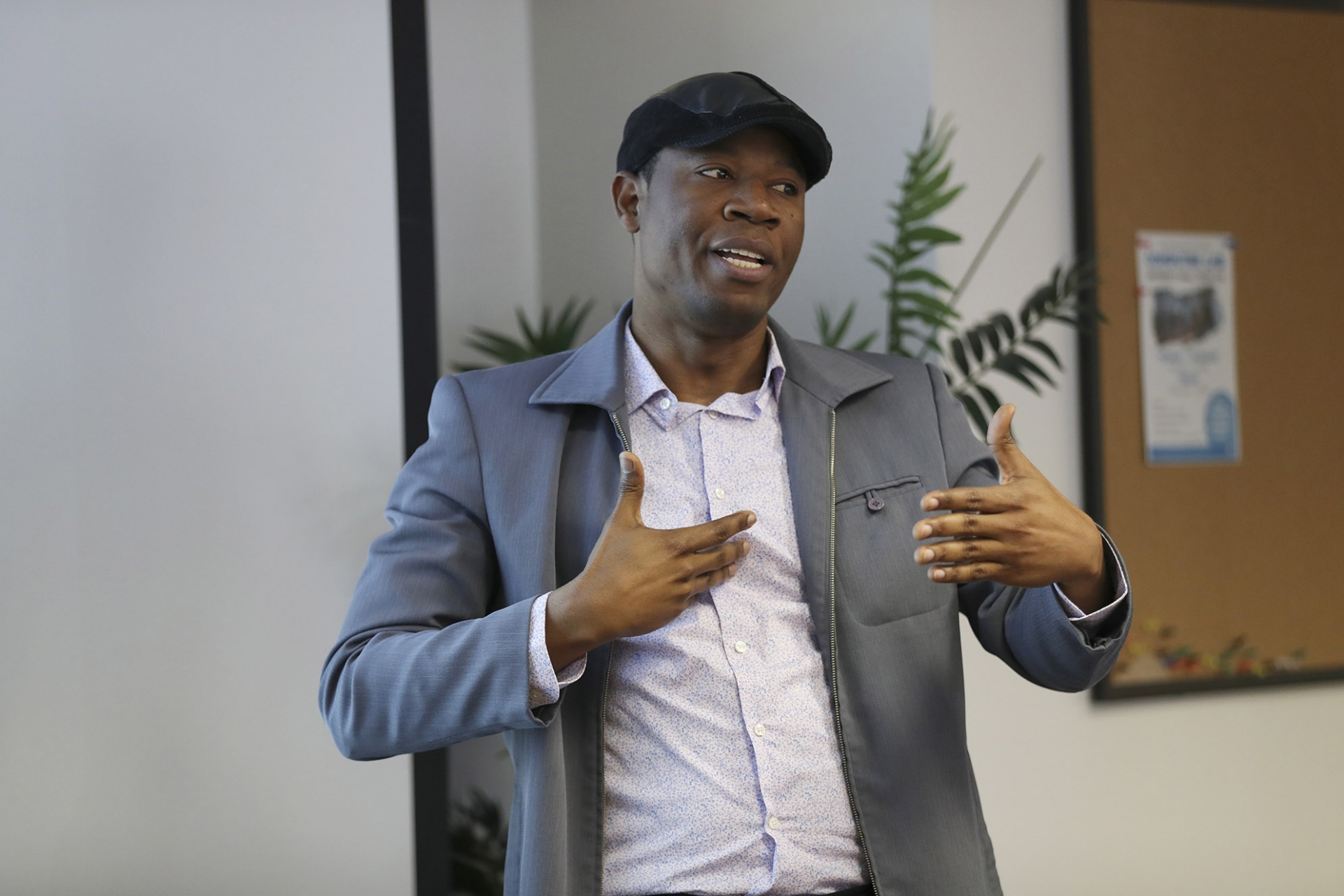 Today, his responsibilities at CSUSB are broad. He remains passionate about teaching, and has "developed a great affinity for certain classes, including human behavior and the social environment, theoretical approaches to social problems, social welfare policy, social work research methods, and human diversity and social work."
He is also coordinator of the Pathway Distance Education, an innovative program that allows those unable to attend CSUSB in person the opportunity to earn a master's degree in social work online. The program, which admits approximately 25 to 30 students each year, is rated fifth in the nation by Social Work Guide. 
In addition to his teaching responsibilities, Joseph is an active — and avid — researcher. Theoretical analyses are vital to his research, he says, noting that the profession of social work places a strong emphasis on using theories in classroom as well as in clinical settings. While still a doctoral student, he developed an instrument — the Theory Evaluation Scale (TES) — to critically appraise social work theories. The TES gives social work students, scholars, researchers and practitioners a practical tool to make sense of theoretical underpinnings in their professional lives.
This scale, the first and only one of its kind, appeared in Social Work Education: The International Journal in 2018. Much like the Richter Scale was used to measure the magnitude of an earthquake, the TES uses a set of nine criterion "to measure the quality of ideas, of concepts, of theories, of frameworks, of models," Joseph says.
"No other profession — medicine, nursing, chemistry, biology, geology — has a scale, an instrument to evaluate ideas or theories; only social work does," he says.
And he continues to advocate for the defenseless and marginalized through his research and analyses of poverty and social welfare policies, as well as evaluation of the effectiveness of government programs.
He has written and published dozens of scholarly research articles, ranging in scope from "Addressing Engagement Suppression in Black and Brown Racialized Communities," to "Poverty and Social Justice: The Building Stones of Social Work Identity," and "The War on Poverty Then and Now: A Plan toward Ultimate Victory."
As the nation commemorates Black History Month, Joseph believes it's an opportunity to reflect. "As a researcher, I want to do a comparison. When you look back, you see where we come from, we turned the corner, but what about the future? If we compare our cause today to what it was in the '60s, we see some improvement, but if we compare our cause today with 10 years ago, I wonder what would that be? 
"I hope the government, the people in charge, can seize the opportunity to reflect on the cause of Black people and how they can make lives better for them at any, at all levels."