CSUSB professor consults for Disney's sequel 'Under Wraps 2'
The calendar says it's officially fall, which means Halloween is not too far off. And along with the candy and costumes comes a new Disney film for the season, "Under Wraps 2," for which Kate Liszka, Cal State San Bernardino's Benson and Pamela Harer Fellow in Egyptology, served as a consultant.
The movie, which premiered on the Disney Channel on Sunday, Sept. 25, and will begin streaming on Sept. 30 on Disney+, is a sequel to 2021's "Under Wraps" for which Liszka, an associate professor of history, also worked as a consultant to make the movie both culturally appropriate and historically accurate.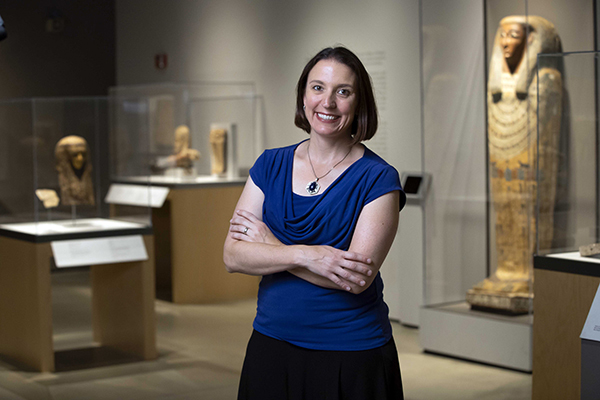 "I really enjoyed working with 'Under Wraps 2,'" Liszka said. "It's a fun movie for the whole family that my 8-year-old also highly recommends. For this movie, it was a joy to help design the villain named Sobek. Disney incorporated my accurate Egyptological recommendations for his staff, costume and even background story. 
"Additionally, I was able to shed light on differences between marriage ceremonies in the present and those in ancient Egypt, which we admittedly don't know much about," she said. "Most of all, it's just great fun to watch the mummies Harold and Rose dance, dance, dance."
About a year after the events of "Under Wraps," friends Amy, Gilbert and Marshall return for "Under Wraps 2," preparing for Amy's father's Halloween-themed wedding. They discover that Harold and Rose, the mummies from the first movie, may be in danger from the evil mummy villain Sobek.
"Under Wraps 2" is the latest movie on which Liszka has shared her expertise. She has consulted on individual, Egypt-themed Disney episodes of the "Mickey Mouse Clubhouse," "Spidey and His Amazing Friends" and "Hailey's On It."
CSUSB has a growing Egyptological program. The university currently houses more than 2,000 Egyptian objects in the Robert and Frances Fullerton Museum of Art. Several classes on ancient Egypt are taught in the history department. In addition, CSUSB hosts an annual, prestigious visiting Egyptologist as the W. Benson Harer Egyptology Scholar in Residence. And the university just launched its Certificate in Egyptology and Advanced Certificate in Egyptology for both CSUSB students and members of the community to learn about this fascinating ancient culture.
Watch the official "Under Wraps 2" trailer online.