CSUSB professor serves as consultant on Disney's 'Under Wraps'
Among the films the Disney+ streaming service has included in its "Hallowstream" for this year's Halloween season is the mummy movie "Under Wraps," for which a Cal State San Bernardino professor served as a consultant.
Kate Liszka, the Benson and Pamela Harer Fellow in Egyptology and associate professor of history, served as the Egyptological consultant for the family friendly movie that premiered on the Disney Channel on Oct. 1 and began streaming on Disney+ on Oct. 8.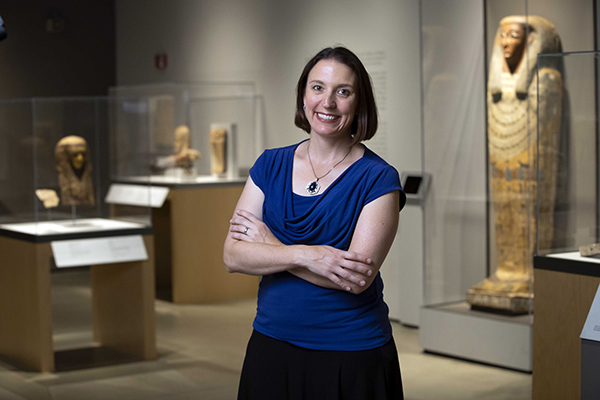 Liszka, who is listed in the closing credits as "Egyptologist," gave filmmakers suggestions and advice about the script, sets, costumes and translations of hieroglyphs. 
"It was particularly fun providing Disney with suggestions and corrections on the design of sarcophagi and coffins," she said. "This is a great family movie that kids and adults will enjoy. I'm happy to have had the chance to share my knowledge about ancient Egypt in this new medium."
"Under Wraps," a Disney Channel Original Movie, is about three friends who accidently revive a mummy they named Harold, who has come to life for three days before Halloween. Through a series of adventures, they attempt to return him to his coffin before the thieves destroy his life and afterlife forever. The new feature is a remake of the very first Disney Channel Original Movie of the same name.
Watch the official trailer online.